A Girl's Guide to Project Management is Blog of the Year!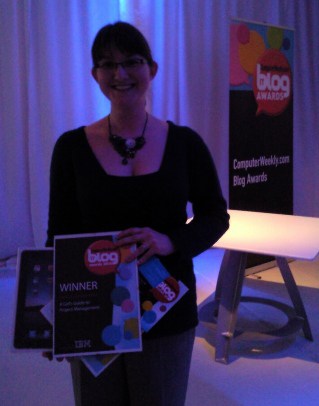 I attended the Computer Weekly IT Blog Awards last night, as I'd been nominated in the Project Management category. And…
I won!
I also won the Blog of the Year award, selected by the judges and IBM who were the sponsor, and I was runner up in the IT Professional Female category, which was won by the wonderful Basheera Khan. Derek Huether's great blog The Critical Path was the runner up in the Project Management category.
All the results are on the Computer Weekly website, along with the presentation and photos, including much better photos of the event at Delfina than this one of me. Check out @swanny in her posh frock, picking up the award for best Gadget blog. Watch out for the video coming soon, which features me slightly drunk bumbling about being so excited and happy to have won a lovely iPad.
I couldn't have done it if it wasn't for all your votes, so thank you very much for your support over the last 12 months, and especially for voting for me over the last month. I'm so pleased to have won – it really means a lot to know that people appreciate this blog and what I aim to do here.
The awards this year had a charity angle, supporting Computers for Schools in Kenya. They raised enough money to almost kit out an entire classroom with refurbished PCs, and if you'd like to donate there is still time to do so at the Just Giving page.
Right, now I'm off to play with my new iPad!
**Update 20/11/10** One of the IBM'ers present, Karl, took a video of my accepting my award which you can watch here. It was great to have the opportunity to watch it back, because on the night it all seemed to happen so quickly.