5 Insider Tips and Tricks for Working Well as a Remote Team
This is a guest article by Jane Courtnell of Process Street.
January 2020, I was in a minority.
By March, I was joined by the majority of workers transitioning into a work-from-home lifestyle.
The COVID pandemic had only perpetuated an already present trend. Since 2005, the number of WFH employees had grown by 173%. By 2028, it is estimated that 73% of all departments will have remote workers.
Moving away from the 9-5 office grind to a more homely, flexible working environment brings challenges. Especially if you're managing your own projects and team.
As with any challenge, however, there is a solution, and to find that solution you have come to the right place.
In this article we will discuss 5 top tips and tricks for working and communicating well as a remote team, keeping your team together for successful project execution. These tips have worked for me, an experienced remote worker, and they will work for you too.
With that said, let's jump right to it!
Tip #1: Set your team up on an instant messenger application
Instant messaging is a form of online communication occurring in real-time and facilitates the exchange of text, audio, files, and video communication within your team.
I work at Process Street, whose entire workforce operates remotely. Our employees are scattered across the globe, functioning in different time-zones. The key to our success, for managing dispersed teams, is in part down to the instant messenger app, Slack.
With Slack, our team can create group channels, communicate across time-zones, share links, images, and files, and interact asynchronously. Once more, Slack has hundreds of integrations making it a communication and productivity powerhouse.
But Slack is just one of many instant messenger applications available. Others worth noting include Chanty, Typetalk, Flock, Fleep, Microsoft Teams, Glip, and Ryver. Have a play around to find one that works best for you.
Instant messenger applications provide a platform to maintain concurrent team communication and collaboration remotely. Without one, you're running in the dark, waiting for lengthy delays between emails, phone calls, or whatever alternative communication tool you're using. There's value to the word instant.
Tip #2: Take control of your business processes
Here's a question for you.
When managing a team and project remotely, how do you keep track of who is doing what, when, and how?
Working remotely doesn't qualify as an extenuating circumstance for reduced output quality. In fact, quite the opposite. Remote workers are found to be more productive, team turnover is reduced with enhanced team wellness, and top talent is attracted and retained. To reap these benefits though, you need to keep your team working efficiently together and on track. And for this, you need to document your business processes.
For instance, Process Street is an easy-to-use tool in which you can map your business operations into a checklist format stored in the cloud. Documenting your processes in Process Street records and securely stores the how, what, when, why, and who for a given project. Actions are transparent, allowing team members to track and collaborate on the project's process. Operations are executed to the T regardless of employee location.
As a project manager, you can sit back, track team progress, and collaborate using the nifty tool as your single source of truth for your business operations and projects.
Tip #3: Spice up your meetings
Procrastination coffee chats, lunchtime walks and talks, and dining room discussions all come to an end when your organization transfers to a remote work setup.
Having nothing to discuss outside the confines of this deadline and that deadline isn't conducive to a positive company culture.
So what can you do?
In my team, we spice up our meetings to establish strong and supportive working relationships. Weekly meetings are held via Zoom and begin with an icebreaker and general chat. The team is given a chance to share information about their day, lives, likes, and dislikes as a means of building positive employee to employee connections.
Include icebreakers in your meetings, ask participants to contribute, carefully plan, and distribute a meeting agenda in advance, and give employees the opportunity to share praise and feedback to other members. You want to conduct meetings that are informative, interactive, engaging and a means for your team to re-connect on both a personal and professional level.
I have listed some entertaining icebreaker ideas you can try in your team below:
Just one lie: Each member of your team has to tell 2 truths and 1 lie. Other team members have to guess which statement is the truth and which is the lie.
Group map: This one is especially fun for global teams. Have everyone explain where they are from in the team, and map out the individual's location on a group map.
Unique and shared: Create groups of 4-5 people, and have them discover what they have in common, along with interesting characteristics that are unique to a person in the group.
Quotes: This is a fast icebreaker activity. Individuals pick a quote and then explain what each quote means to them.
Desert island: Each participant has to state one book, one music track and one luxury item they will take on a desert island, giving explanations on why for each chosen item.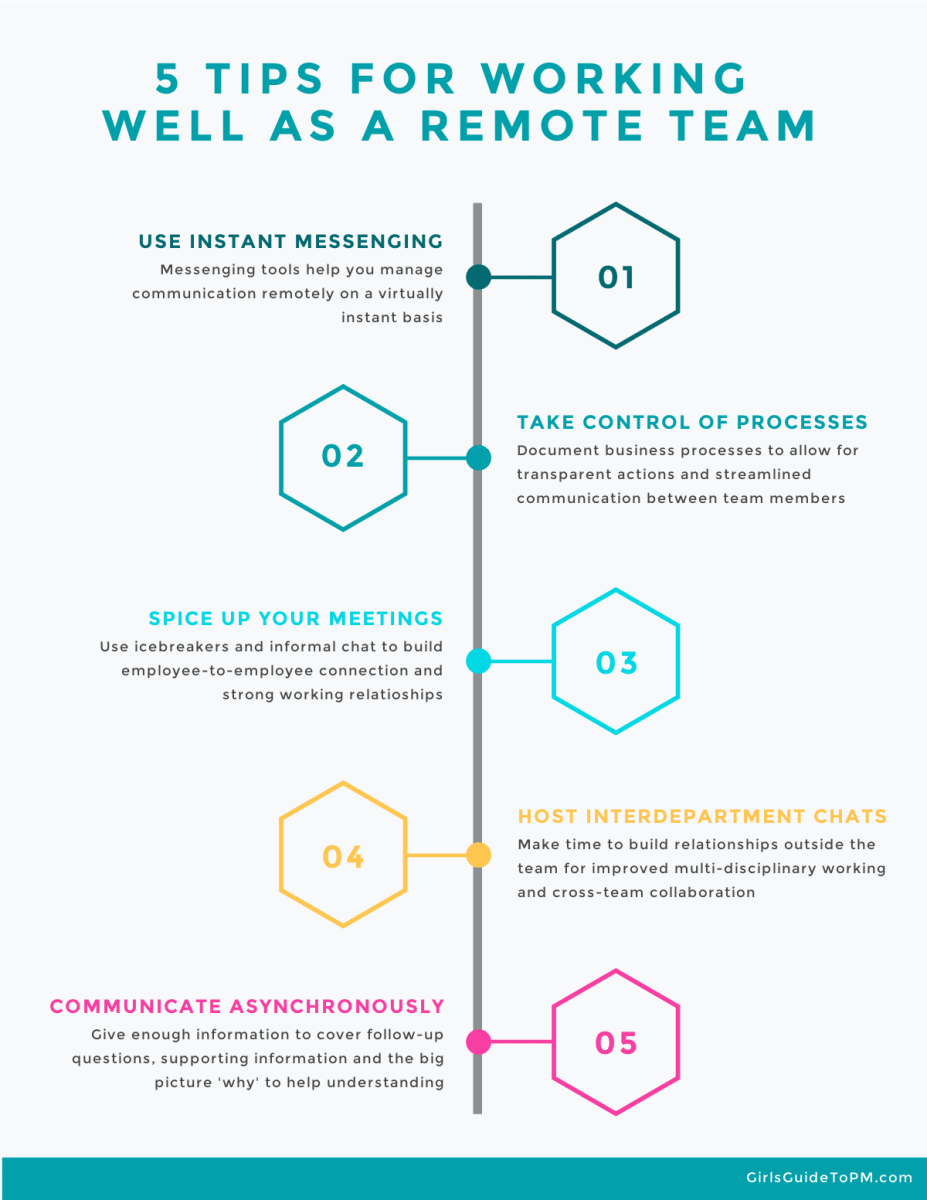 Tip #4: Provide opportunity for interdepartmental chats
Building on from the latter point, switching to a remote setting removes daily face-to-face interactions across different teams. A multidisciplinary approach is taken for most projects, and this requires interdepartmental coordination and collaboration.
You, therefore, want to establish good relations, not only between members of the same team but also between employees from different teams.
At Process Street we have created company-wide channels in Slack. For instance, my work primarily involves Process Street's marketing team, yet sometimes work projects require input from other departments. Luckily, I – along with the entire Process Street organization – have been given ample opportunity to meet interdepartmental team members.
As part of our employee onboarding processes, new hires are tasked to set up meetings with fellow employees to initiate a working relationship in a friendly, gentle way. We meet countless others from different continents, countries, and counties.
In addition, we also have a "Donut" chat time, where employees are paired at random each week for a 20-minute chat on whatever tickles their fancy. The reason it's called a "Donut" is because it's the length of a donut and coffee break!
Some more fun ideas you could try to encourage team collaboration outside of work are:
Create a virtual office break room: The idea of using a virtual office came to me when visiting my local accountants. Their remote team logged into a group Skype room at the start of the day. All employees worked as normal, but they could talk to one another at any point during the working day.
Play virtual games: To create a fun and friendly working environment, the remote team at Salesforce play the online game bonk.io, a simple, multiplayer physics game. Another example is given from the team at SnackNation, the game titled name that emoji song.
Clue murder mystery: Gather your team and virtually crack the case of a murderous crime. This is a remote team-building exercise used by Microsoft.
Effective team building is a critical determinant of project success, and creating company-wide supportive connections transcends benefits to this level. Leverage the social tools at your disposal — Slack or Chanty, Zoom or Google Meet — and give members time to build and connect with others across the entire organization.
Tip #5: Communicate well, asynchronously
Asynchronous communication is a type of communication where one person provides information, but there is a time lag before the recipient takes in the information to offer a response.
Asynchronous communication is very common in remote teams, especially ones that are distributed across the globe operating in different time zones.
When communicating asynchronously, keep in mind that the recipient needs all the necessary information to reduce the number of time-consuming follow-up questions.
Asynchronous communication describes the bulk of communication at Process Street. Over time, we've learned to over-communicate when chatting to someone who isn't online to avoid long gaps that block each other's tasks and hurt team productivity.
Communicating well and asynchronously is something you can learn to do over time. To help you, acknowledge the key components of asynchronous communication given below:
Enough information is given to cover potential follow-up questions: Over-communication is necessary, and try not to leave conversation loops open.
A deadline: Give a deadline for when you need a response, explain the urgency, and if tasks are blocked, state that.
Provide links, images, and as much supporting information as possible: This one is pretty self-explanatory. Provide everything you can so you can get the answer you need, and in as much detail as possible.
A concrete need: What do you want to get out of the communication? Do you require task approval? Do you need further explanation? Be extremely clear with whomever you're speaking with.
GitLab, a web-based DevOps platform, has operated largely using asynchronous communication. By working to ensure such communication is done well, GitLab can: maintain leadership during remote work; reduce ambiguity in communication modes; add an element of flexibility in the day-to-day lives of team members and support the long-term vision for a global remote workforce.
Asynchronous communication is essentially proactive communication. When executed, it keeps teams functioning as a whole unit despite differences in location!
Communicate effectively and keep your remote team together and on track
If you have made the transition into remote work, it is natural to feel apprehensive about how you will manage your remote team. Despite the myriad of potential benefits, remote work also brings its challenges. It can be difficult to maintain a strong team unity, important for the project and organizational success. However, communication is your key to success here.
To round up the main takeaways from this post, make sure you're:
Setting up an instant messenger application,
Documenting your business processes,
Using your meetings to form positive team relationships,
Ensuring interdepartmental communication,
Learning how to communicate effectively, asynchronously.
You can keep your team together and on track while working from home. As an experienced remote worker, managing projects within my team, these are my secrets to success. They will work for you – just try them out for yourself.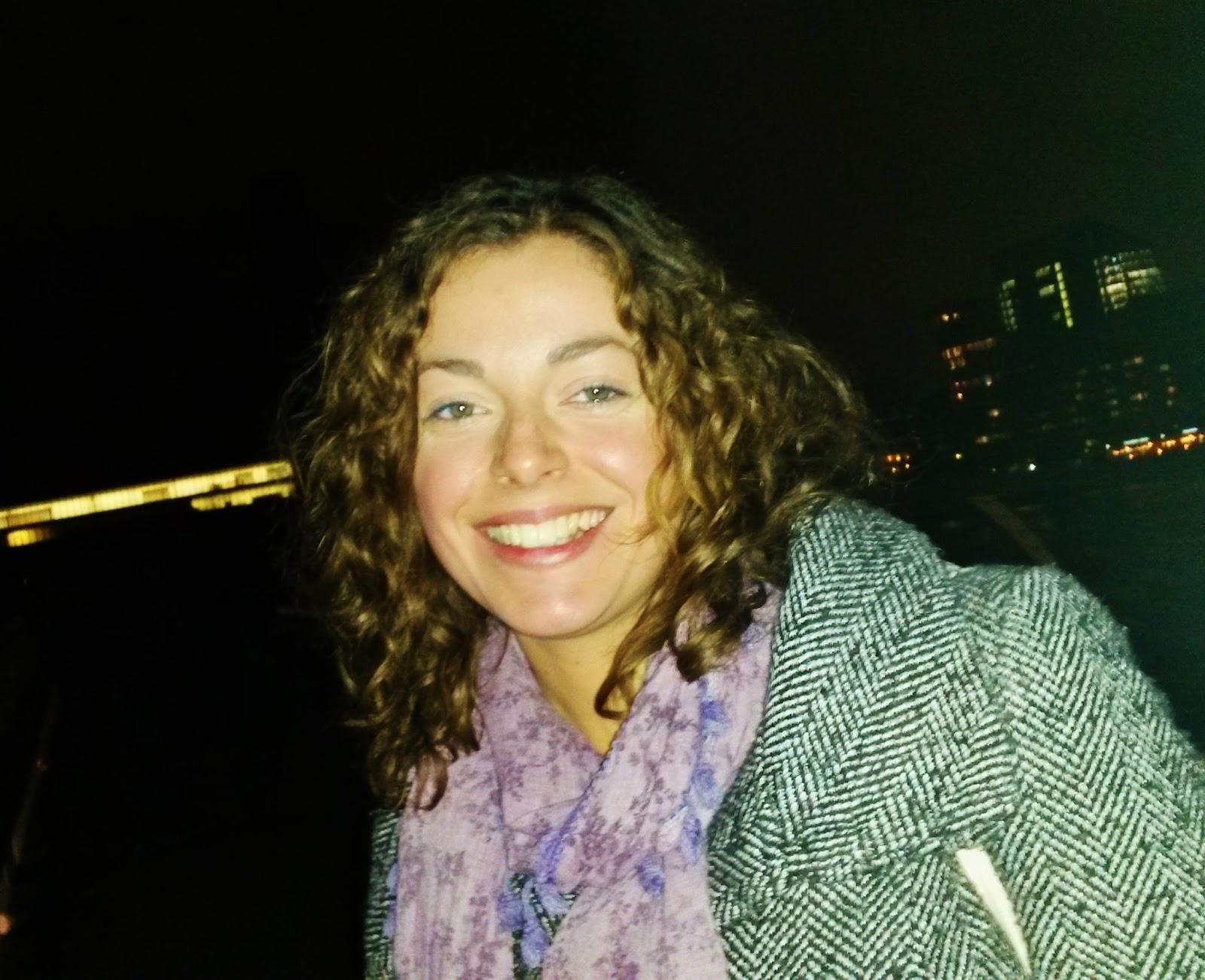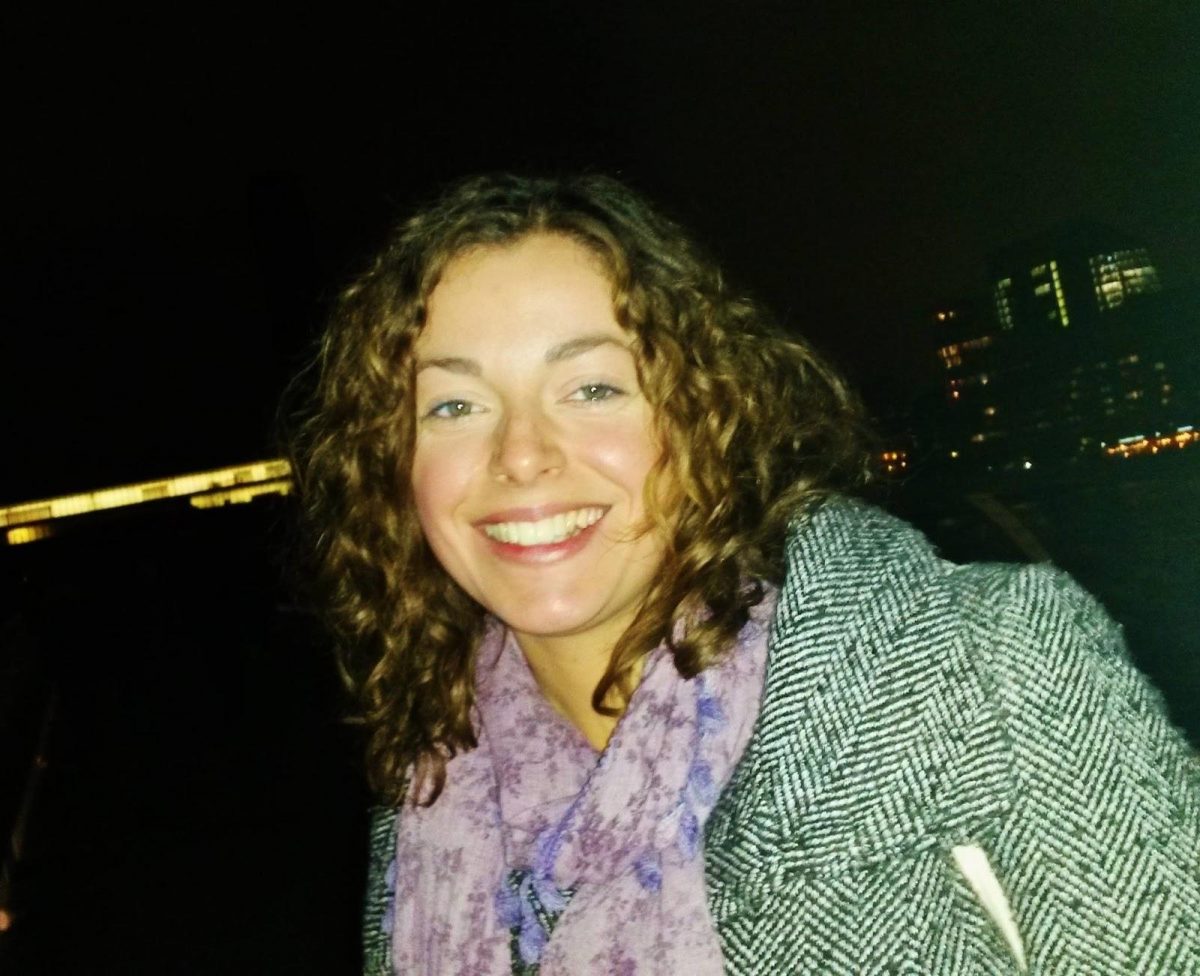 About the Author: I am a Content Writer at Process Street. While earning my degree in Biology, specializing in Environmental Science, at Imperial College London, I developed an enthusiasm for writing to communicate environmental issues. I continued my studies at Imperial College's Business School; and with this, my writing broadened in scope covering business, technology and sustainability related topics. When I'm not writing, I enjoy being in the mountains, running and climbing.