Successful Project Governance: The Richard Heaslip interview
I MAY EARN A SMALL COMMISSION IF YOU BUY A PRODUCT THROUGH ONE OF THE LINKS IN THIS ARTICLE, AT NO COST TO YOU.
Today I'm interviewing Richard Heaslip, author of Managing Complex Projects and Programs: How to Improve Leadership of Complex Initiatives Using a Third-Generation Approach. He's got some great insights into governance models and leadership in complex project environments.
Richard, thanks for being here. You started your career as a scientist. When did you first identify as a project manager?
That is a great question! I've considered myself a "professional project and program manager" for 15 or so years. I suppose I officially crossed over (from my technical career) when I recognised that I enjoyed being a project or program manager, I was good at it, and (most importantly) that I was making a real difference. It was then that I began thinking of project management more as a profession than as a role. I started thinking of myself less as a biological scientist (I was a research guy) and more as a "programmatic scientist."
My teaching at Penn is an extension of that transformation; it is based on the belief that there really is a science to what project and program managers do. We need to develop that science and create opportunities for professionals to study and learn it more deeply.
I'm not sure that I'd consider leadership a science but I know we agree that it's important for successful projects. What is the most important role for a leader to play on a project?
In my experience, it depends on the nature of the project. Some projects need a tactician while others need a strategist. Some projects need a technical sage while others need an operational savant.
Perhaps it is most important that a project or program leader be an integrator—someone who never loses sight of the big picture when looking at all of a project's parts; someone who can see all the detail of the project, and know how it comes together; someone who assimilates the views of stakeholders and provides a coherent perspective.
Project leaders who need to focus on operational efficiency need to be highly effective in communicating operational needs, uncertainties and complexities. Program leaders who are responsible for delivering program benefits need to be highly effective in communicating how a program's outcomes have satisfied (or not) the program's ability to deliver its intended value.
So communication is important for project success. What else contributes to successful projects and programs?
I often find that a project's success can be traced to the steps that are taken early in the project lifecycles—steps taken to deeply understand their intended value, the uncertainty that they will face, and what a team must do to face it.
In modern organizations, "success" is often defined as something more than completing projects on time, on budget, and to specifications; increasingly often, it is defined using value terms. As a result, projects and programs are much more likely to be considered successful when their teams and sponsors precisely define the value they are expected to deliver and how it will be measured. It is important that everyone has a clear and consistent definition of what project success looks like.
Project and program teams are also more successful when they have carefully examined the uncertainties that they face and the assumptions that were made when defining their strategies and plans. I believe successful project and program teams continually reassess whether they have overlooked uncertainties and whether their assumptions are still correct as they pursue their goals.
Having defined a project's assumptions and uncertainties, project teams need to ensure that they are well prepared to manage them.
To be well prepared, teams must ensure that the knowledge, skills, experience, and authority of team members are well-matched to the needs of the project. It is especially important that project and program managers have the skills required to manage the uncertainty that projects and programs face.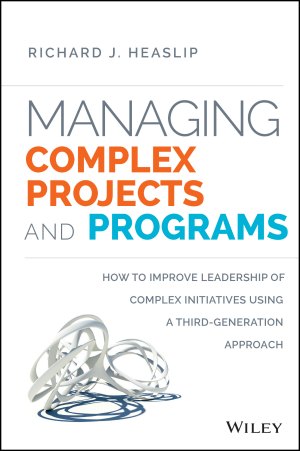 That's good advice. Leading through uncertainty can be difficult. How can a leader be instrumental in identifying performance issues before they get too out of hand?
I've always found that leaders need to have an "internal GPS" that tells them whether their projects or programs are moving in the right direction and are where they should be. If they have that GPS, and trust it, they will be able to recognise when projects and programs are performing expected or have gone "off road." Project and program leaders who can use that internal GPS are well positioned to identify issues with team or team member performance… well before they become wrecks!
Governance must also help support that GPS. What governance model would you recommend for a project manager dealing with a large and complex project?
Governance models depend critically on project and program needs. I would recommend that the best model is one that enables project managers, program managers, and executives to effectively and efficiently manage the uncertainty and complexity that their projects and programs must face.
Hmm, that sounds vague. Tell me more.
For some organisations, that is a simple "two-party" model that is involves a governance committee (with its executive sponsor) and the project or program manager. Together, they manage all the interactions required to execute a project or program effectively.
For other organisations, however, it requires something more elaborate—a "three-party" model in which project managers lead in the management of operational issues, program managers lead in the management of outcome-based issues, and executive management leads in the management of business issues. In three-party models, each of the managers may need to interact with a whole mess of subcommittees and stakeholders in different but coordinated ways. The development of effective three-party systems is reasonably new—it is described in my book as a "third-generation" approach to project and program management.
Does it work?
I am encouraged by the results achieved by organisations that have introduced three-party governance models to manage complex projects and programs. I know of several examples of pharmaceutical companies that have been successful in using them for new drug development. Their approach has been to develop and deploy two distinct kinds of professional "project" managers: traditional project managers who are principally responsible for ensuring that work is managed efficiently and effectively (on time, on budget, and to specifications), and program managers who focus more on the need to continuously adapt to what is learned as the work proceeds.
In their models project managers have more traditional project management training, while program managers often have medical or scientific training. Working together they are very effective in ensuring that teams pursue innovative strategies in a highly efficient and effective way.
What's next for project governance?
I think we are progressing in our studies of how to optimise governance models for the management of complex projects and programs. The next big challenge is to figure out how we can best to optimise an organisation's culture for pursuing those projects. To address that challenge we will need to better understand how the leadership behaviours of project and program managers can be better matched to a project's or program's needs. Stay tuned for more developments in that area!
Thanks, Richard!
About the author: Richard Heaslip Ph.D. teaches Program Leadership Skills and Systems in Organizational Dynamics at the University of Pennsylvania. A former Vice President of project, program, and portfolio management in the pharmaceutical industry, Richard is the Founder of Programmatic Sciences, a consultancy that helps organizations to improve their management of uncertain and complex endeavors. Buy his book on Amazon.