Slenke.com: How To Get Started [Software Review]
Slenke has been around since 2015, but you might not have heard of this Canadian-built project management software tool. There are two differentiators that the Slenke team pride themselves of from my research: the collaborative nature of the tool, and the comprehensive encryption offered for messages and files.
(Full disclosure: I was compensated for this article but the views expressed are my own and this is an honest review/tutorial of how I found it.)
General Information
Name: Slenke
Vendor: Slenke Inc
Hosting options: Online solution only.
Cost: There is a free option but it only allows you to have one project. Pricing starts at US$4.99 per month per user for up to 15 projects, but there are enterprise pricing options for larger businesses too.
Getting Started with Slenke.com
It's easy to create an account and check out the features for free, to see if it's a good fit for you.
Collaboration Features
You can be part of a department, project or group. There are privacy controls at each level so you only see what you are allowed to. These groupings allow you to take part in targeted conversations and keep the communication going between the various teams you might be part of.
You can also invite users from outside your organisation to be part of your team, which is helpful for when you are working with third parties.
The collaboration features mirror what you see in other big tools: messaging and file sharing are built in and work well. It is hard to test collaboration features with a small team over a short period of time – I get the feeling this could be a value-add option for teams but you'd see the value through continued collaboration over a project, not through a software review environment.
I liked the messaging interface. It felt very clean and Skype-like.
There are also Android and iOS apps. I downloaded the iPad app and it has a very similar look and feel to the web version. You can easily get started and work mobiley.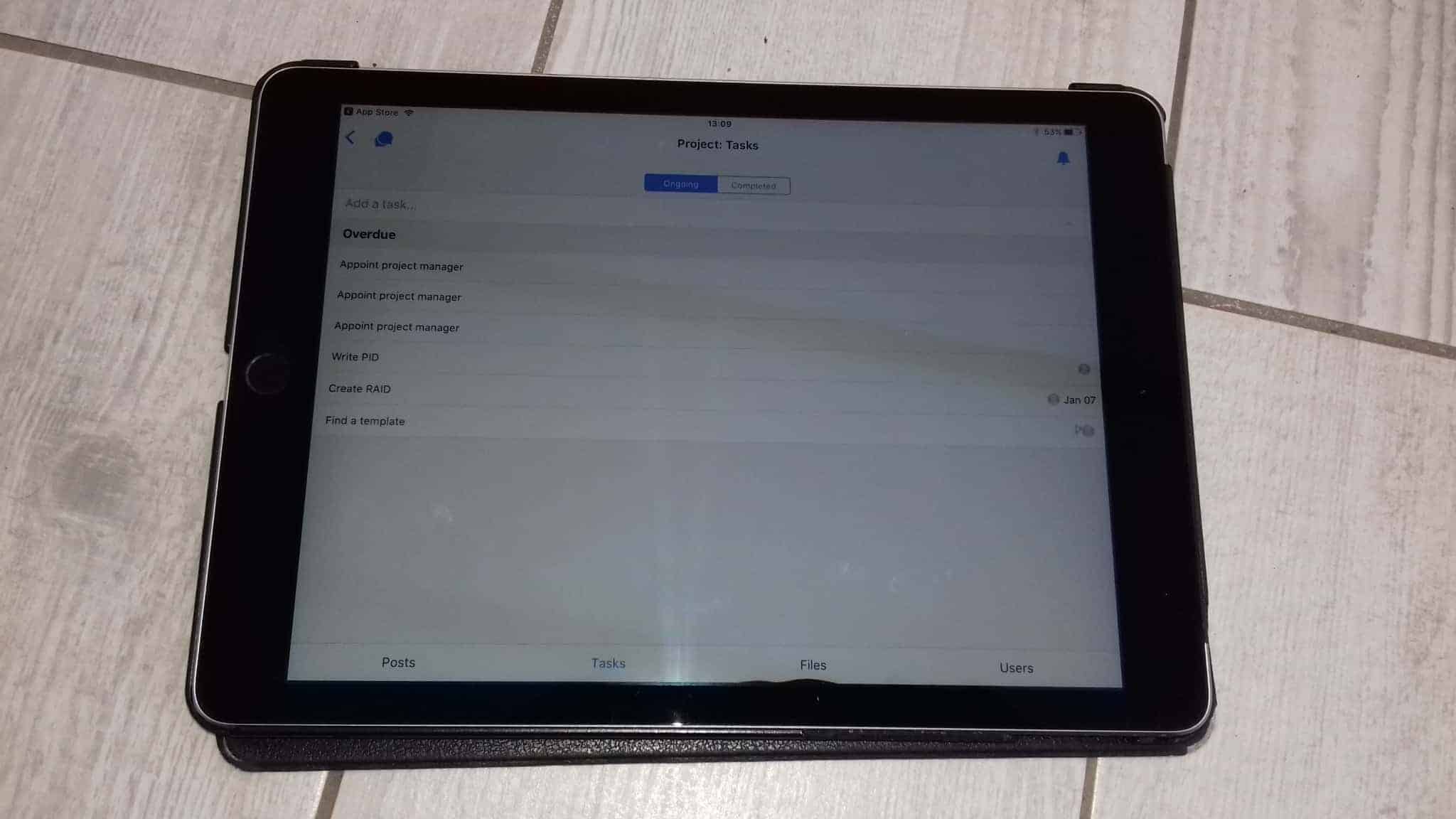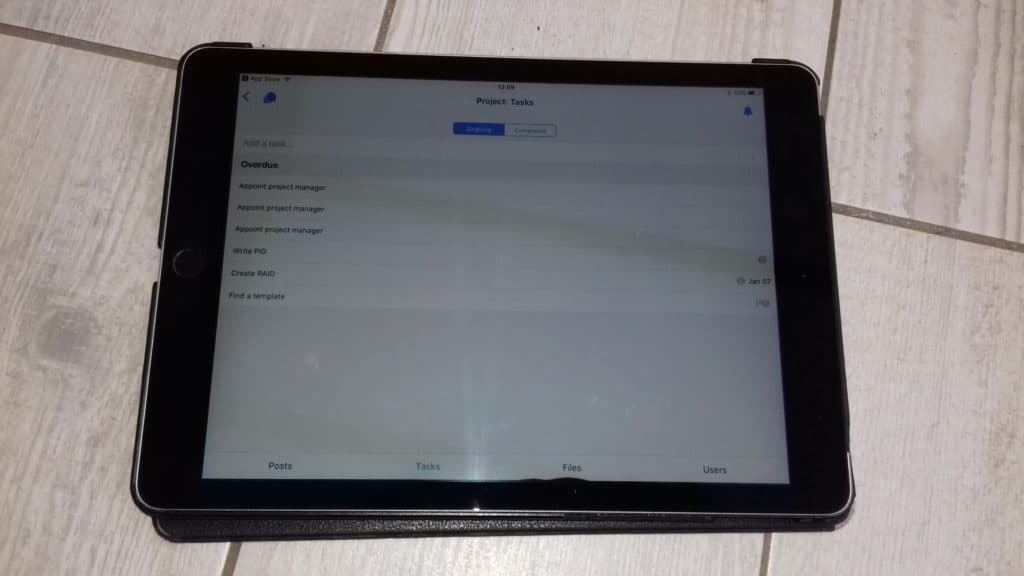 Read next: Collaboration Tools FAQ
Basic Features: Adding Tasks
You can add tasks in Slenke from the homepage dashboard, the Tasks main menu, or from within a project. The process is all pretty much the same. To add a task, go to the Tasks pane and type the task name in the box. Then click the paper aeroplane icon to add the task.
On the Tasks main menu, the tasks are added to the New section, which gives you a little prompt that you should add more detail if, like me, you took the lazy option and only added a task name.
When you click on a task, a panel opens up to let you add more information about the task or add updates and files.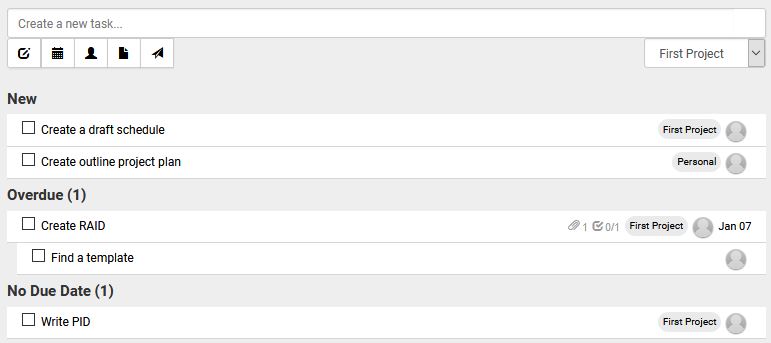 There are benefits from adding tasks here instead of into a project view. When you add tasks from outside the project view, you can allocate them as 'personal tasks'.
This is so useful! Lots of tools are so focused on project-driven options that the stuff you need to do in your daily work, like prepare an agenda for your PMO meeting, doesn't fit within their framework. With Slenke, you can manage your whole To Do list from within the tool, even if some of your tasks aren't work you can attribute to the project.
Using Boards
Once you've set up a project, you can keep the conversations, files and tasks together in that area.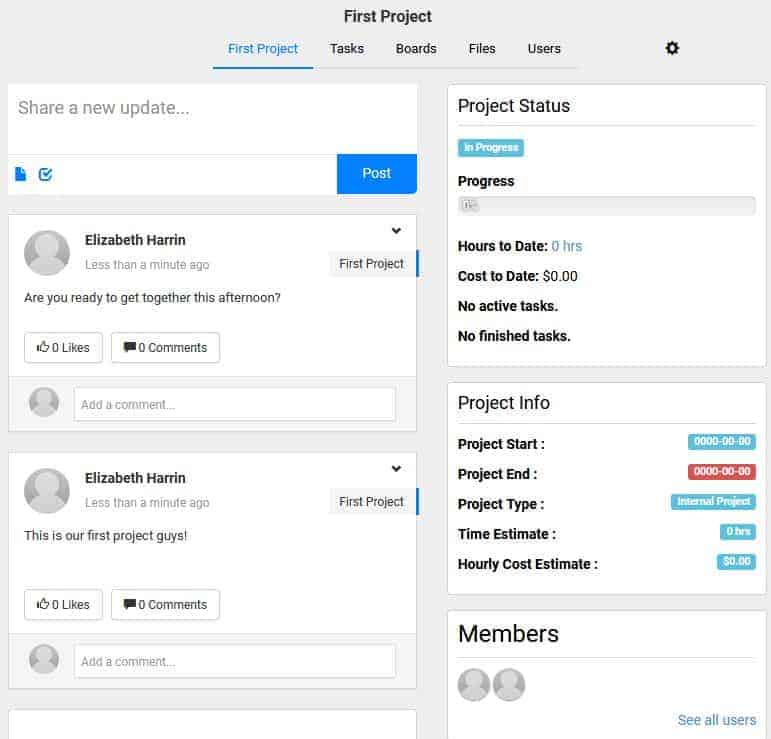 From here, you can switch to board view.
One thing to note: Tasks and Board don't always have the same headings. My task lists are called 'No Due Date' and 'Overdue'. Pretty clear. (There's a new list with the status of Upcoming when you put a future date on the task.)
My boards are called 'To Start', 'In Progress' and 'Completed'. That's also clear but not the same as task list view. My tip would be to not try to switch between the two too often in one sitting!
You can add extra boards or remove the ones that are there (except Completed), and change the colours.
As a project manager, I would like to have more date options. You can only add a due date. This has pros and cons.
On the plus side, so much of my knowledge work with subject matter experts relies us on agreeing a deadline and then me leaving them to get on with it. It doesn't really matter to me when they do the work between now and the deadline. They might not even know how many hours it will take or when they'll fit it in. But they are grown ups and I trust them to do the task on time.
On the downside, it's not good for teams looking to plan out work over a longer period of time and who want to use the calendar view to see how many tasks they've got on at any one time. You'd need a start date to help teams see what's happening in parallel in the calendar view, or switch to Board view and watch the work in progress carefully. However, you can't filter views by resource so you'd have to watch an individual's workload.
Calendar view, is good, by the way. More apps should have calendar view. It's such a clear way of looking at upcoming deadlines.
Final Thoughts
It is good not having to constantly save everything, but I still miss the reassurance that I get in other apps with a button that refreshes regularly saying 'saved!' I felt that I wasn't quite sure if my changes had been taken on board or not, and I know that confidence in the tool would get stronger once I have been using it for longer.
At first I thought the green tick was for saving, but it actually means 'task completed' (read the hover screen tips before you click and don't make the same mistake I did!)
You can't categorise tasks as far as I can see. For help categorising tasks and data within your project management software tool, download my sample data taxonomy.
Calendar view: did I already say that I thought this was good? It's good.
Summary: Slenke Review
Slenke is a good tool, and it's still developing. There are some glitches in the user interface that felt awkward: when you open a task in Board view, for example, and then click to delete it, the task remains open on the screen. When you click away from the pop up, it closes (this is the way all pop ups work in the tool) and you can see on the Board that it has gone. But it would be better if when you deleted a task, the pop up closed automatically.
Equally, when you drag a task from one board to the next, it automatically opens the task pane. I'd personally rather it didn't, especially when moving from In Progress to Completed – there is no workflow or task allocation to add at that point. I get that I might want to add notes to say how the task went but if I do want to annotate it, I can open the task myself.
Overall, these are small points. It's a low-cost, straightforward tool that does the job of managing a complicated To Do list through calendars and boards, and allows you to collaborate with your team. You'll be able to keep your work organised with Slenke.
It's not pretending to be a fully-featured enterprise solution – the lack of Gantt chart is evidence of that – but it doesn't need to be. Calendar view can give a project team enough information and is more user friendly. Boards help you manage throughput and stop the team being overloaded.
And detailed information plus file sharing on tasks means you all know what you are supposed to be doing at any one time.
For plenty of creative and industry teams, that is going to be plenty of functionality, for a reasonable price, and a slicker way of managing project tasks.