Sauce & Spoon: Tips for Your Google Capstone course
This blog is reader-supported. When you purchase something through an affiliate link on this site, I may earn some coffee money. Thanks! Learn more.
I've been managing projects for over 20 years and I found the Google Project Management Certificate capstone course quite tricky. It's hard to know what they are looking for in the Sauce & Spoon case study, so if you're working through the course, here are some tips as you prepare to submit your capstone assignments.
For more general tips on how to earn the Google project management certificate quickly, read the story of how I passed the certificate in a week.
Recommended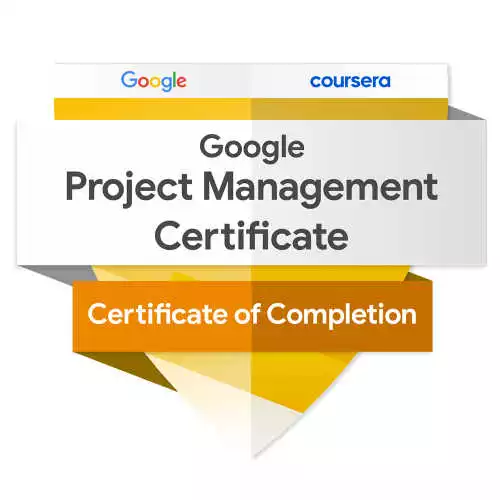 Google Project Management Certificate
A solid, professional, well-recognized project management course from a great training provider. Perfect for beginners and people interested in learning more about project management as a career.
Learn more
We earn a commission if you click this link and make a purchase, at no additional cost to you #ad
Applying Project Management in the Real World capstone: overview
The premise of the capstone is that you work through a realistic project scenario, responding to data as it unfolds. The assignment is peer-assessed and graded based on project documentation you submit.
There are multiple stakeholders involved from the senior executives to the kitchen staff, front of hours and the IT team.
You're acting in the project management role, guiding the project through the lifecycle to completion.
It's not an agile project management case study but I can tell you that it's realistic. I have never worked on a project where it's been so easy to elicit requirements and to get information out of stakeholders, but apart from that, it's realistic! I've reviewed the Google Project Management course overall, and generally the content is a good representation of your average, straightforward project.
Tip: Go back to your documentation for Office Green/Plant Pals and use those as inspiration for the Sauce & Spoon documentation as the templates are the same.
Sauce & Spoon project charter
The information you need for the summary and project goals is dotted throughout the case study material. The charter is the first document you create (as we're in the project initiation phase), so there isn't that much information to sift through.
I think it's important that you do your own work and extract the deliverables, project scope, benefits and costs from the case study materials, but I will share my project summary and appendix. Don't copy it (Coursera asks you to validate that it is your own work and if they find out you are a copyright thief, they'll kick you out).
Project summary
This project aims to implement a guest-facing digital menu and point of sale system at two restaurant locations, North and Downtown by Q2. This will include a pilot in the bar area of a tablet system integrated into each table to allow guests to order from their tables and to improve the ticketing system into the kitchen. This will reduce the time it takes for customers to receive their orders.
Appendix
I added a few bullet points to the appendix box.
Should we add a goal around decreasing guest wait time? The tablets will reduce table turn time but other factors might influence how busy the restaurant is.
Resolved: We agreed to exclude this goal as the table turn time goal is more specific.
Should we reallocate some of the payroll? The tablets will allow servers to cover more tables and that would free up funding to increase the number of kitchen staff (line cooks, bussers and runners).
Not yet resolved; next steps: Continue to discuss
Order return policy: As a result of the data collected by the tablets, we will be able to evidence to customers what they ordered and this should reduce returns and comped food.
Resolved; agreement reached. This will be managed outside of the project and will be picked up by operations.
Should we extend rollout to include all table sections, not just the bar? This has been requested by Omar.
Not yet resolved; next steps: Peta to organise a meeting.
I should add that I have never included an appendix like this in a real project charter. The content here would be included in my RAID decision log, or in an action log if they are not yet resolved.
Drafting influential emails
Who is to say what makes an email influential? The second Week 1 peer-reviewed activity is to create an email coalition for the Sauce & Spoon team, writing "influential emails" so you can sway decision-making.
This is hard to do without knowing the individuals, and while Peta the project manager (i.e. you) does have some background information on the personalities to work with, it's not a lot. You should also have completed a stakeholder analysis document this week, so that helps too.
The task is made harder as there is no right or wrong answer: you have to draft your message in your own words. Remember to check the marking schema so you can hit all the points. Submit your emails in a Google Doc with the settings set to public so anyone can read it – otherwise you risk your peer reviewer not being able to give your project documents any marks at all.
Below, you can see my assignment as an example. I've blurred some of the text as encouragement for you to use your own words and not copy my work!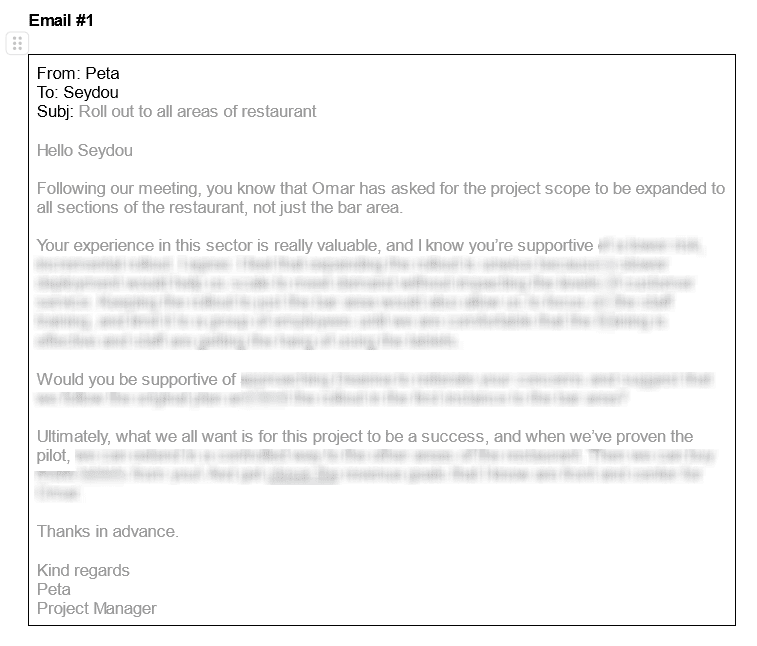 Sauce & Spoon project plan (Excel/Sheets)
Moving on to project planning.
The good thing about the whole Google project management certificate is that you aren't expected to use any particular project management software. All the templates provided are either Google Docs/Google Sheets or Microsoft Word and Excel, so it's very straightforward to complete the assignments with tools you already have.
Use the Sheets template to create the task list based on the tasks you've identified. Next, fill in the time estimates for project tasks. I saved time by not completing the Gantt chart boxes on the right, but in real life you would do that.
Save more time by not completing aspects you are not graded on, for example, the task owners. You can see in my assignment below that I did not complete that. Again, in real life you would. Equally, if you are using this assignment as evidence to recruiters that you can create a project plan, you'd be better off completing the whole thing to show them that you can!
You can see the task groupings and milestones I used in the image below.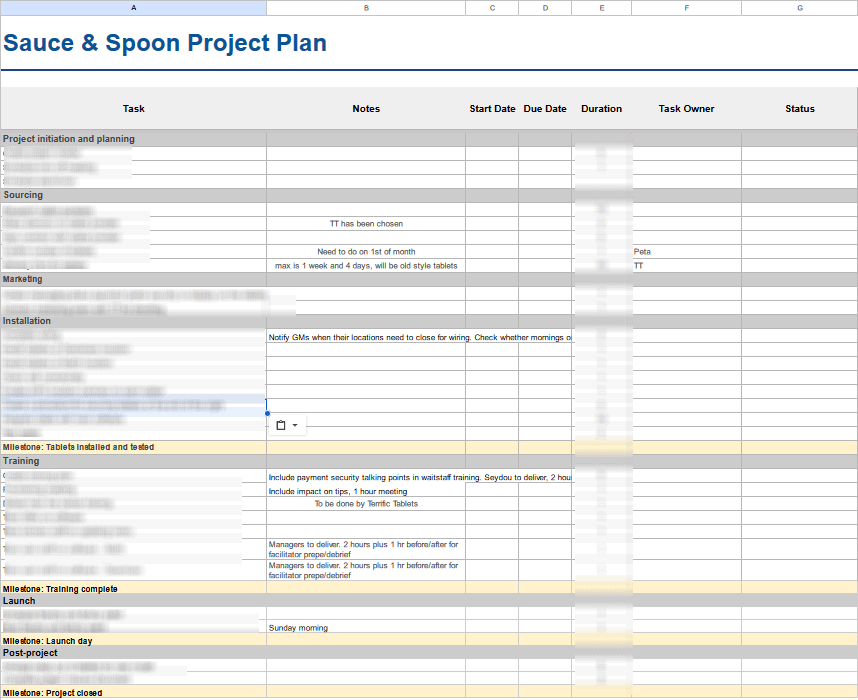 In Week 3 you will add quality standards, evaluation questions and survey questions to the plan and submit it again.
Evaluation findings
I enjoyed this assignment, which is about creating a short slide deck that summarizes the evaluation findings from the test launch event. I really do prefer PowerPoint for creating slides, but I used the Google Slides template because it was right there and it was easier to submit Google doc links.
Whether you go with PowerPoint or Google Slides, you'll need these slides:
Summary
Overview of what was evaluated during the test launch (make a list of bullet points)
Findings: Pick one element of the results to present as a graph. I chose to do the question: "Did the kitchen prepare your order correctly?"
Next steps: Lead with the headline. I chose to focus in on the fact we only served the correct order in 72% of cases, which is a long way from the target. Summarize the next steps to tackle the problem in bullet point form.
I added another Next Steps slide to summarize another major takeaway: only 56% of diners receive their order within 20 minutes. I described how the working groups would be set up to address this.
That's it! You really don't need loads of words on each slide.
Email to senior stakeholder
In Week 4 there are two peer-reviewed assignments to do. The first is writing an email to a senior stakeholder, Deanna.
I found the assignments where the answer was one thing or another (like a time estimate) easier to do than drafting narrative text. It is also harder to mark and more subjective, but do check the rubric for each assignment so you can see how you will be assessed.
You can see some of the email I drafted for the assignment below, as a starting point for your own work.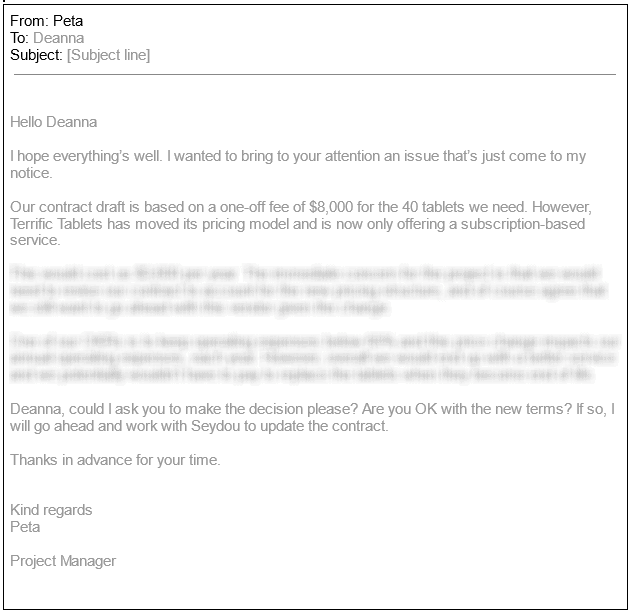 Close out report and exec summary
The Sauce & Spoon close out report was quite time-consuming to do, but worth it as it provides the input to the exec summary for the project impact report.
You don't have to write the whole impact report, just the executive summary, and that's a good skill to get into the habit of.
Here's how I completed my executive summary.
Vision: one sentence on the goals of the project.
Key results: I wrote one sentence on the increase in customer satisfaction, using specific numbers and data from the case study.
Revenue impact: I added a sentence on the revenue increase, using data from the case study.
Lessons learned: two sentences on lessons learned.
Next steps: The final sentence summarized the two main next steps.
Tips for submitting your work
I kept a Word document with my study notes that included links to all my Google docs relevant to the capstone so I knew what I had submitted and could find my files again.
Make sure any Google docs submitted can be viewed by the public or people with the link, otherwise you'll score zero as your peer reviewer won't be able to see your work.
Make sure you submit the right file for the right assignment!
Don't submit random files – I had a few to grade that were files not even relevant to the case study, such as someone's CV. Zero points for that.
Yes, you can search online for the answers to the assessed quizzes — the course has been around long enough now for people to have scraped the questions and answers — but you aren't learning anything from that. Why cheat? That's truly not going to help you get a job or keep a job.
Completing non-assessed work
There are other tasks to complete, and if you are new to project management I would encourage you to complete all the work. Build your confidence so you know what is expected of a project manager in a real job, and take your time to get familiar with the jargon, tools and documentation.
However, if you already have some project management experience and are not trying to build new skills, you can skip the other activities and only focus on the peer-reviewed content. That's your risk though: sometimes there are nuggets of information relevant for assignments hidden in the other task descriptions and notes so you'll potentially miss important information. Just like in real life if you skip over a few important emails!
However thorough this case study, it's only that: a desk-based exercise. It's helpful, relevant experience, but until you start talking to humans and working with stakeholders, your experience is going to remain theoretical.
Still, it's going to give you something to talk about during your job search and I really rate the Google course as project management training for beginners.
Good luck with your capstone completion!