Project Management Communication Tools [Book Review]
This blog is reader-supported. When you purchase something through an affiliate link on this site, I may earn some coffee money. Thanks! Learn more.
When Bill Dow asked if I wanted to review his book on project management communication tools, I jumped at the opportunity.
Now I need to apologise that it's taken so long.
Why has it taken me so long? Because it's a giant book that I can't carry on the train with me. Coming in at around 700 pages and sitting on my desk nearly two inches thick this one is definitely a desk reference. I even had to prop it on a box of Lego while I was reading it with a child on my lap as I couldn't support it in one hand.
If you have stronger hands than me this won't be a problem for you!
Everything You Ever Wanted To Know About Project Communication
Seriously, this book contains everything you ever wanted to know about all the tools and documents available to you for communicating about your project. All the formal documents are included and there are sections covering the other aspects of formal comms too, like histograms, calendars and dashboards.
Project Management Communication Tools by William Dow and Bruce Taylor is split into 4 major sections:
The first part deals with general communication in a project environment
The second part covers the tools that support knowledge areas
The third part covers the same tools but looks at them across the life cycle and processes
The fourth section covers everything else less aligned to methodologies, like business intelligence and social media.
It's very much written with a PMP® audience in mind, but even if you don't ascribe to that way of working through your projects then there is plenty of stuff in here that will apply.
Agilists will find their tools covered in detail too. There's a great explanation of agile radiators, a term I only came across recently.
The 2015 edition has been completely refreshed since the last edition including more content and tools, and the authors have removed some of the content that no longer sits as current business practice. There are also high-level templates for you to copy and use.
Is There Really That Much To Say?
That's the question I asked myself when I picked this book up. There is a lot to cover with project communication, I know that. And it's not as if a particular business narrows it down. The authors write:
The communication tools in this book are applicable across various projects and most industries. That is the great aspect about project communication management; it is not industry specific – a status report is a status report. You need one in IT, you need one in construction, and you need one in manufacturing. The content is different, but the tools are essentially the same.
I understand why the book has information that overlaps in places, but for me it was too much. When the tools are first introduced it's at an introductory level. Then the next time you meet the tool it's discussed in a 'Mastery' level.
While the information is different and I get that people won't need to know everything about a tool, I would have preferred to see the information combined, and the information about where the tool fits in the life cycle delivered in another way.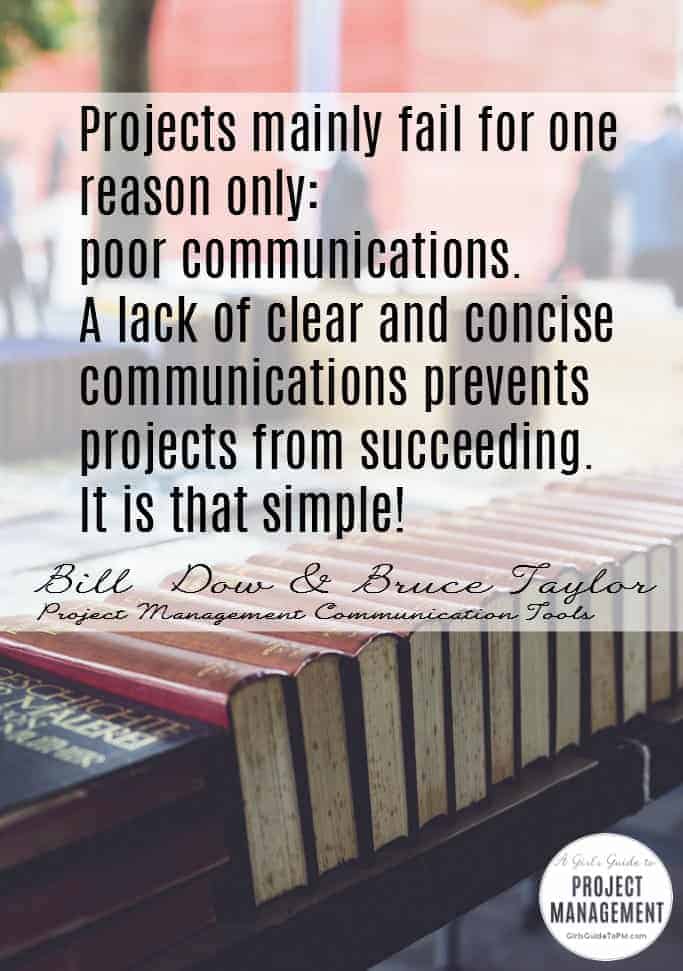 The authors do try to make it easy to navigate: there's an appendix with a mammoth list of all the tools and the references to them in the book.
There are useful summaries at the end of each chapter too. As the information is so rich it helps to have a quick recap of each area as you go.
Aside from the weight of the book, I had a problem with the font. I just didn't find it easy to read! This is another small thing that most readers will have no issue with, but I'm a bit picky about typography.
A Broad Brush for Communication
This book will serve you well if you are planning your project communications on large or small initiatives. The depth of content is definitely there – the 700-ish pages are packed with information, case studies, useful tables and charts that set all the tools in the context of project management overall and in the comms domain particularly.
There is even information on business communication with international and virtual teams including a bit on common cultural communication norms (nothing in there for the UK but other countries are well-covered).
Project Management Communication Tools is perfect for people who want a deep dive into how to better use formal project management approaches to communicate on their project. This is not a soft skills book – it focuses on the documents and management tools available to you that will help tell the story of your project. It does that very well and with deep domain knowledge on the part of the authors.
It's also a great choice for anyone who wants to really understand the PMP® exam requirements in the communication arena (and it even has sample exam questions).
I'll be keeping this one on my shelf and I'm sure I'll refer to it often.