No time to read (The Parent Project Month 18)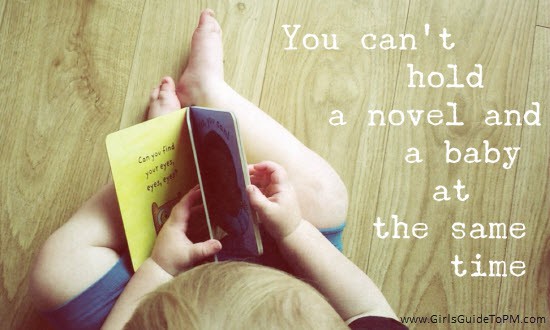 I don't have time to read any more. While all the book reviews this month make it look like I sit around reading all day the truth is that I read most of them while commuting or in the weeks before Oliver was born when I didn't have the energy to get off the sofa.
I miss it.
Not the sofa – reading.
I have a stack of novels to read: Incendiary by Chris Cleave, a book about Houdini, even The Soldier's Wife by Joanna Trollope that I thought would be easy enough to get through with a sleep deprived brain. But I haven't opened any of them: you can't hold a novel and a squirming baby at the same time.
I thought ebooks would be the answer so I downloaded a Richard Castle novel (yes, my love of US procedural crime drama knows no bounds) and I haven't even got to that. I forget that it's there, or I'm using the iPad as a baby monitor. But mainly because at 5am I want to curl up on the sofa with the baby, a cup of tea and DIY SOS: The Big Build as it's too early for anything else.
I expect there will be a time when I read for pleasure again. In the meantime, I read project management books because I'm going back to work and I want to prove to myself that I still understand phrases like 'schedule feasibility risk' and 'planned velocity' after months of reading Dear Zoo and Is This My Nose?
The thing is, I'm not sure that I do any longer.