Making the Difference: Problem Solving vs Decision Making
This blog is reader-supported. When you purchase something through an affiliate link on this site, I may earn some coffee money. Thanks! Learn more.
Do you ever find yourself stuck between a rock and hard place, unable to decide what the best course of action is?
I have. Whether it's what desk to put in our new conservatory space (and I'll tell you what we ended up deciding later), or who to invite to meetings, or managing to order everyone else's food and then getting so overwhelmed with having made decisions all day for all the people that I couldn't choose anything for myself.
I left the café with nothing for me and ended up with a couple of slices of peanut butter toast at home.
Making decisions can be difficult for even the most experienced project managers. But before making any decision, it's important to understand the difference between problem solving and decision making.
Ready to get into it?
Problem solving involves diagnosing issues that arise during projects while decision making requires taking appropriate steps based on those diagnoses. While they may appear similar at first glance, there are key differences in how each process should be approached – understanding these differences will help you make more informed decisions!
Let's explore both processes as well as their similarities and differences.
What is problem solving?
You've been solving problems since you were a baby: how to stand up, how to get your socks off, how to get your parents to bring you your favorite sippy cup.
As an adult, we solve problems every day at work and at home.
So it probably sounds a bit odd to want to define problem solving before we go any further. Surely we all know what we are talking about as we do it all the time?
Humor me. Problem solving is the process of identifying and analyzing a problem, generating potential solutions, and selecting the best solution to address the issue. It involves breaking down complex problems into smaller components and then finding ways to solve them.
The problem solving process
If you think that description sounds linear, then you'd be right. Problem solving fits neatly into a process, one that we don't even know we're following most of the time.
The problem solving process typically consists of four steps:
Identify the problem
Generate possible solutions
Evaluate each option
Select an appropriate course of action.
That does make it sound easy. Wicked problems need a slightly different approach (PMI has a problem solving training course that is brilliant and will help with that).
But for now, let's stick with a high-level approach that works for most problems.
1. Identify the problem
First, it's important to understand what caused the issue in order to determine how best to resolve it.
You'd be surprised at how many managers don't bother to find the root cause of the problem to truly understand it. Use techniques like the 5 Whys or an Ishikawa diagram to dig down into what the problem actually is.
2. Generate possible solutions
Brainstorming is one way to come up with different ideas for potential solutions. You could also interview experts, review lessons learned or innovative solutions from previous projects, research what the rest of your industry is doing or consult customers on what they'd like to see. There are no silly ideas at this point!
Choose the creative approach that gets you a range of options to review.
Read next: How to improve problem solving with lessons learned.
3. Evaluate each option
Once you have several options to consider, you can evaluate each one based on its effectiveness and cost before deciding which one is most suitable for your situation.
Use pairwise prioritisation, multi-criteria decision making or analytical hierarchy process (AHP) to help with the evaluation.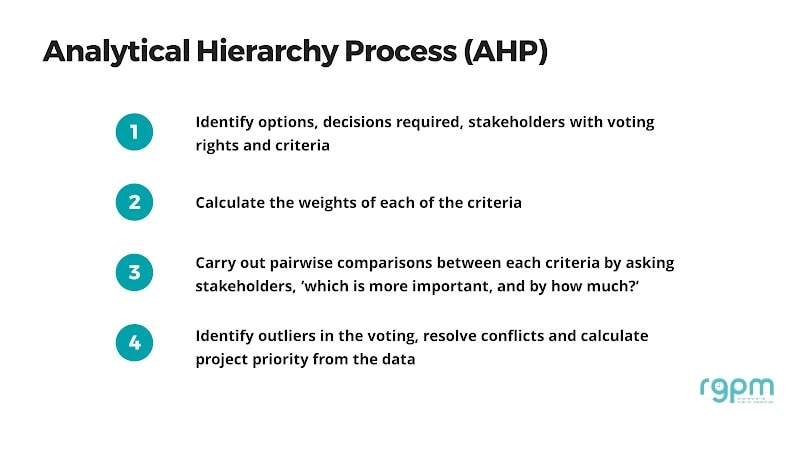 4. Select an appropriate course of action
Now you've got all the options for solving your problem, you can actually solve it by choosing a course of action that will sort it out. This is where decision making comes in. in this step you make the decision.
Finally, implement your chosen solution and monitor its progress over time so that any necessary adjustments can be made as needed.
Benefits of problem solving skills
There are many benefits associated with having effective problem solving skills.
These include improved decision making abilities (more on that in a minute), increased creativity, better communication skills, greater confidence when faced with challenging situations, enhanced ability to think critically, more efficient use of resources, improved relationships between colleagues or team members due to shared understanding of goals and increased productivity levels due to fewer mistakes being made during projects or tasks.
(Breathe. That was a long sentence, sorry.)
All these advantages make problem solving an invaluable skill in both personal life and professional life scenarios.
What is decision making?
Basically, decision making is the process of selecting a course of action from a number of alternatives. It involves gathering information, weighing options, and choosing the best option for achieving a desired outcome.
But how is that different to problem solving?
Decision making is the process of doing Step 4 of the problem solving process. It's the choice making, option selection, conclusion of the analysis and thinking.
It's decisive (duh), purposeful, specific. It removes the ambiguity of the 'what do we do?' and helps the team move towards the 'OK, how do we do that?'
It brings action to a situation.
The decision making process
There is a simple method for decision making too, although the actual decision itself might be tough to make.
Identify that a decision is required
Ensure you have the data to make the decision
Make the decision
Tell whoever needs to implement the decision
1. Identify that a decision is required
The decision-making process typically begins with identifying what decision needs to be made. Are you making the right decision, or is there something else, deeper, different that is really what's required?
In this step you also want to identify who is making the decision. That could be your project sponsor, a panel, you by yourself, a committee or whoever. Getting this step clear saves headaches later.
2. Ensure you have the data to make the decision
Do you have all the info you need to make the decision? If not, get it.
When decisions are made quickly but thoughtfully, they can save time and resources while still producing quality results.
Major decisions need more time spent on this step to make sure you understand all the variables.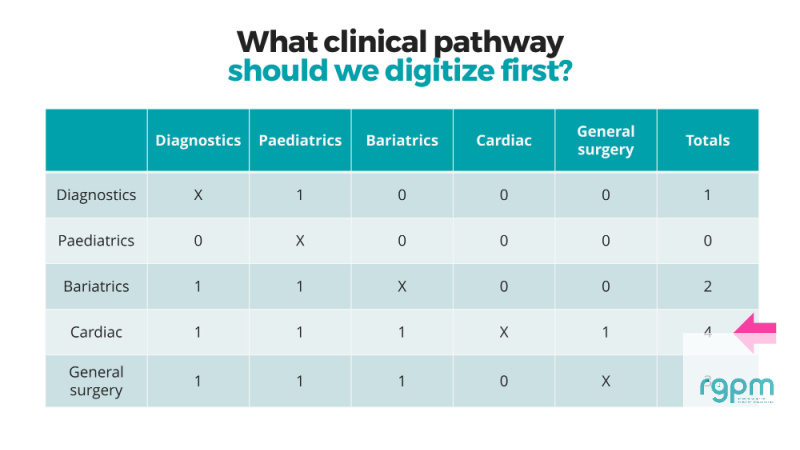 3. Make the decision
After considering all potential solutions, it's time to make a choice based on what will yield the best results for everyone involved.
This is the hard part: make the decision! The person or people responsible for this should weigh up the data and use their professional judgement to choose the right course of action. Decision trees can be useful here to avoid unconscious bias (or conscious bias!).
Obviously this is harder for complex decisions. What vendor to choose for a 3-year outsourcing arrangement is harder to decide than what venue to book for a team away day.
4. Tell whoever needs to implement the decision
Great – you've made the call and know what to do, but does the rest of the team? Don't keep the decision to yourself!
Make sure whoever needs to know the next steps is aware that the decision has been made so they can implement it and take the right action.
Having confidence in decisions leads to greater trust between team members and better collaboration overall, which can lead to improved project outcomes over time. Well-made decisions often create opportunities for growth within teams by allowing them to learn from their mistakes as well as their successes along the way.
Similarities between problem solving and decision making
Problem solving and decision making sound very similar, right?
Well, that is true. Both processes involve gathering information, analyzing it, and coming up with solutions or courses of action. They both require critical thinking skills to identify potential solutions or options that are most likely to be successful.
The processes use a similar flow
Both processes involve identifying a problem or issue, researching possible solutions, evaluating those solutions based on criteria such as cost-effectiveness or feasibility, selecting an option from among the available choices, implementing the chosen solution, and you'd also want to monitor its effectiveness over time.
The process can be iterative if necessary; if one solution does not work out as expected then another may need to be tried until a satisfactory outcome is achieved.
They both produce a satisfactory solution
Problem solving and decision making usually lead to some kind of action being taken in order to address a given issue or situation. Problem solving often involves finding creative solutions for complex problems, while decision making typically entails selecting a course of action from several possibilities after carefully evaluating each option's advantages and disadvantages.
But ultimately, the goal is for something positive (or at least neutral) to come out of the helpful process so that whatever challenge was initially presented can be effectively addressed.
Despite being so similar you could pretty much interchange them in some circumstances, there are some differences.
Differences between problem solving and decision making
Although they have similarities in terms of the process used to come up with a solution, their goals differ significantly.
Process goals are different
The goal of problem solving is to find a solution to an existing issue. It involves identifying the cause of a problem and then finding ways to address it. Problem solving often requires input from multiple stakeholders who can provide different perspectives on how best to solve the issue at hand.
On the other hand, decision making focuses on choosing the best option from multiple alternatives. This could include selecting between competing products or services or deciding which strategy will be most effective for achieving certain objectives.
In other words: decision making doesn't necessarily mean there is a problem. We make decisions every day about small things and big things, but they aren't all problems that need the creative step of solutioning.
Sometimes a decision just needs to be taken and the options are clearly known.
They require different stakeholders
Another key difference between problem solving and decision making is that while problem solving typically requires input from multiple stakeholders, decision making is usually done by one individual or group who has access to all relevant information needed for the decision-making process.
To give you an example. Let's say on a technical project the development team hit a problem. They have to bring in various subject matter experts to research and identify the parameters involved. They consult, brainstorm and debate. It's a group effort, and it's likely to end in a solution.
However, if I need my project sponsor to choose between two risk treatments, I'll take him my recommendation and a summary of options and he'll simply choose. Done.
Decisions are made based on what is known about a situation rather than relying on external opinions or advice when trying to make an informed choice about what course of action should be taken next.
They produce different results
The nature of both processes also differs in terms of the types of solutions they produce. Problem solving typically results in creative solutions that can be implemented over time, while decision making produces immediate choices from among existing alternatives without necessarily creating something new or unique.
The TL;DR
Both processes involve the identification of a problem or issue, the collection of information to evaluate possible solutions, and an analysis of potential outcomes. The main difference between them is in their goals: problem solving seeks to identify the root cause of an issue and develop a solution that will address it; decision making focuses on selecting from among available options.
Both processes require careful consideration of facts and opinions before any action is taken. Problem solving often involves more people than decision making as it requires collaboration to identify underlying causes and brainstorm potential solutions. Decision makers may consult with others for input but ultimately make decisions independently based on their own judgment.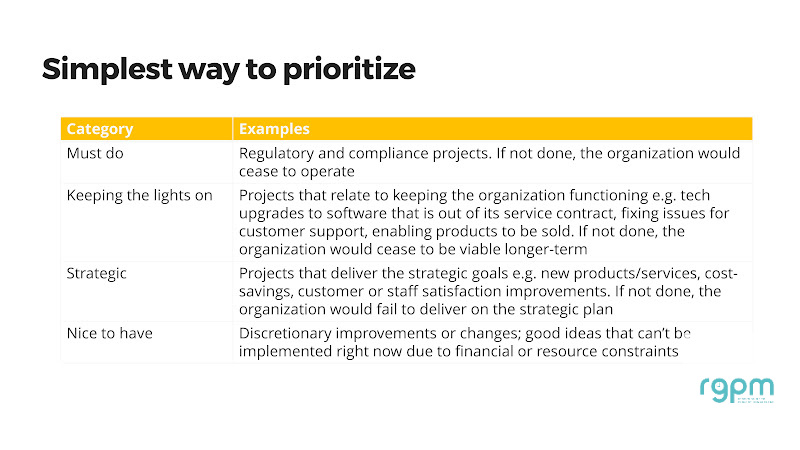 Still got a question?
What is the difference between decision and decision making?
A decision is the act of making a choice between two or more alternatives. Decision making is the process by which decisions are made. It involves gathering information, analyzing data, evaluating alternatives and choosing a course of action based on this analysis. The outcome of the process is the decision. The decision-making process also includes monitoring progress to ensure that goals are being met and taking corrective action if needed.
What is the importance of problem-solving and decision making?
Problem-solving and decision making are essential skills for project managers and managers in general. The processes keep work moving by making sure problems get solved and decisions get made so team members are not blocked from finishing their tasks.
What are the steps in problem-solving and decision making?
Problem-solving and decision making involve a series of steps that can help ensure the best possible outcome. The first step is to identify the problem or opportunity, then analyze it by gathering relevant information and evaluating potential solutions. After considering all options, select an appropriate solution and develop an action plan for implementation. Finally, monitor progress to ensure success and make necessary adjustments along the way. By following these steps, project managers can effectively manage projects while minimizing risks and maximizing results.
Before you go…
Sometimes there isn't a right decision – it's simply important to make a decision. As for the desk, in the end, we used a piece of furniture we already had upstairs and didn't buy one at all.
I spent a morning measuring and researching options, and I'll never get that time back, but that's OK.
As a leader, you should be skilled at solving problems and making decisions, and the processes that support them. However, you don't have to be doing all the solving and making all the calls yourself. As long as you facilitate the process and get the right people in the room, you can step back and let the experts do their thing.
Let the right people do the work and create an environment where your projects move forward because everyone's got what they need to keep things moving.