How to Get a Job as a Digital Project Manager
This blog is reader-supported. When you purchase something through an affiliate link on this site, I may earn some coffee money. Thanks! Learn more.
At the Digital PM Summit in Philadelphia, a conference full of digital project managers (DPMs), it was interesting to hear about the various ways DPMs have found their way into a career in project management.
Listening to some of the panels, talks and in conversations with the DPM community, I heard that many, like me, have fallen into the career by accident.
It's often because they have gained the transferable skills found in most good PMs, the combination of soft skills, organization and a natural aptitude to get things done.
But the profession is growing up and new entry paths are emerging. The most exciting of these being the emergence of apprenticeship and the rise in internships and work experience placements both in the UK and US.
Scrum Certifications are also increasingly in demand as agencies begin to explore a hybrid of agile and waterfall methodologies.
Dave Prior, agile consultant for Leading Agile ran an agile retrospective at the Summit with 100 attendees, 63% of which claimed to be practicing both scrum and waterfall in the same organization.
As was clear from the Philadelphia Summit, what works for one person or agency might not work for another.
Post-conference I caught up with some DPMs and agencies to see what they had to say.
1. Consider getting certified
Certifications can open doors, according to Carson Pierce, PMP and CSM Certified and works at DDB.
"Can you be a PM without a PMP? Of course. Most people do. Will you be a better PM with it? Of course – all knowledge is valuable.
A lot of people poo-poo the PMP certification, but it's been huge for me. I understand the concepts behind the things we do and the software we use. If I talk to someone in a different field, we can talk the same language.
And those three little letters have gotten me a lot of respect from clients, which is really helpful in building trust quickly."
Another certification to consider is the Google Project Management certificate, which is an entry-level alternative if you don't meet the eligibility criteria for PMI's Project Management Professional exam.
Recommended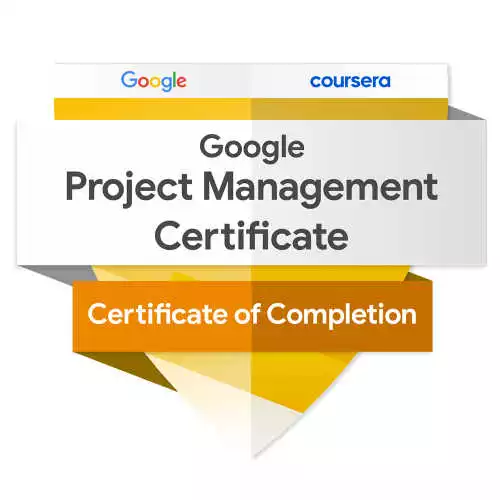 Google Project Management Certificate
A solid, professional, well-recognized project management course from a great training provider. Perfect for beginners and people interested in learning more about project management as a career.
Learn more
We earn a commission if you click this link and make a purchase, at no additional cost to you #ad
2. Learn the skills on the job
Mel Wilson, Project Manager at Incuna had the following to say.
"After graduating from university, I decided to pursue a career in project management. Unfortunately, the majority of vacancies were looking for at least 1-2 years experience which I didn't have.
I therefore decided to interview for a support admin position at White October – one of the leading agencies in Oxford. Although this wasn't exactly the job I wanted to be in eventually, it provided me with great exposure to the workings of an agency and all of its functions.
Within a year, I had learnt the basics of project management and was able to quickly prove myself as a DPM. The support admin was just a stepping stone for me, 18 months on I'm now where I want to be. I'd recommend this route to others."
3. Dip your toe in the water with an apprenticeship or internship
Anna Lewis, Senior Recruiter, Viget
"We recognize that certifications in certain industries and environments can be useful, but they don't usually prepare someone for a career at Viget.
They don't prepare people for what PMs actually do day-to-day in our agency setting. We're looking for individuals who are smart, detail-oriented, unflappable problem solvers — certifications can't tell us whether someone has those skills and qualities the way we think a 10 or 12-week apprenticeship scheme can.
Most applicants for our apprenticeship have no previous experience of project management. When we embark on an apprenticeship with an individual, there are questions for both Viget as a company and for the apprentice: will they be a good fit, will they actually like the job, what are their strengths.
For Viget, an apprenticeship seems to be a great way to start answering those questions.
At the end of the apprenticeship, if an apprentice has developed an informed perspective on what it's like to work in our industry, what the project management job requires, and whether it's right for them, then we think that's really positive and valuable."
If you can't find a scheme like this where you live, contact an agency you aspire to work for and ask if they'd be interested in doing something like this at a smaller scale.
Shadow days where you shadow a project manager for a day a week can be an incredibly useful introduction to a career in project management.
Parting words
The face of the profession is continually evolving. This time next year there will be new standards, processes, tools and with that new opportunities for people wanting to pursue a career in project management
As you can see, the options are vast, so if you're feeling overwhelmed, start with doing some research. Think about the type of projects and companies you might like to work for.
The way companies manage projects can vary massively, do your homework, find out what they look for in a potential employee and then map out which of the options outlined above might help you get there!
A version of this article first appeared in 2015.