How Did The Project Management Profession Get Into This Mess?
This is a guest article by Jerry Ihejirika. Jerry is a Nigerian-based project manager who writes his own blog and whom I interviewed recently. I think his views on how project management education has evolved and where it should be going are very interesting (and certainly a perspective I have not heard before ) and a teensy bit controversial. I'd be interested to see if you agree. Share your thoughts in the comments below.
And now I give the floor to Jerry…
With the high rate at which "professionalism" is being demanded in the world of project management, project management practitioners are constantly trying to improve their skills to cope with the demand. This has resulted in several project management organisations launching new certification or chartered 'products'. How these new products would improve the quality of practice of the profession is yet to be seen.
However, there are a lot of existing project management certifications and this is causing some certificated-confusion among various companies, industries and sectors of the global economy. And even more new certifications are constantly been added!
HR departments are confused as to which certification they should demand or focus on when hiring for specific project management roles. Most of these HR departments are also not noticing the efforts of some universities in producing qualified project management graduates because of the global mass marketing of project management certifications.]
How Did We Get Into This Global Certificated-Confusion?
The education sector, referring here to our universities and colleges across the world, has left its duties or maybe sold its "rights" of maintaining the "standard" of the project management education to the hands of profit-seeking project management organisations.
Some might say it is because the project management education is still new. New in what sense? Let me take my dear country, Nigeria, for example: FUTO (Federal University of Technology Owerri), where I graduated from, produced its first batch of project management graduates in the 1987/88 academic session and has been producing project management graduates ever since then.
From that year till now, how would you rate the institution or its project management department's collaborative efforts with the government and private sector in terms of promoting the project management profession and creating opportunities for its graduates? How many organisations in the public and private sectors in West Africa turn to FUTO, or any other university offering a degree course in project management in the sub-Sahara region, if they needed persons with project management skills?
Having spent 27 years of both project management research and producing project management graduates, FUTO is supposed to be one of the foremost institutions that the government should consult if it is to set up its own tailored project management methodology or to set up an independent and professional project management body, but is that the case?
There is obviously a growing demand of persons with project management skills, but because our universities around the world have failed in their own capacity to take charge and produce qualified project management graduates who would fill in the needed job positions, some project management organisations have taking the advantage of these global opportunity and spent huge amounts of money on marketing their products to the extent that it looks more appealing than a project management degree.
Some even produce a 4-day-trained 'professional' on a weekly basis tagged with some form of certificated-status. Oh, my dear industry!
The project management profession has even gotten to a stage where one organisation would sue the other for trying to produce a 'product' that it think might be highly competitive even if such 'product' might not necessarily advance the profession. Cash generated from membership fees and the sale of their certifications, which were meant to be channelled into further research and development of the profession are now being spent on court cases. The battle is more of who gets the largest share of the global market and less of advancement of the profession.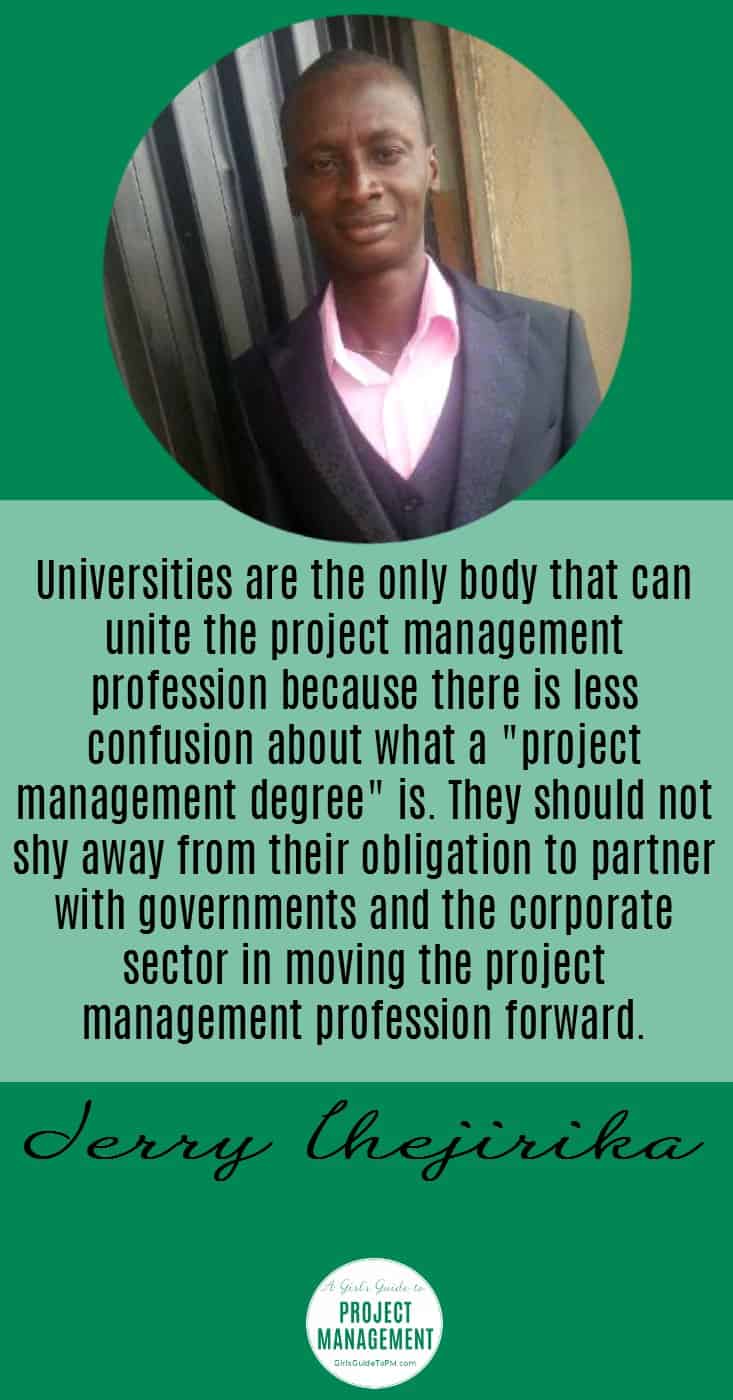 How Can the Project Management Profession Move Out of this Mess?
Do not get me wrong: I'm not against getting a project management certification that will add value to your project management career. In fact, I am looking forward to getting a project management certification this year.
However, for us to overcome this certificated-mess that's creating more confusion in the industry and among HR departments than it could solve, our universities across the world need to get back their "rights" as the first to be consulted in terms of standardising and advancing the project management profession.
The universities need to find a way to make our companies and industries value the project management degree as they do in many other professions. Our universities should be at forefront in terms of research and development of the profession.
Whether we like it or not, our universities are the only body that can unite the project management profession because there is less confusion as to what a "project management degree" is, irrespective of the level. They should not shy away from their obligation to partner with governments and the corporate sector in moving the project management profession forward.
When it comes to building or impacting the basic project management knowledge coupled with the social and cultural understanding that project management students need know to become better project leaders in the future, a 4-year project management degree course in the university is far better than a 4-day training course.
In short, if project management graduates from our universities are not employed as the foundation or building blocks upon which the future of our project management profession is to be built, then this certificated-mess or certificated-confusion will continue to grow and jeopardise the standard of the profession.
The universities themselves should continue to strive to make sure that companies value the project management degree by meeting the global standards of excellence in both teaching and research as regards the project management profession.
How do you think we can solve this certificated-confusion in our project management profession?