Generative AI for Project Managers (PMI Course Review)
This blog is reader-supported. When you purchase something through an affiliate link on this site, I may earn some coffee money. Thanks! Learn more.
Read our review guidelines.
If you've been on LinkedIn recently, you've probably seen someone in your network sharing that they have earned the Generative AI Overview for Project Managers badge by completing a PMI training course.
Is the course worth your time?
The short answer is yes.
You can complete the course in an afternoon.
It's free (for the moment).
It's nicely put together.
It includes a prompt engineering guide which you'll definitely find useful if you are planning to use ChatGPT on any level.
---
Ready to do the course?
Head over to the PMI website, register for a free account.
Navigate to the store once you are logged in and search for the Generative AI course.
Not quite ready? Read on for my review.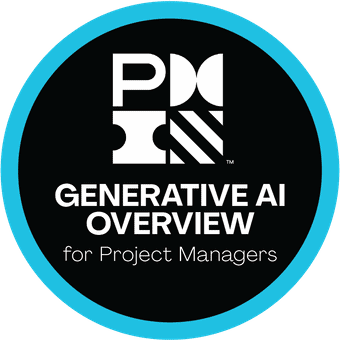 ---
Who the Generative AI for Project Managers course is for
I think most project managers, in all levels of job, would benefit from this training, unless you class yourself as a total AI expert already.
It's not aimed at any particular job type or role, and you don't need any project management experience.
Do you need to do it? Probably not yet. But AI is a growing area of interest across many business disciplines, and project management is no different.
I spoke to Sam Sibley, Global Head, Emerging Products & Innovation for PMI to ask his view on whether project practitioners should care about AI.
"AI is on the rise, with Goldman Sachs reporting AI investment could be near $200 billion globally by 2025, making it clear that project managers need to embrace and lead this change," he said. "With the right combination of how to best use AI on projects and the project manager's human touch, you can do more than ever to meet every challenge that comes your way and be at the forefront of this new AI-enabled world of work."
Well, I'm interested in being at the forefront, if only because it keeps me relevant and employed, and able to hold a conversation about AI with my peers! Don't get left behind: AI really is a topic it's worth spending an afternoon getting to know more about.
What the course covers
The course is made up of 6 modules.
Introduction to GenAI
Solving PM problems with GenAI
Voice of the PM
ChatGPT Lab
AI Tool Library
Knowledge check
Each module starts with an overview of the topic. Close the popup to progress through the module.
Introduction: There are 3 videos, each 2 minutes long. You'll get through this quickly.
Solving problems: This module links how you can use GenAI to the PMI Talent Triangle.
Voice of the PM: There are 3 short videos which are interviews with project managers about how they use it (Kristian's is really interesting!).
Lab: This section includes examples of how to use it, with sample tasks and the ChatGPT output created. You can also download the prompt engineering guide which is great.
Tool library: Not sure where to start? The tool library covers tools, plugins and resources you can use for planning, time and cost management, risk management, workflow management, prototyping and more. You can download the full list too – save this for when you need it!
I did wonder whether the tool library handout was sponsored by any of the products mentioned. There are many more tools out there and there was no indication of how the tools had been chosen. Use the list as a starting point, because it will give you the terminology you'll want to use when researching other products.
You will pass the knowledge check easily if you have been through the course materials and listened to the video.
What I liked about it
I learned something. I hadn't used ChatGPT before and the course gave me the confidence to give it a go.
It's tight – there is no fluff and the content is put together to give you exactly what you need to go away feeling like you've learned something new.
The course is specifically targeted at project professionals, which I liked. There are plenty of generic resources for generative AI, but project management has some specific use cases and this training will help you understand how to get the best out of it.
Plus, PDUs! It's one of the fastest ways to earn PDUs. It's free and the PDUs are pre-approved.
What I think was limiting about the course
The videos are less than 5 minutes long – some of them are only 2 minutes. While that's good because you can get through the content quickly, I wish some of the case studies had taken longer to get into more detail.
The examples, and the prompt engineering info was very much focused on ChatGPT. There are other tools out there, and the course does mention Google's Bard and Anthropic's Claude in passing.
There is no analysis presented about which tool is better for project managers. In blogging circles, Claude is what I'm hearing as the better tool as it has a larger context window. But ChatGPT is easily available, and is probably what most novice generative AI users are going to get into first.
When you and your organization feel it's appropriate to level up, maybe it will be worth looking at other tools.
Getting started
First, you'll need a free PMI account. (If you already have one, skip this step.)
Login, then navigate to the Store. Register for the course and go through the checkout process.
Go to your myPMI dashboard. Find the course in the Course Library and get started!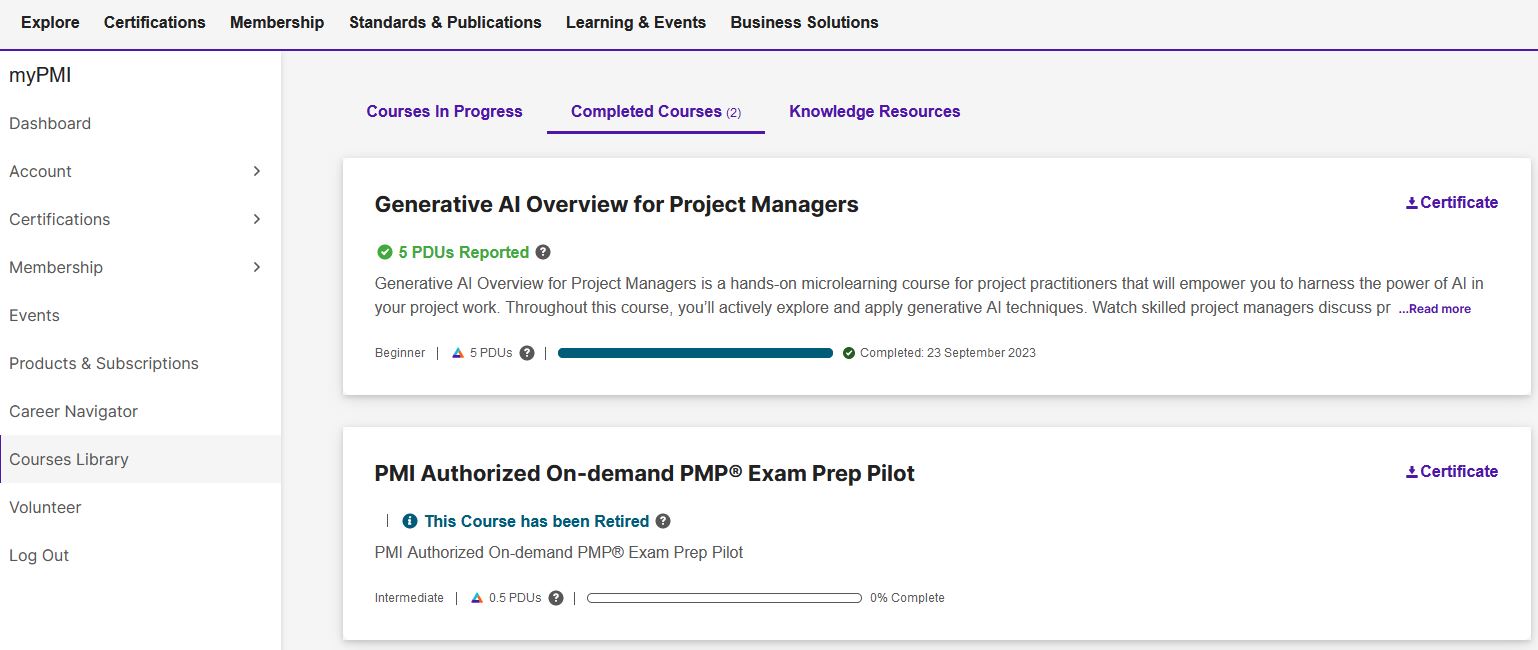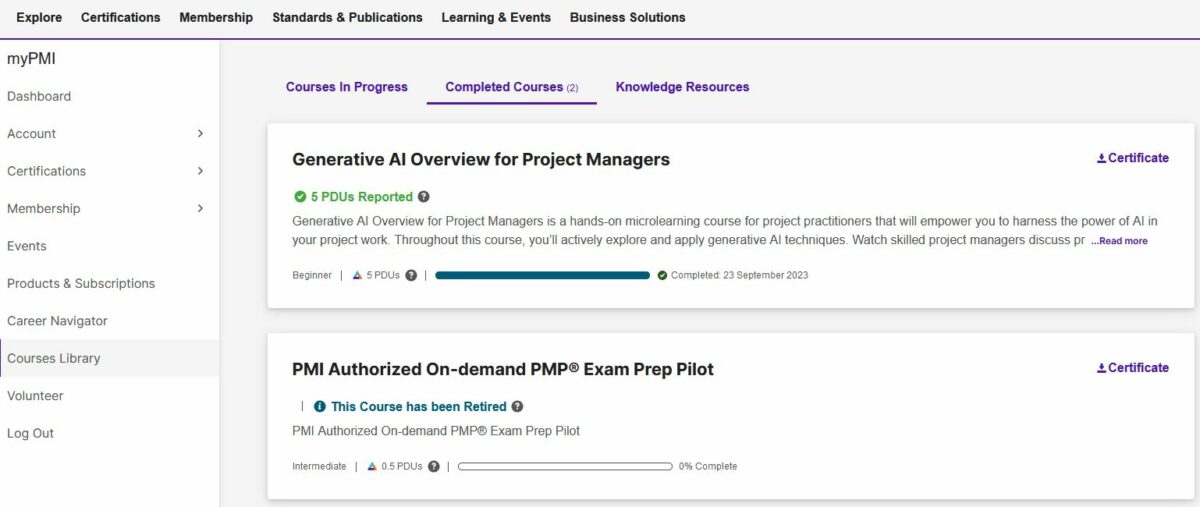 How many PDUs do you get for the Generative AI for Project Managers course?
You'll get 5 PDUs for taking the course (4 for Ways of Working and 1 for Business Acumen).
My takeaways
My takeaways from the Generative AI Overview for Project Managers are below.
I think the idea of 'human in the loop' is really important, and worth keeping in mind as we plan out how to use it in project management. We can't take humans out of the equation – at least not yet! The human in the loop idea means that we need to take the output of generative AI tools and apply subject matter oversight and analysis to review it.
Check out AI – just get started with playing with ChatGPT and see how it works!
If this training doesn't feel like a good fit for you, or you want to take your learning further by doing some more in-depth training, I have listed some alternatives to the class below.
Alternative AI training courses
Introduction to Artificial Intelligence (IBM).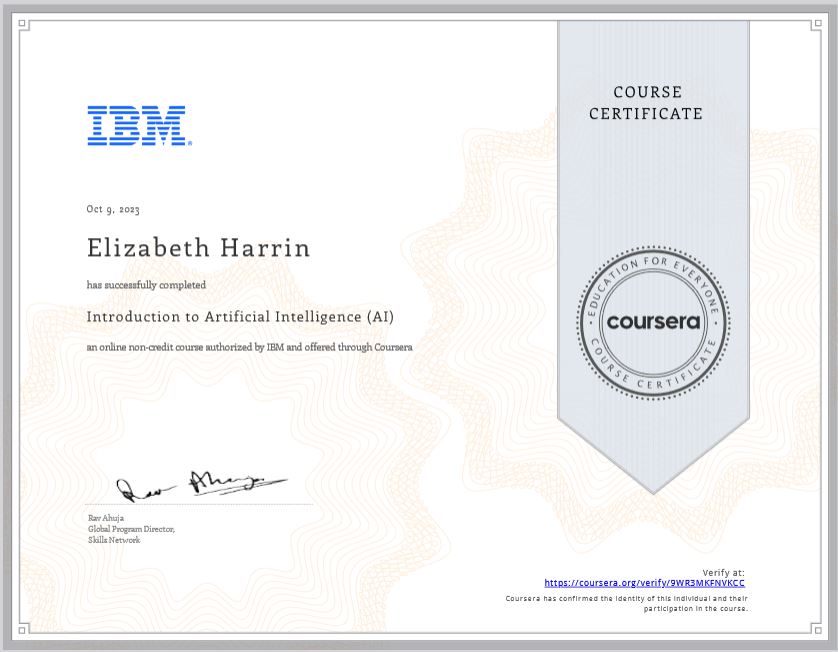 IBM's Introduction to Artificial Intelligence course is online training with a free 7-day trial. If you put enough time into it, I would suggest that you could pass the course in that time.
It is not project management specific, but it provides a good overview of Generative AI and may business use cases. It also covers other terms and tools you'll come across like machine learning, neural networks, natural language processing and deep learning.
I found this course more in-depth than the PMI course. It helped me understand the world of AI more broadly, although some of the content felt repetitive. It has a good focus on ethics.
AI for Everyone (Deep Learning)
I haven't personally taken the AI for Everyone course from Deep Learning but I know other project managers who have and the feedback has been excellent.
It covers AI terminology, building AI projects, introducing AI into your company and creating a strategy and it's very business focused. It's not technical, which makes it suitable for project professionals.
The AI Ladder: A Framework for Deploying AI in your Enterprise (IBM)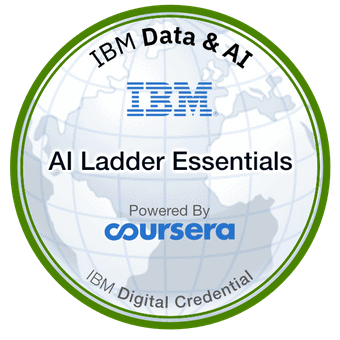 IBM's AI Ladder course is interesting because it takes a non-engineering approach to how to implement AI in your organization. It's good for people who want to see the big picture and understand the strategy behind making sure the AI toolsets implemented are actually fit for purpose.
Your next steps
I would suggest signing up for a free PMI account. You get access to more than the Generative AI course: there are a lot of resources on the PMI website.
---