Course Review: How To Honestly Rate Your Meeting Productivity
(This post contains affiliate links. Read my full disclosure.)
Why rate your meeting productivity? Easy: To stop doing what doesn't work and to start making your meetings awesome. Boosting productivity makes a difference in being able to achieve your overall strategy. Meetings are a big part of that.
Today I'm reviewing Gord Sheppard's online training course about rating your meeting productivity. It's a taster for some of his other products and it's free.
The course takes less than an hour to complete so you can do it in your lunch break. He's a professional meeting facilitator and he's written a book about productivity in meetings called How to Create Awesome Meetings so he has expertise in this area that he's ready to pass on.
Initial Thoughts
The course comes with a Course Curriculum checklist so you can make sure you've worked through everything, but honestly there isn't much content here. That's not a criticism. Gord says himself in the introductory video that you can get through the content quickly but that the tools included are powerful.
If you are focused and prepared to commit to doing the work you don't need a whole lot of fluff. Still, I'm the kind of person who wants to tick off boxes so I liked the checklist.
Your Meetings Today
What I love about the Thinkific course platform (which hosts this course and lots of others) is the ability to play the videos at different speeds. I read quickly and I don't have much patience for videos so being able to watch them at x1.5 is a huge bonus.
Gord is an engaging presenter and the slides move on quickly (even if you are watching at normal speed). He covers how to rate your current meetings out of 10 on a practical scale, giving examples of what poor, average and good meetings look like which is helpful. You need to be honest in order to rate yourself and your meetings against his scale, but if you are prepared to do that, it's definitely worth it!
Plus you can download the matrix to use with your colleagues so you have the resource there as well – no need to try to recreate the slides or take screenshots.
Improving Your Meetings
The second (and final) lesson sets out how to realistically work out where you can get to. It will help you set an achievable goal for improving your meetings based on where you think you are today.
The course is light here on practical strategies, but Gord does share a lot of free resources and talks about the kind of things you can do – not in enough detail to be able to implement without some help or further reading, but plenty of ideas to get started if you are prepared to put in some work yourself.
Having said that, this isn't a course about improving your meetings, it's about how to rate your current meetings, so all this section is kind of a bonus.
There's also another handy checklist which you can work through as the basis for a meeting improvement plan.
Extras and Final Thoughts
The course also comes with a certificate in case you need to prove to anyone that you've been through it. There's an easy quiz too and a printable tip sheet for extra motivation and guidance.
It's a short course – very short – but the matrix is useful and it's a good place to start with working out where your meetings really are on the productivity scale. Plus, it's free! It won't be a waste of your time.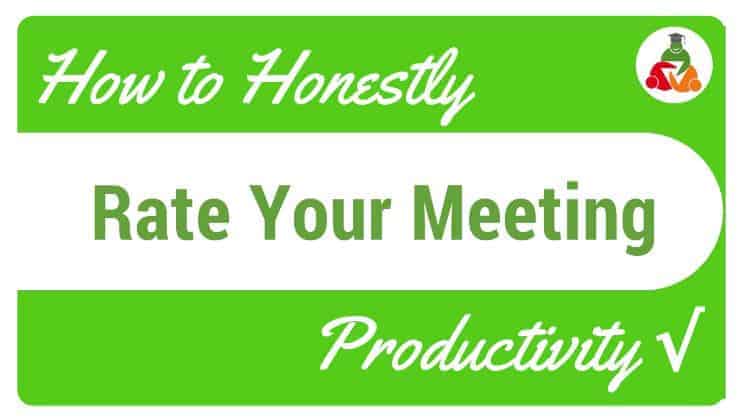 I was not paid to review this course. All opinions are my own.