Team Management Skills for Project and Programme Managers [Book Review]
(This post contains affiliate links. Read my full disclosure.)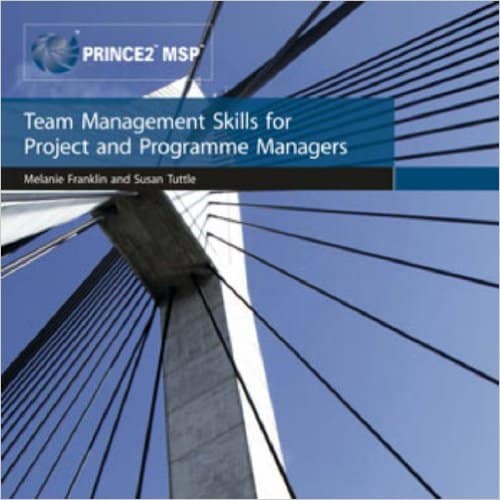 When I met Melanie Franklin earlier this year she asked me what I blogged about. "At the moment it's mainly about my holiday and handbags," I replied. It was true.
Melanie didn't look impressed. A colleague tried to rescue me. "I love how you're aware of what's going on elsewhere," she said. But I think it was too late to make a better first impression.
And I learnt that it's always, always important to have that elevator speech in said handbag, ready to pull out and use at a moment's notice. Self-depreciating humor works in some situations, but not that well when the person doesn't actually know you.
I also learnt that I spend far too much time worrying about what other people think, and I may have misread the situation completely – after all, I didn't know her either.
You won't learn much about Melanie or her co-author Susan Tuttle from reading their book Team Management Skills for Project and Programme Managers.They haven't included an 'about the authors' section, although if they had it would have added a few extra pages to what is a pretty short book.
Suffice to say they both have impressive CVs that make them eminently qualified to write about the soft skills of project management. To cap off their own expertise they have interviewed an unspecified-but-significant amount of people to add some 'real life' experience to the book.
In fact, the acknowledgments section is the only place you'll read that this is a book. The rest of the time it is referred to in the text as 'this publication'.
The main bulk of the text is around 70 pages, printed in columns with plenty of white space and figures to illustrate key points.
I had to change to a different, square handbag (sadly my Radley bag won't accommodate more than a paperback novel) to carry it with me on the tube, but that was OK: it's a quick read and it didn't take many journeys before I was at the end.
Structured around a case study
The first section is the introduction, the second section defines team management in the context of project and programme teams and the third section covers effective team management in the project lifecycle.
The book draws its terminology from two approaches, PRINCE2® and MSP®, as you'd expect from TSO. This means that throughout section three there are signposts telling you that this particular team management skill is relevant at this point.
Section three is based around a fictional case study. The section also includes little boxes with quotes from project and program managers, which helps make the content real.
Much of team management is common sense, but the material is presented in a very practical way, making explicit some of the things that you may take for granted, or gloss over, especially if you are busy. An example of that is the attention given to building team relationships. Franklin and Tuttle say:
Relationships develop through the sharing of confidences. Confidences need not be work related, and even getting to know how someone takes their coffee is a relationship building step. The team leader must be prepared to invest the time in these activities, a great deal of which is one-to-one with each team member…All the people interviewed for this publication pointed out how much time was required for this 'getting to know you' step, including after-hours socializing and the need to allow meetings to have a lot of 'socializing' time built into them so people can swap information and have the time for conversations which they often have at their desks.
The book covers the full team lifecycle from project initiation – when you'll need to concentrate on team building and managing expectations if the project bid is likely to be unsuccessful – to project closure, and decommissioning the team.
The appendices scratch the surface of managing meetings, facilitation, delegation, time management, and stages of team development. These bits are useful reminders and prompts to go off and learn more, but the references are very limited and don't offer much of an opportunity for further reading.
In summary, there are plenty of practical tips and it is written in a very common sense way, addressing potential problems with team management head-on and not avoiding difficult subjects like dealing with a dissatisfied team member and the use of humor to diffuse tension.
Personally, the column format doesn't work for me and I think it's expensive for an individual to buy, but it would make a valuable addition to a corporate or Programme Office library, and should be a de facto purchase for any consultancy.