Book Review: Practical Project Management for Agile Nonprofits
(This post contains affiliate links. Read my full disclosure.)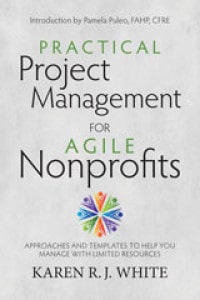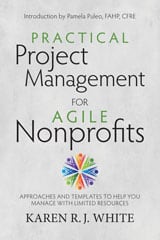 I was a volunteer. I lost count of how many hours of community service I donated over 13 years of providing first aid cover at school fetes, amateur dramatic theatre productions, Remembrance parades, or in teaching others. But I don't volunteer any more. Instead, I have a standing order that pays an amount to charity monthly. I don't even think about it, except to wonder, during the worst of the financial crisis, whether I should cancel it (I didn't).
If I'm typical, the face of charity support has changed drastically, and that's what PMI Fellow Karen R. J. White's new book is about – how nonprofits can do more with limited resources by applying Agile project management principles.
The book aims to help nonprofits "learn how to apply just enough project management to assist in your decision making as you face continuing economic pressures." It's a niche book, but useful to those in the sector.
What makes your nonprofit agile?
The book acknowledges the evolution in volunteerism and addresses the 'what's in it for me' component that is so important today. Understanding these things are the first step to moving your nonprofit to agile thinking. Other important shifts, according to White, are:
To include social media outreach
To minimise bureaucracy
To recognise volunteers' efforts
To embrace business practices which make the best use of the available volunteers, wherever they happen to be based.
This last one is important as she talks about tapping into volunteers around the country and further afield, whereas previously charities relied on local support.
The book doesn't pack any punches. "Nonprofits often don't focus their efforts on what truly matters," White writes. "Instead they focus on the projects that volunteers want to undertake." She goes on: "Their resources are spread too thin and the most important projects suffer because of that lack of focus."
Portfolio management, she says, is the way to address this. Another way to make sure you're making the most of your resources is to create a resource pool that details volunteer interests to ensure volunteers are matched with projects they will enjoy and be good at without losing the focus on what is strategic.
Covering the basics
Chapter 5 is an introduction to the project management lifecycle including a project charter-style and status report template. Other chapters have more templates like a communications matrix, risk log and milestone schedule.
The next chapter covers planning, with new terms like project artifact and scope defined in clear boxes through the text. You can tell this book is aimed at non-experienced project managers – people who have probably just been given the job title and need to get things done within a nonprofit setting.
White really starts to talk about agile in Chapter 7. She says that a project manager in this kind of environment needs to be:
An active leader
Efficient
Communicative
Decisive
Honest
Results-focused
Tech savvy
Intelligent
Confident
And with good technical project management skills.
One of these tech project management skills mentioned is the ability to integrate social media in projects (for more on this, you can have a look at one of my books, Social Media for Project Managers). This is particularly important in a nonprofit environment as it helps engage with younger volunteers and also to tap into current ways to communicate outside your local area.
Managing a volunteer workforce
One issue that nonprofit project managers have that many other project managers don't have is that their project teams are mainly made up of volunteers. White dedicates Part 3 of the book to managing volunteers, particular the resource issues projects suffer when including volunteers on the team.
She talks about providing the opportunity for motivating volunteers through leadership opportunities, taking account of local law (for example, not using volunteers as a reason to terminate employed staff), and the inevitable churn. I imagine staff turnover is higher in some volunteer groups than it is on projects with a fully employed team.
She also talks about recruiting and retaining good, reliable volunteers and avoiding 'warm body syndrome' where you simply end up with a human assigned to the task but they have no skills or interest in the job at hand.
Using your PMO
The PMO has a role to play in nonprofits as well. This can be in the form of training, making sure that appropriate training and mentoring is given to volunteer project team members so they don't give up as it is 'too hard'. White says it is not essential for nonprofits to have a PMO function but believes it will help standardise things and ensure best practices are shared, which seems very sensible to me.
Finally the book talks about portfolio management and how an overall approach can help keep the focus on projects that contribute to the strategic objectives. "The lack of a project portfolio management approach can result in an organization that's chaotic, misses opportunities, burns through resources, and doesn't achieve its strategic goals," she writes.
Whatever you decide to do, she encourages you to make an agile approach that works for you by following the basic project management phases but tweaking it to suit your workforce and environment.
Despite the fact that this book is not aimed at people like me, I enjoyed it. It's well laid out, it makes logical sense and doesn't jump around and it is very, very practical. There is no pretence at living in a perfect world where all volunteers immediately answer their phone and dedicate their time to the most mundane of project tasks. The heavy dose of realism ensures that this will be a very useful desk reference for people who've been asked to get things done with no money and practically no permanent staff. Even if you don't work in a nonprofit, if that description fits you, you'll probably find something in here that you can use yourself.
Buy on Amazon.co.uk