Book review: Critical Chain
This blog is reader-supported. When you purchase something through an affiliate link on this site, I may earn some coffee money. Thanks! Learn more.
Read our review guidelines.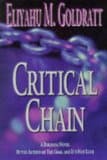 Critical Chain by Eliyahu M. Goldratt is a business novel that talks about creative ways to improve project delivery through managing dependencies. Written in 1997, it is now a classic text, but it still comes across as timely and challenging.
To be honest, I wasn't keen to read Critical Chain.
Business novels and stories that I have read in the past, like John Kotter's Our Iceberg is Melting, have been contrived. Authors tend to pick a story and shoehorn in the business lessons.
But Critical Chain is different.
Goldratt, who died in 2011, has created a world where the characters are well-rounded. While there is rather a lot of exposition (showing instead of telling), it is handled intelligently, using the university setting as a backdrop. Students and professors explain concepts to each other in a way that doesn't feel forced (most of the time).
There are several different story elements woven together, which makes it read more like a 'real' novel.
There's the university chair who wants to get more students into her faculties. There's the bright business brain who is taking courses in order to improve performance at his company and generate real business results. There's the professor with a spendthrift wife who is desperate for tenure and will try anything to show the value of his courses in the real world.
It's a shame the title of the book is so uninspiring.
What is critical chain?
Critical chain is a way to streamline processes so that you avoid bottlenecks and increase throughput.
It is a tool to help understand the handoffs between people in the project team. It's a way to take critical path scheduling a step further: not only do you have to consider the links between tasks, but also the dependencies between people doing those tasks.
Somewhere in the middle of this novel you realize that you suddenly know what critical chain is all about. Professor Rick, our protagonist, explains it like this:
"Let's leave critical path to be what everyone else calls a critical path, the longest path. But we know that what counts is the constraint, and the constraint is the longest chain of dependent steps. Since we must acknowledge that dependency can be the result of a resource, we better provide another name for the chain of steps that are the constraint."

"Why not 'critical chain'?" Brian suggests.
And so critical chain methodology is born.
When we think about how project management has changed, I'm sure this book was one of the driving factors for shaking up how scheduling is done — even if many companies still haven't made the leap to using critical chain techniques.
If you are interested in learning more about the steps and theory behind critical chain, Dr Mike Clayton's 'critical chain in under 5 minutes' video is a good starting point.
Critical chain method: Measure what is important
Another big piece of critical chain method is to measure what is important.
There are several examples in the book of companies using the wrong metrics to measure their business processes – metrics that show them as ultimately performing well when financially the company is not achieving what it should.
Measuring what's important struck a chord with me as that's a big part of the customer satisfaction model Exceed that my co-author Phil Peplow and I wrote about in Customer-Centric Project Management.
A book for generating ideas
This book does contain diagrams, but it isn't a textbook that will help you implement critical chain in your organization. Instead, I found it more useful for generating ideas about managing resources, and for challenging the way you think about scheduling.
If you read it and find that you do want to take the theory further, you will have to use other texts, or buy in consultancy to help you start using critical chain scheduling in project management.
If you want to broaden the way you think about project planning beyond ways to make a Gantt chart, this book could help you do so. I'm sure many companies have not yet adopted this structured way of scheduling, or even informally adopted some of the work principles that drop out of critical chain thinking.
You probably wouldn't want to go back to this critical chain book over and over again, but if you can find it in your PMO library or borrow a copy from a colleague, it is worth a read.
Buy on Amazon.co.uk
Pin for later reading: