Book Review: A Short Guide to Facilitating Risk Management
This blog is reader-supported. When you purchase something through an affiliate link on this site, I may earn some coffee money. Thanks! Learn more.
Read our review guidelines.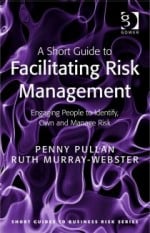 Risk meetings don't have to be boring, although in my experience they often are. A Short Guide to Facilitating Risk Management is a book that specifically addresses how to get the best out of your risk management meetings.
This book, by Ruth Murray-Webster and Penny Pullan, provides practical guidance on facilitating risk workshops, and making project risk management happen outside of the workshop setting as well.
Dotted through with cartoons, the emphasis is on practical guidance for getting things done without suffocating those poor souls who have to attend risk reviews.
The book provides a clear introduction to tackling common project risks (including opportunities) in a fun, professional way, with the aim of gaining consensus. It's very practical, with real-life examples to show how risk management can become ingrained in the day-to-day management of initiatives in your organization.
It's also pragmatic: for example, they talk about a risk owner being someone "paid to care" about the impact the risk could have to the project objectives.
The benefits of risk management
The authors start from the position that people are "naturally capable" risk managers. We've dodged sabre-tooth tigers, managed our way out of various plagues and we don't run across motorways. If we weren't capable of managing risk, we wouldn't have come this far along the pathway of life.
They are also clear that risks include opportunities, and they use the Hillson and Murray-Webster definition of risk that says "Risks are uncertainties that matter." Managing these uncertainties is what adds value to project delivery.
The authors provide three benefits of risk management:
There is less waste (of time and effort due to a reduction in problems that could have been foreseen, missed opportunities, re-work and hassle)
There is more confidence (in plans, forecasts and relationships because there are fewer surprises)
There are better decisions (because decision-making is based on the best possible information – not just about what is, but about what might be)
If that doesn't convince people that risk management is something to be taken seriously and done well, then I don't know what will.
Great advice for risk meetings
Even if you have lots of facilitation experience you are likely to pick up some new techniques from this book. I particularly liked this one:
How can you check whether people are likely to do their actions?
Ask them about their intentionality – this is the strength of their intent to carry out each action. Penny uses a scale of 1 to 10 and asks people at the end of workshops to report how likely they are to get each action done. If they're unsure that they will be able to do the actions, then she adjusts the action. Surely it is far better to have an imperfect action that's completed, than a perfect one that isn't?
There are also tips on who to include in risk meetings, how to manage the output and onward actions, and how to help people get over their fear of writing things on flip charts in public.
If you want to start engaging teams in risk management, then this book will show you how.
The book is only 30,000 words so it's short (as the title says). That means you can read it in an afternoon, or just pick out the relevant parts as they become appropriate. There's no excuse for poor risk management – and now you can learn to do it in a fun, engaging way. Even better!
Read more about this book online at the authors' website: Facilitating Risk.