AI in Project Management: An Interview with Lloyd Skinner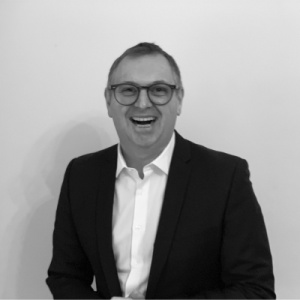 Where is artificial intelligence taking project management? AI has turned up in the project management trends articles over the past few years and it's now most definitely here to stay.
I caught up with Lloyd Skinner, CEO at Greyfly, a consultancy specializing in improving project outcomes through the application of AI tools and experienced professionals, to talk about how AI is changing the way we lead projects.
The impacts of artificial intelligence in project management
The impacts of artificial intelligence stretch across the breadth of what project managers do. AI can automate many of the repetitive tasks involved in managing projects, like data collection, reporting and status tracking.
PWC predicts that 80% of project management work will be eliminated by 2030. I think they mean 80% of what the textbooks say is the discipline of project management, not what project managers actually do. And I'm personally not worried about that – that will give us much more time to focus on project leadership and stakeholder engagement; the things that computers can't (yet) do for us.
I'm not convinced that 2030 is a realistic target, though, given the project management maturity levels and willingness to adopt new tech that I see on a daily basis.
Lloyd seems to feel the same. "Project management is a human process," he says, "It's unique to the individual and the client, in terms of how good or how mature they are in regards to project delivery."
In other words, it's possible to think about the theory of AI at the 1000 feet level and know that it's possible, but at the individual level, it's tough to implement.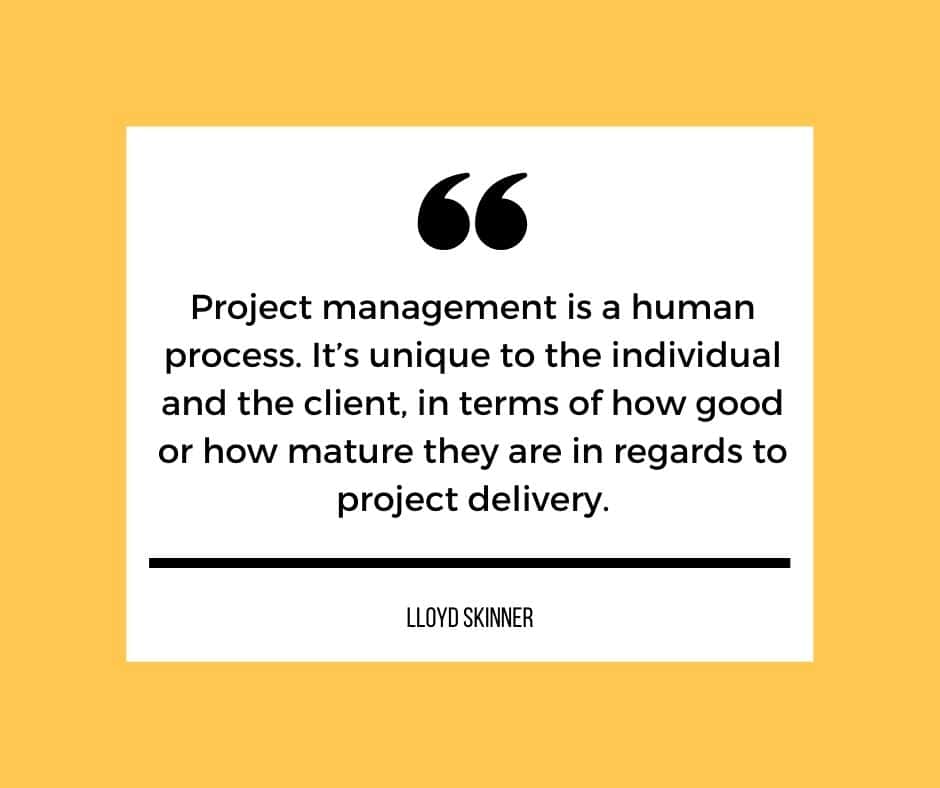 The applications of artificial intelligence in project management
To start applying AI in project management, you need to know what you are using it for and how the data can help you. And that means convincing management that it's worth starting to use the tools.
"You hit the conversations about data straight away," says Lloyd, who has a background in large scale change management and project delivery. " 'We don't have the data, the data we do have is in lots of different shapes and sizes'. There's the whole discovery phase about what is available, what needs to change, before we can start thinking about applying it."
The data quality perspective is an important lens through which to consider the applications of AI. "Some very large companies might have PPM standards, some might not have any at all," Lloyd says. "When you start thinking of it as a quality data challenge, it instantly relates the people and processes, maturity and capability. Every company is different."
Once you've sorted the data challenges, there are some very useful applications of AI in projects including:
Scheduling: estimating task duration and resource requirements
Automation: automatically sequencing activities, collecting and collating data, summarizing status
Machine learning: using past performance to predict cost and schedule overruns, resource needs
Forecasting: using predictive analytics to identify risks and future performance trends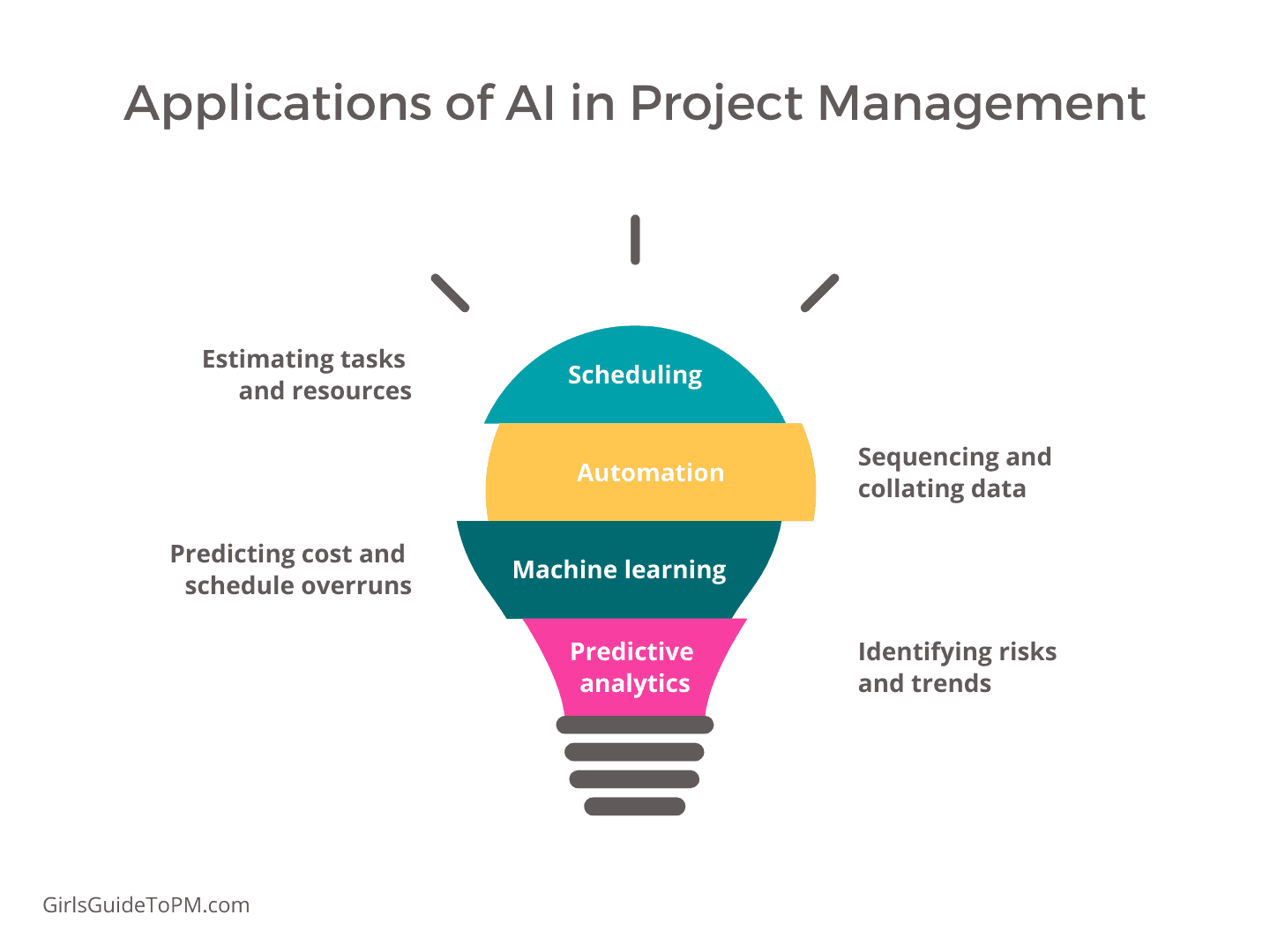 How is AI different to relying on project managers?
"If you have an experienced PM, you would expect them to forecast their outcomes very accurately," says Lloyd. "That is not the case."
The data shows that even the most experienced project managers still can't predict project success with the level of accuracy that leaders require. That's not to cast doubt on their ability, but when you add other humans into the mix and the complex socio-political structure that is the organization you operate in, even the best brains can't fathom the future.
With AI, you are validating what the project manager is saying, based on a larger data set. The wisdom is truly in the crowd.
"The beauty of this is that you can bring all the data together across all project managers and use that for the power of prediction," Lloyd adds.
How can artificial intelligence help project managers?
We need to move away from the natural reticence of 'tech is taking our jobs' towards a position of understanding how AI can help project executives and managers get better results.
"This is about augmenting the stakeholders in projects," explains Lloyd. "It's not necessarily saying you don't believe the project manager. It's about saying there might be a risk, so let's examine whether there is a risk."
He says that AI provides an angle into the data; another lens from which to view the portfolio because it's not necessarily about the individual project manager. Instead, AI helps the project delivery organization within the business.
"It has been really interesting for me recently to see the reaction you get from senior people," Lloyd says. "People want to make their job easier. They don't just want to know where their risks lie but how they can fix them."
When those tasks are automated, Lloyd believes the project manager can focus on human-based tasks like business change, "knocking heads together to get decisions", governance, and stakeholder engagement.
How it started for Greyfly
There aren't that many firms operating in the project management/AI space but it seems to me we've gone from zero to quite a few in a short period of time. Greyfly might be unique in what it offers but it certainly isn't alone in how it's approaching the challenge of using project data and new technologies to influence project success rates.
Lloyd's journey into AI started at the 25 year post-Masters meeting where he met an old colleague from his student days.
She was an auditor and they got talking about project audits – the process of comparing the project being audited to the body of knowledge and best practice about how things could be done.
A lightbulb went off: IT could do the very same… but before the auditors arrived.
"The AI cycle works in a similar way," says Lloyd, who is an active member of BCS, The Chartered Institute for IT. "You apply AI to project management: feed the data in and do the analysis."
Today, Greyfly has its own project prediction tool, created with input from academics at the University of Southampton, which understands the features and trends in legacy historical projects. The machine learning combines data together to predict an outcome.
"We did some research about two years ago and found there were 300 planning tools on the market," Lloyd says. "You're already seeing the development of some of their tools including AI within the planning function or bringing in chat bots too. What we do is slightly different: we're not just a planning tool, and we're never going to be a planning tool."
It's early days for Greyfly and others in the space, but we'll surely soon be seeing an influx of AI in project management case studies to prove how all this works.
Solving the real project problem: how AI can help
AI is only a tool to help you do your job better. Once upon a time we didn't have computers, and people wrote out Gantt charts by hand (remember those days? Of course not – life moves on).
The real project problem is that projects fail.
That's what drives Lloyd. "That's the beacon that pushes me forward," he says. "Why do projects fail and how do you get underneath them before it happens?"
For teams to see the benefits of artificial intelligence in project management, it needs to be considered as part of a holistic approach that includes a review of people, processes and data management.
"It will expose where an organization's data is weak or strong," Lloyd says. "Perhaps they don't have clarity around the baseline or how they apply change control to rebaseline. It's a journey, it's a series of steps: a transformation not just a prediction model."
In other words: AI's impact on project management will not just be in the data we use, but also in the people and processes.
AI might not be able to predict every senior executive's change of heart, but it will certainly shape the way project management is carried out in offices, construction sites, factories and more across the globe in the years to come.
---
FAQ
Can AI replace project managers?
No, AI will not replace project managers. Some of the work project managers do can be streamlined and automated by AI tools, but it's people that get projects done and the element of human interaction can't (yet) be replaced by computers.
What are the benefits of AI in project management?
Some of the benefits of AI in project management include better estimating, predictive analytics, faster identification of trends, the removal of repetitive data collection and analysis from project managers, leaving them free to do higher value work like stakeholder engagement. The overall benefit is better project success rates.
How do you use AI in project management?
AI can be used in project management for planning and scheduling, risk identification and risk management, estimating task duration and effort, resource utilization and planning and much more. AI and machine learning can be embedded in the tools used by project managers, making it easier for them to take decisions based on current trends and predictions for future performance.
What impact will AI have on the field of project management?
AI will change the way projects are managed by providing deeper and more relevant data insights. It will also shape the way decisions are made on projects by strengthening governance as it will highlight weaknesses in the data management approach taken by the organization, and areas of low project management maturity.
Pin for later reading