2011: The Year to Get Registered or Chartered?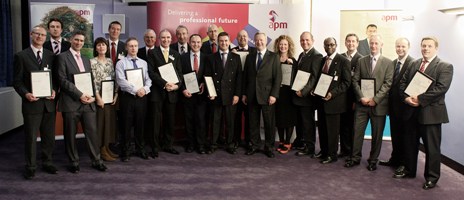 APM has been campaigning for Chartered Project Professional status for some time. It hasn't happened yet, and they have now brought out Registered Project Professional status. I think this is a watered-down version of being Chartered, and it might reflect their frustration at the Chartered process taking so long.
APM Registered Project Professional (RPP) is a new standard that will acknowledge that all professionals across projects, programme and portfolios have reached a recognised standard in their profession. RPP assesses both knowledge and experience across a range of different competencies. The group that have already received the designation were the pilot cohort, and APM will start accepting applications for the new standard from everyone else in March.
What's Registered Project Professional all about?
To get RPP status you have to demonstrate your professionalism through the APM 5 Dimensions of Professionalism.
RPP recognises practitioners who can demonstrate that they have:
Broad ranging professional competences
A broad understanding of project management as defined in the APM Body of Knowledge
Achievement of successful outcomes through responsible leadership
35 hours of Continuing Professional Development over the past 12 months
Adhered to the APM code of professional conduct.
Paul Erricker, project manager on the development of the RPP standard, explained that the standard is based around similar competencies found within the APM Competence Framework. "The competencies are the building blocks that underpin the standard itself," he says. Paul believes that RPP is an opportunity for people to really develop their career. However, the standard is a recognition of knowledge and experience so applicants need to have a developed career before they actually apply. I'm not sure how the existence of the standard enables careers to develop.
He feels that those wanting to undertake the RPP process initially will be experienced project managers. However, he adds: "Ultimately it is for those who are developing in project management who want to have a recognised professional standard that they can drive their careers towards".
Hmm, so it will appeal firstly to experienced project professionals, but at the end of the day even inexperienced project managers can apply? How will they keep the standard meaningful?
How does this fit with Chartered Project Professional?
I asked the APM press office how RPP status fits with their campaign to launch Chartered Project Professional. This is what they said:
Achieving Chartered status is still the number one priority for the APM, a commitment which is emphasised by establishing RPP. It was always the aim of APM to establish a register of project professionals, in an ideal world this would have been a chartered project professional register, but until we get a response from the Privy Council APM continued in setting up the Registered Project Professional standard.

APM have always been committed to making strides forward for the PM professionals and once we are granted the Royal Charter the new standard will become Chartered Project Professional. The delay in the progress of the chartered status application has not been allowed to delay the momentum of activity around increased professionalism by way of the development of a register of project management professionals, which will be launched on 1st March 2011.

Just to reiterate, APM has received the highest number of letters of support for any application in the known history of chartered status. APM's current campaign for increased professionalism is gaining ever-stronger support from public and private sector alike.

This support is evidenced by such actions as the creation of an APM Specific Interest Group for Portfolio Management which embraces the government's previously standalone Portfolio Working Group. The APM has solid reasons therefore to remain committed to the achievement of chartered status.
I'm sure they are still committed to the achievement of Chartered status, but I don't feel that the communication to non-APM members has been particularly embracing. We don't know what's going on or how long things are likely to take – and that's probably because APM don't have a clear timeline themselves, as they are dependant on the Privy Council.
The impact on the rest of us
APM is set on making waves. Their chairman, Mike Nichols, spoke at the presentation in November for the pilot RPP cohort, and said:
"APM will be able to make its impact on the project management world by launching a new wave of extraordinarily capable project managers who are able to display their commitment by proudly wearing the badge of Registered Project Professional."
This doesn't tell me what I get out of being RPP, or why it's a stepping stone to Chartered status. It does tell me that APM are doing this to cement their 'legacy' on project management in the UK.
Project managers in the UK are a fragmented bunch, which is partly because there is no overarching professional body for holders of the PRINCE2® certification. Someone has to be our major professional body, so it might as well be APM.
I just wish they could find a better way of integrating all of us PRINCE2® Practitioners. This will continue to be a problem for project managers all the while that there are multiple bodies providing certification and exams.
Chartered status isn't going to make this any better – in fact, I think it will make it worse. RPP is just a step on the journey. Where will we end up?