12 Inspirational Women in Project Management

Last year at the PMI Global Congress in Dallas, Peter Taylor gave a presentation celebrating project management. He counterbalanced statistics showing many projects by saying that we should be proud of the great work we do as project managers.
Peter listed some project managers as examples of our successes. Frank Saladis, Harold Kerzner, Cornelius Fichtner, Isambard Kingdom Brunel, Nelson Mandela, Leonardo da Vinci, Henry Ford. Historical and contemporary project managers, with a bit of artistic licence. All men.
It's International Women's Day today, so I want to redress the balance. Last year on IWD, I wrote about why women manage the cheap, small projects. That's not always the case. Here are 10 great women delivering projects.
1. Sue Kershaw, Head of Programme Management, Olympic Delivery Authority Transport Team
Sue is the Head of Programme Management at the Olympic Delivery Authority for the Transport Team. Her role provides guidance and support to the teams delivering the transport projects for this year's London Games. She offers the structure, oversight and challenge required to get these projects completed on time. The Transport plan for the Games includes projects like upgrading the Victoria Line, improvements to the station at Stratford International, the new northern ticket hall at Kings Cross (which makes it much further to walk for the interchange between tube lines, in my opinion, although it does look nice) and the Greenwich Pier extension for those using the Thames to get to the Games.
Sue is a Fellow of the Institution of Civil Engineers and was made an Honorary Fellow of the Association for Project Management in October 2011. She has 25 years experience and she specialises in major construction projects
2. Dame Sue Ion, Honorary APM Fellow
Born in Cumbria in 1956, Sue Ion grew up in Lancashire, and studied maths, physics and chemistry before gaining a first class honours degree and PhD in Materials Science.
Sue joined BNFL in 1979 and rose to become Group Director of Technology and Chief Technology Officer, responsible for the Group's entire technology portfolio and playing a leading role in government and regulatory issues. She has experience of project sponsorship in nuclear research and development projects.
Sue has advised the Prime Minister and First Ministers of Scotland and Wales on medium and long-term strategic policies and represents the UK on a number of international review and oversight committees for the nuclear sector.
She is an Honorary Fellow of APM and a supporter of project management in the nuclear industry.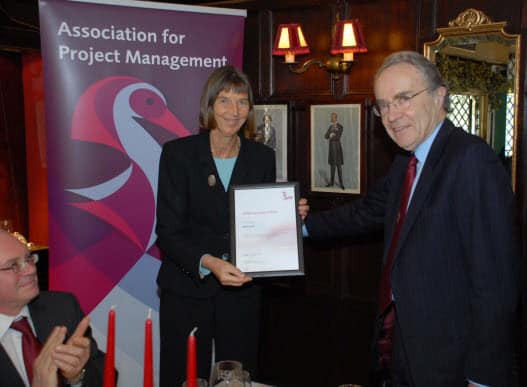 3. Rebecca Winston, founder of PMI's Women in Project Management SIG
Rebecca Winston has been active in PMI since 1993 and she was founder and first co-chair of Women in Project Management Specific Interest Group. She is a PMI Fellow and former Chair of the Board of Directors at PMI.
She has 25 years of experience in a project environment, primarily in the public sector. She is an attorney as well and acts as a consultant to US government bodies such as the Department of Homeland Security. She provides risk management, project reviews and vulnerability assessments amongst other things.
4. Regula Brunies
PMI Fellow Regula Brunies has been an active member of PMI since she joined in 1973. She is a founding member of the PMI Montreal Chapter, and she was PMI's Person of the Year in 1982 (I don't think they have that accolade any longer). She held a post on the PMI Board of Directors in the 1980's and she was PMI's first female Chair.
5. Susie Weston, Programme Manager Barclays Capital
Susie Weston won the Technology Category of the 2012 Woman of Achievement Awards in London. Susie is a Programme Manager at Barclays Capital. Jonathan Soar from the The Worshipful Company of Information Technologists, which sponsored the Award said, "Susie has shown herself to be an excellent example of both a lady technologist and a champion of other women. Susie has run many successful large IT projects and turned around failing ones, bringing them to a successful conclusion. Susie has also introduced the Women in IT Group to Barclays Capital which looks at women's careers from graduate recruitment onwards. Mentoring has been introduced together with a series of networking events; this has had the happy result of increased staff retention, not least through mothers returning to work who, in turn, are now coaching other women."
6. Louise Hardy, Infrastructure Director, CLM
The Olympics really is giving us an opportunity to promote good project management practices, and Louise Hardy is another example of this. Louise spoke at Synergy, the UK's main event for International Project Management Day last November.
She works for CLM – the consortium of CH2M Hill, Laing O'Rourke and Mace – that is working with the Olympic Delivery Authority to build all the insfrastructure required for the Olympics. She describes it as managing spaghetti and meatballs: the spaghetti is the infrastructure and the meatballs are the venues. A civil engineer, Louise specialises in complex infrastructure projects.
7. Emmeline Pankhurst
On International Women's Day it would be remiss of me to not mention Emiline Pankhust. Campaigning for women's rights in the UK, Pankhurst was a political activist and one of the original suffragettes. She organised groups, co-ordinated protests, and ran a shop. During WW1 she organised rallies for the war effort and set up a children's home.
She would be pleased that the IWD logo is purple – one of the colours of the Women's Social and Political Union that she helped found. I wonder what she would have thought of the Occupy movement.
8. Rita Mulchay
Rita Mulchay founded RMC Project Management in 1991. She wrote a PMP exam prep study guide which became a popular choice for PMP candidates. Rita frequently spoke at conferences and developed a range of project management study tools including instructor-led courses and e-books. She had over 15 years of practical project management experience and was the author of PM Crash Course.
Rita passed away in 2010 after a five-year struggle with breast cancer.
9. Carol Bell
Carol Bell is a senior project manager working on major construction projects for Robinson Low Francis, a construction and property consultancy. She's won a number of awards including the Property category of the Women in the City Awards. You might not immediately think of construction as a popular career choice for women in project management, but Carol has a successful career behind her. She specialises in risk and value management and takes the stand as an expert witness from time to time.
She is a past Chair of the Women in Project Management Specific Interest Group of APM, and she was also voted one of the top 10 most influential Project Managers in the UK by APM members. But what made me put her on this list is her experience on the award-winning Eden Project in Cornwall, the largest conservatory in the world. She was deputy project manager for that project, and it's a building I still have yet to visit.
10. Joan Knutson
Joan Knutson launched Project Mentors, a project management training and consulting firm in 1976. She wanted the training experience to be more like mentoring whether it was a class of one person or 25 people.
She has written several books, is an accomplished speaker and continues to teach project managers practical skills to help them run better projects.
Joan is an active member of the Project Management Institute and was named one of their 25 Influential Women in Project Management.
11. Karlene Agard
Karlene Agard is an award winning risk and value management specialist that works with project teams to direct mega-projects. She loves to help share lessons learned on her company's website, Aravun.
She joined me to discuss implementation and lessons learned which you can view in my Project Management Café Facebook Group.
12. Grace Najjar
A longtime volunteer, Grace Najjar is currently serving as the Managing Director of PMI's Middle East/North Africa (MENA) region. She holds over 25 years of experience as an advisor, lead engineer, and program director and has her own firm, Align Management Solutions, that she founded in 2010.
She was awarded the "The Leading Arab Women Influencers in Arab Economy and Banking Industry" by the World Union of Arab Bankers in November of 2015 and has been nominated three times as one of the Top 100 Most Powerful Arab Women by ITP.
13. Rosabeth Moss Kanter
Rosabeth Moss Kanter has served as the Ernest L. Arbuckle Professor of Business Administration at the Harvard Business School. Although her early studies were on sociology (with a focus on studying utopian societies), she went on to pursue a career in business research.
She has currently published twenty books with a focus on change management. Her groundbreaking book, Men and Women of the Corporation was published in the 1980s and was a unique view of a large company that she studied for over five years.
Her latest book is Thinking Outside the Building: How Advanced Leaders Can Change the World One Smart Innovation at a Time. She shares how advanced leadership skills are necessary to help organisations innovate for a better world.
There must be female project managers, historical and contemporary, that inspire you. Who are they? Help me add to this list.
NB: Much of this article has been pulled from the biographical information I could find about these women on the web. If you spot anything that isn't correct, let me know and I'll update it.
This article first appeared in 2012.
Pin for later reading