Book review: Managing Projects: A team-based approach
This blog is reader-supported. When you purchase something through an affiliate link on this site, I may earn some coffee money. Thanks! Learn more.
I have read a lot of project management books over the last 5 years, and I'm pleased to say that this is my 65th book review. Read all the project management book reviews here.
Managing Projects: A Team-Based Approach is a text book by Karen B. Brown and Nancy Lea Hyer. I can't think of any other way to describe it: it is a general, all round text book aimed at project management students.
While the authors say it is aimed at "project managers, project team members, support personnel, functional mangers who provide resources for projects, project customers (and customer representatives), project sponsors, project subcontractors, and anyone who plays a role in the project delivery process," this is a very wide audience and I think it's mostly aimed at those people who are learning project management.
This is evident in the fact that each chapter starts with learning objectives and ends with follow-up activities. These often start: "In a team of four to six classmates…" Not that there is anything wrong with the text book approach. This is actually a very good book for students.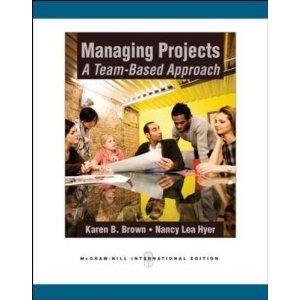 The examples are up to date and relevant. There are loads of diagrams, tables, screenshots and photos, all of which make the book easy to use. There are plenty of stories and case studies to illustrate project management in real life situations.
I didn't think there was anything revolutionary in Managing Projects about working with teams, but there is a different focus to books for students like Kim Heldman's PMP: Project Management Professional Exam Study Guide. One of the examples of team-based working is involving the team in developing the schedule using mind-mapping and sticky notes. The book emphasises the need to involve the team for accuracy and for buy-in.
I have written a lot of project management book reviews and this is the first book I have come across that introduces the concept of 'do no harm'. The authors write:
In addition to meeting the criteria for effectiveness included in the triple constraint or, more broadly, in a balanced scorecard, a project should be accomplished in a socially responsible manner. We cannot call a project a success if it has harmed employees, the larger society, or the environment.
That—plus a case study about drilling for oil in the Arctic—is literally it on the subject of do no harm, but I'm glad it made it into the book.
This is a solid book for people learning about project management which I would recommend for students and instructors.