Book review: Do Nothing!
This blog is reader-supported. When you purchase something through an affiliate link on this site, I may earn some coffee money. Thanks! Learn more.
Read our review guidelines.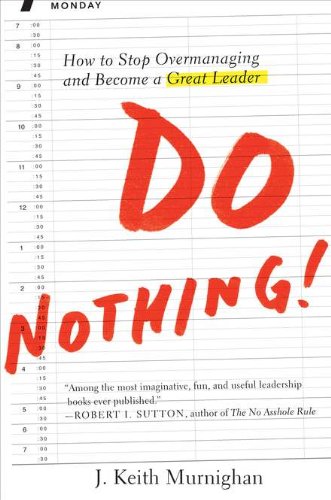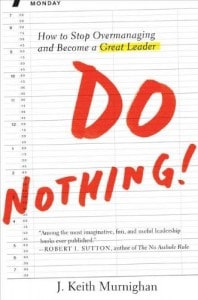 Do you have too much to do? Are you worried about going away and leaving your project? Do you take your laptop on holiday? When you come back to your project, are there always pressing issues, loads of emails and a crisis to solve?
Keith Murnighan, author of Do Nothing!: How to Stop Overmanaging and Become a Great Leader, believes we need to stop. "Conscientious, dedicated leaders do too much – way too much," he writes. "What if you actually did nothing and it worked?" He advocates facilitating and orchestrating the work of others instead. "You will be a more effective leader if, rather than doing the work yourself, you let other people do it," he says. "In other words, stop working and start leading."
The leadership law
Murnighan's leadership law is this: "Think of the reaction that you want first, then determine the actions you can take to maximise the chances that those reactions will actually happen." In other words, don't think about your own actions but instead focus on the reactions you want.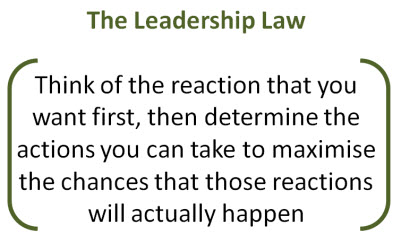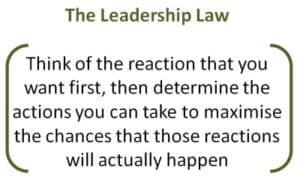 The reason leaders don't get the results they want is that they suffer from 4 problems that stop them putting the leadership law into action. These are:
Egocentricity
A lack of empathy,
A focus on their own actions
The belief that others understand them completely.
In addition to these, Murnighan says that we are not good at understanding how our behaviour influences others.
Fixing leadership problems so you can do nothing
Murnighan presents several solutions to the common problems leaders face. So if you are struggling to get people to follow you on your project, what should you do?
Focus on them: put your team and stakeholders at the centre of your actions.
Understand their point of view: ask if you don't know it already!
Actively listen: use active listening techniques to really hear what they are saying.
Walk the floor: get closer to what you team is up to and make sure that you are approachable.
And above all, think of the reactions that you want, and shape your behaviour to achieve those.
Making teams work
Murnighan says that teams work best when they feel psychologically safe and are listened to, so focus on really understanding the different points of view in your project team. Encourage everyone to have a voice even if you don't do democracy at all times.
He recommends that you scrap performance goals as these become irrelevant as soon as you have hit them and are replaced with another target set by management. Instead, set some learning goals. Aim to learn more and get better. I'm not sure how this fits with project methodologies overall but you could take this approach for improving estimating, for example, and making better use of your post-project review data. Sharing your own mistakes openly, Murnighan says, makes others feel compelled and safe to bring up their own failings too.
There were a few too many basketball references in this book for me, but there are some other interesting anecdotes and stories woven through about successful teams and shooting for goals. Chapter 9 looks at the profile of 7 leaders (including one related to basketball). It is interesting to have stories that illustrate the book's key points but this chapter feels a bit like it has been tacked on to make up the word count and doesn't integrate that well.
However, the concept of doing less of the doing and more of the leading is something I think project managers are going to have to face up to in the years to come as project management is definitely moving towards being more about project leadership.