Thanking the GirlsGuideToPM Community (That's You)
This blog is reader-supported. When you purchase something through an affiliate link on this site, I may earn some coffee money. Thanks! Learn more.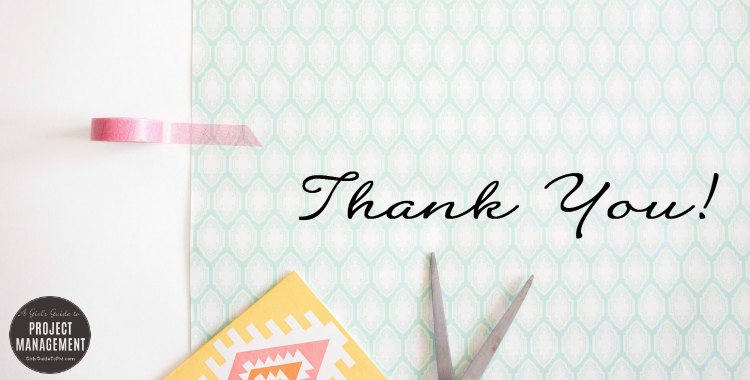 This year I received two emails that changed the way I think about this blog.
The first was from a lecturer in Africa who teaches project management to female students. He said he uses this site to show that it's a real job that women can excel at. Some part of what we do here might have inspired a new generation of girls to go into project management.
The second was from a woman with a long-term illness. She said that my emails were part of what was keeping her in touch with work during her treatment. Even if it's just as a distraction on a difficult day, I'm grateful to have helped in a small way.
I've been writing this blog for over 10 years now and it might sound odd to say it, but it's only been the last couple that I've thought about what you might need. This year I've tried to offer more resources and practical guides. I've taken down obsolete articles. In 2017 I promise to try to be even more helpful in connecting you to the ideas and tools that make it easier to manage projects and teams without sobbing into your wine of an evening.
But that's next year… Watch this space.
For now, 2016 is coming to a close. We don't do Thanksgiving over here, but I still believe in taking time out to thank the people who have helped keep my blog running during the year.
And what a year it has been!
GirlsGuideToPM.com has seen a 70% leap in users during 2016, 61% more page views and around 6,300 of you joined our newsletter community since January, meaning we're now a little online gang of project managers numbering over 14k. (And yes, we do weed out the fake emails and people who don't ever open the messages once a quarter.)
So my first shout out in the annual show of appreciation has to go to you.
Whether you're new here today or whether you've stuck around for the past 10 years, thanks for all the emails, comments, downloads, Facebook likes, tweets and all that.
And now, on to everyone else.
Companies that let me review their software
Thanks to these companies who gave me free access to their software for review purposes:
I also reviewed Vizzlo because I bought it and I still use it regularly for my work and blogging.
While I enjoy researching new software and bringing you the latest tools to manage your projects, sometimes I wish I wrote a blog about chocolate J.
People I have interviewed
It's an effort to be interviewed: I've done a few, so I know what it takes. Thanks to these people who made space in their calendars to share their ideas with us all:
Penny Pullan (this was so much fun to record, but we had just opened a bottle of wine…)
Erica Pepitone
Ellen Maynes (who showed me that project management really can change the world)
People who have invited me to speak at their events
I'm grateful to the following groups who invited me along to speak at their events or to their students:
PMI Congress EMEA: Barcelona
Digital PM Summit in San Antonio, Texas
PMI Poland Chapter
CIMA
Institute of Contemporary Music Production
Hogeschool Utrecht
People who have provided guest posts
There have been over 100 articles published this year, but not all of them written by me. The talented community has also contributed some amazing pieces including:
Publishers and authors who have sent books to review
As an author I love reading, and I'm always open to learning more from books. I'm grateful to the companies and authors who have helped me do that this year including:
And a few more I haven't got round to writing up yet.
Our wonderful sponsors
Maintaining a blog costs money. We all work in organisations where the bottom line matters: you know that while I'd love to be able to pay my bills with Facebook likes, actually there's a financial and practical element to being able to keep the office lights on. So, thank you to the companies who have chosen to spend their marketing budgets with me this year.
My personal cheerleaders
This year GirlsGuideToPM.com got too much to do as a hobby. If I'm honest, it had been too big for a while and I was struggling to do it all. I needed help and so this year I've built a team. We aren't big. But together we can do more to support you and your projects. (And it means that we have some amazing ideas for next year.)
So… thank you to:
Shannon
Kathryn at Singing Through the Rain
Laura at Pixel Me Designs
Pauline
Jon
I hope I haven't left anyone out.
And I wish you all a wonderful 2017.