Reflections from #APMConf
The annual APM Conference was earlier this month. You can catch up by watching my video diary of the event. I wanted to tell you a bit more about what went on.
David Waboso: 4 PM Imperatives
The APM President, David Waboso, took to the stage to tell us about the 4 imperatives that he is using to anchor his presidential year. They are:
1. Delivery
Project sponsors, David explained, want to know that a project will happen. More than that, investors, shareholders, the industry, employees want to know that when businesses say something will be done, then it will be done.
Delivery underpins all of that. And who leads on delivery? Project managers do.
2. Collaboration
"Collaboration has to be at the core of our values," David said. That's because project complexity is increasing, he explained. There are more people involved, different types of teams and the impact of virtual working.
Collaboration helps us deal with those challenges, and keep the team moving in the right direction.
3. Capability
David said that there are not enough people coming into the profession. It's important, he said, to be able to attract, retain and – crucially – assess as competent a pipeline of project managers.
The 'assessing as competent' thing isn't something I had heard much about before and it strikes me as something that you'd expect a professional body that offers to assess project managers as competent through its qualification portfolio to say.
However, it's a good point: we aren't going to create confidence in project sponsors and company leadership if the capability isn't there.
4. Digital
David said that we are currently in the fourth industrial revolution – the age of digital. "It's not overstating it," he said.
He named automation and robotics as examples of how digital was providing innovation in our personal lives. We need, he explained, to use, harness and respond to those new trends.
The Future of the Profession
APM is still on the journey to Chartered status, and there's a Supreme Court judgement awaited as this is currently being contested by PMI.
While both professional bodies wait it out, APM is still talking about and arguing for project management being a profession.
Another speaker, Michael Flynn, Programme Director for TfL, suggested changing the name of APM to the Council for Project Management, to bring it more in line with other Councils for professional groups such as the General Medical Council and the Bar Council.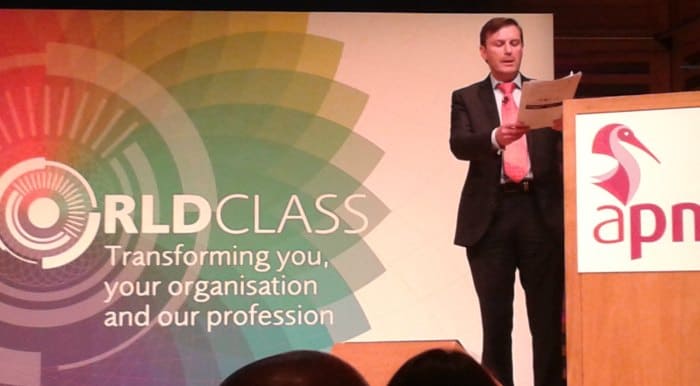 I don't know whether APM will take that suggestion seriously (my guess is not) but this whole debate about what makes someone a 'professional' is very interesting.
Especially as because I don't feel much like a professional right now – more about that another time: it's probably a story for newsletter subscribers only rather than one to publish here!
I attended the APM Conference as a guest of APM.