Online Training: RapidStart PMO Review
Please note this training is no longer available.
RapidStart PMO: Online Project Management Training Review
Name: RapidStartPMO
Courses: There are two courses available. The first one is free and is an overview of the paid course. The second one includes over 14 hours of training. It is priced at $199.
Access: All the courses are online and self-paced.
Trainer: Philip R. Diab
About The Trainer
Philip R. Diab is the CEO of Leadership Formation, a consulting firm that focuses on helping organisations with strategy, alignment, execution and people. He is a former Chair of PMI and has extensive speaking experience around the world.
When I talked to him about this course he thought it made more sense to create it as online media as opposed to a book, and I think with the way learning is going right now that makes sense.
What's Covered
The paid course covers everything you'd need to get a PMO up and running in a few months.
There are two workstreams within the RapidStart methodology:
Workstream 1: Designing, launching and aligning the PMO
This covers the strategic angle: the organisational requirements, success criteria and that kind of thing. It looks at approaches, methodologies and the people skills and resources required to achieve the results you want. Then it talks about aligning the PMO. This is all about making sure your PMO is more than just technically successful: your executives need to be happy with what you are doing too, and feel that you are adding value.
Workstream 2: Operating the PMO
The focus here is on keeping the momentum going and making sure that you can run the PMO day-to-day. It also talks about identifying the easy wins and capitalising on those so that you demonstrate value from Day 1.
The content list reads like this:
Module 0: Define the Objectives
Module 1: Set the Stage
Module 2: Establish the Basecamp
Module 3: Build the Momentum
Module 4: Drive Results
Module 5: Re-calibrate
Module 6: Go into High Gear
Module 7: Own the Status
Module 8: Strive for Excellence
Module 9: Aim for the Finish
Module 10: Assess the Program
Module 11: Plan for the Future
Module 12: Prepare for the Transition
Module 13: Shift Focus to Operations
The idea is that you work on the first 12 modules over the course of 12 weeks so that you quickly get a PMO up and running. Then you can use the remaining modules to focus on what comes next.
Who Would RapidPMO Be Great For?
This framework was made with launching and operating PMOs in mind.
It's perfect for people who need to quickly get a PMO set up, and who don't have much time to wade through lots of material to work it out themselves. The training is designed for you to work through week by week, and at the end of the course you've got a fully-fledged PMO delivering something of use to the business.
It would also be useful for first-time PMO Managers who want to know how best to continue to ensure their PMO delivers, or those who are worried their PMO wasn't quite set up effectively and want to a review of their department.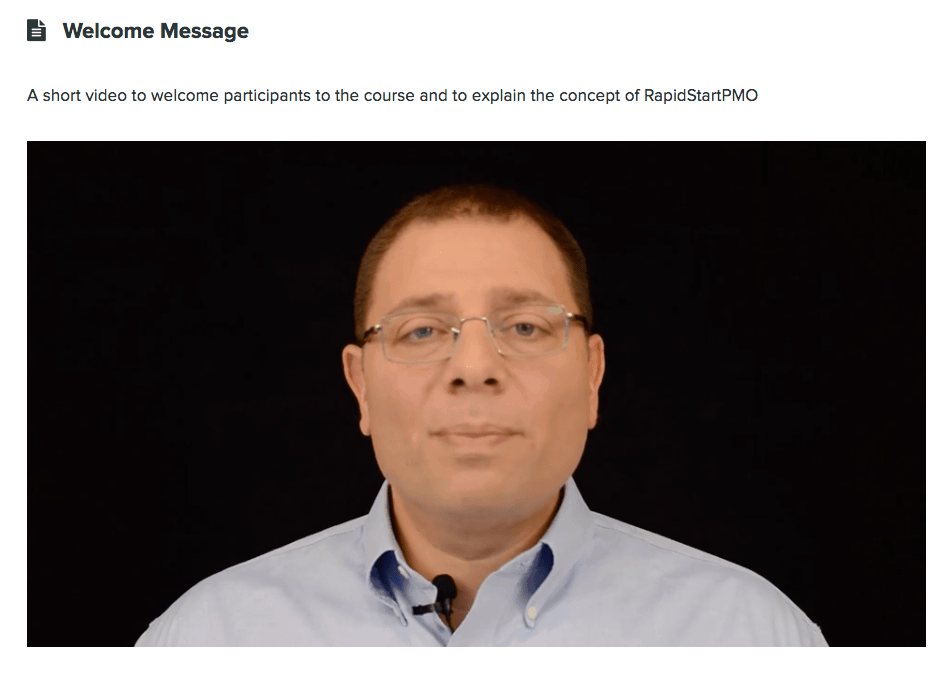 The Course Design
The paid course includes an overview, 14 modules, and a conclusion. The 14 modules are a mix of training videos, reading, and a quiz.
There is also a useful wrap up at the end of each module which highlights the key takeaways, what you should have achieved by now and the expected outcomes. This will help you keep moving in the right direction.
The Teachable platform, which this uses, is easy to navigate, and Philip has used it well. The screens and course material are not cluttered. I found it easy to navigate. As you complete each section the box is checked off to show that you are finished, which is handy as it helps you remember where you got to last time. It also includes an overall progress bar.
Limitations…
Personally, I wouldn't be happy diving into this and studying week-by-week. I'd want to know that the course materials would take me where I thought I was going, so I'd at least want to superficially work through the whole thing before diving in and launching a PMO.
I'm pretty sure that Philip doesn't intend for you to make a total leap of faith in that regard, though.
With that in mind, I'd book out some time to review the materials, design my own implementation plan and then go back to Week 1 to work through the whole thing in detail.
Final thoughts: There doesn't seem to be any way to download the material and some of the graphics are a bit difficult to read. It would be nice to be able to zoom in on some of them.
… And Benefits
The course is highly focused on practical advice. There are plenty of sections covering deliverables and quick wins, and reminders to sense check your plans and manage expectations.
I like the emphasis on creating something functional that will work and deliver some value. It won't be perfect, but you'll get the baseline from which to work and develop your PMO over time.
RapidStart PMO is highly targeted so it won't be right for everyone. If you are looking to set up a PMO in your organisation then this will help you get started efficiently and make everyone feel that you are a pro at all this strategy and set up stuff!
I received free access to this course in order to write the review.