How To Make Stakeholder Management Easier
Scroll down for a mini video training on stakeholder prioritization and engagement.
You, dear readers, are facing some very difficult challenges in your teams right now.
Take a look at some of the comments from my recent reader survey:
"The biggest challenge I have right now is getting the buy-in from management and the team on planning for projects especially complex projects, especially the communication gap between cross-functional departments, getting the right resources and identifying and interviewing the key stakeholders in the initiating phase."
"My biggest challenge is sponsor engagement, or the lack thereof, with expectations that I'll keep the project moving along."
And this scenario, which I can definitely sympathize with:
Project Information is provided to senior management and key stakeholders. They do not consume the provided information. They make assumptions and decisions based on their feelings, instead of the provided information. For example:
Sponsor: "You promised the wrong delivery date to the Client!"
Me: "Um, no. I promised the date that was in the statement of work we negotiated with the Client and has been published on the project wiki page for the last six months."
Manager: "Your project is underfunded. You didn't budget properly."
Me: "Um, no. We asked for $50k. Senior management cut our budget request to $15k. And you didn't attend that budget meeting when I invited you."
I've put together a
Stakeholder Management Masterclass
to help you create better working relationships with your stakeholders (only open to 30 November 2017). Scroll down to learn more.
This is Why Stakeholder Engagement is Hard
Stakeholder engagement is hard. I know that. You know that. We live it every day.
And still we try… 🙂
Last year I did some research into why stakeholder engagement is hard and this is what I found.
You don't have enough time to dedicate to stakeholder management
Nearly half of my research respondents said they didn't have time to do stakeholder management and the appropriate engagement strategies.
This is partly an excuse: if you want to do something badly enough, and you believe in it, you'll find the time. But it's also because without having a clear plan of what to do, stakeholder engagement takes sooooo long.
You don't have management support
45% of people reported not having management support for stakeholder engagement.
You know what: 99% of the time you don't need it. You need the confidence to do your job and make the connections yourself.
You can also include your manager in your stakeholder circle and engage them at the same time as your other project stakeholders.
You don't know what to do
Not knowing what stakeholder engagement actually looks like is a blocker for a lot of people. When you don't know what to do, where do you start? Especially when it all looks like politics or people wanting you to do their job for them.
When you are clear about what stakeholder management really is, and what steps you have to go through to engage the people you are working with, this stops being a problem.
And when stakeholder engagement isn't a problem, you get better projects results, or as one respondent said: "More smiles, fewer tears."
The good news is that I can help you with that.
Join The Stakeholder Management Masterclass
I've put together a Stakeholder Management Masterclass to help you create better working relationships with your stakeholders. It's your compass to navigate the difficult terrain of stakeholder relationships. I wish I could wave a magic wand and give you the formulae that would work in every situation, but as every stakeholder and company is different, this is an area where there are no universal cheat sheets!
What I can do is give you the tools, techniques and confidence to boost your stakeholder relationships at work so you can effectively decide which way on the map to go.
When you know what to do and how to do it, and how to select what's going to work in each situation you have the confidence to engage with project stakeholders.
You gain authority and credibility. Your colleagues and stakeholders listen to you. People start to tell you things that affect your project without assuming you'll find it out from somewhere else or don't need to know. You have a clear engagement plan. And everything on the project starts coming together.
In the Masterclass you'll cover dealing with stakeholders who aren't engaged, conflicting priorities and practical tools for making workplace relationships easier.
An Online Course for Stakeholder Success
The Stakeholder Management Masterclass is an online course. Here's what's inside: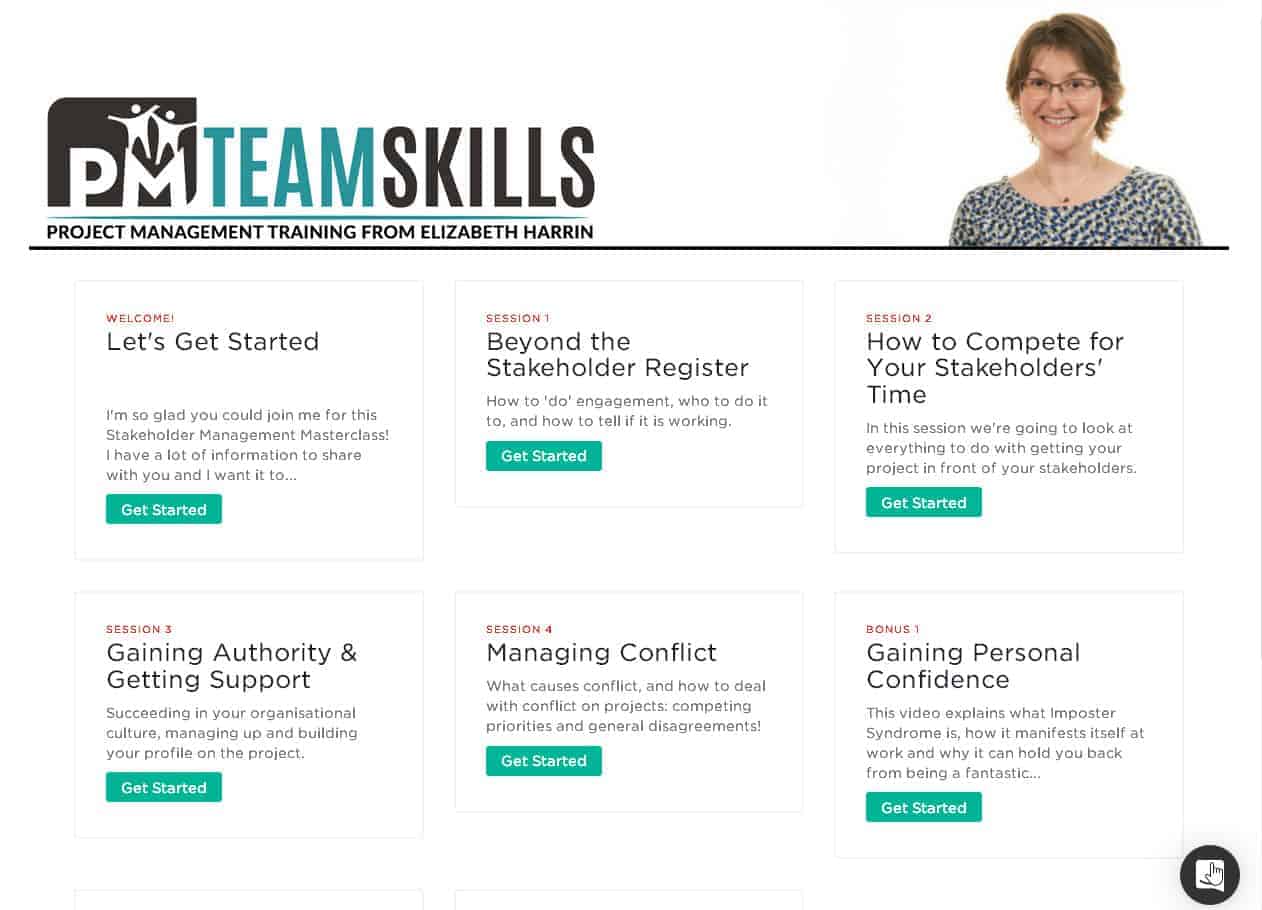 Session 1: Beyond The Stakeholder Register
What engagement is
Understanding who you are engaging
Understanding what you are engaging them in
Engagement techniques
How to tell if it is working
Session 2: How To Compete For Your Stakeholders' Time
Setting expectations
Dealing with lack of availability
Helping stakeholders stay organized
Managing stakeholder risk
Session 3: Gaining Authority and Getting Support
How to get taken seriously
Succeeding in your organization's culture
Managing up
Building your profile
Your exit strategy
Session 4: Managing Conflict
Causes of conflict
Managing conflicting priorities
Conflict handling preferences and tips
Building credibility
Plus there are bonus videos on networking strategies, overcoming Imposter Syndrome and measuring stakeholder satisfaction.
Here's a video preview of me teaching a little portion of the course, to give you an idea of what's inside and the style.

The Stakeholder Management Masterclass is designed to be self-paced, but I recommend you complete it over 4 weeks. This was how it first ran, as a virtual but "live" training course, and the course participants said they needed that gap between the sessions to absorb the information, work through the exercises and test out the strategies before moving on to the next step.
If you are willing to put in the work, I know for a fact that the strategies I share in the course work. I'm so confident that there's a money-back guarantee – no questions asked!
Access to the Masterclass is extremely limited and enrollment closes at the end of the month. If you're ready to start working positively with your stakeholders instead of seeing them as a source of stress, sign up now to secure your spot. The course closes on 30 November.
If you need an invoice or receipt to process the cost through your company then let me know and I'll get that actioned for you.
Here's to your stakeholder success!