Communication skills for Project Leaders: Book Review of The Language of Leaders
(This post contains affiliate links. Read my full disclosure.)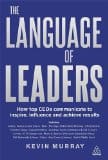 Most of the business and project management books I review are written by authors outside the UK, so it was a pleasure to read about companies and scenarios I know well in a UK-focused book. In The Language of Leaders: How Top CEOs Communicate to Inspire, Influence and Achieve Results, Kevin Murray has interviewed 60 CEOs and business leaders, mainly from UK businesses. He had the interviews transcribed and ended up with 500,000 words. There were many common themes and he extracted 12 principles for leadership communication. These form the central premise of the book.
There is more to getting a project completed successfully than just the management tasks. Project managers also have to be project leaders: people who can use their communication and influencing skills to get things done through other people.
"The communication demand on leaders is far greater today, requiring them to address a wider array of audiences and use an even wider array of channels," Murray writes. "If you manage this environment well, you have more ways of getting your message over and building a great business where everybody wins." While the book does not discuss project management, this is the same challenge project leaders face. We also have to tailor messages to diverse stakeholder groups, and knowing more about what makes communication 'good' can have a positive effect on project results.
The principles of leadership communication
The first section of The Language of Leaders explains why leadership has changed and why communication matters, largely in the context of multiple channels for communication, the digital age, the requirement for transparency and the fact that communication can now be instant. None of this will be new to people who have taken an interest in the development of social media and collaboration technologies over the last few years.
The second section of the book looks at Murray's 12 principles for leadership communication. They are all interesting but the ones I felt were most relevant to project management are:
Give voice to a compelling mission and a powerful set of values
Keep your people focused on the key relationships that your organisation depends on for success
Listen in new and powerful ways, and learn to ask the right questions
Be aware of the signals you send beyond your words
Prepare properly for public platforms – your reputation is at stake
Murray talks about the power of conversation – a lot of the book focuses on verbal communication, on camera, on stage, or on one-to-one situations. Murray writes:
"The first and most important task of a leader when communicating with employees is to show up! All too often, one hears stories about leaders issuing instructions by e-mail and not bothering to have face-to-face discussions with their staff. Leaders need to find ways to ensure that managers and supervisors are engaging with their employees."
Or, in a project environment, project managers need to find ways to ensure that workstream leaders and team leaders are engaging with their parts of the project team.
Remember that you are always on show
This book has lots of stories and anecdotes. The leaders Murray interviewed talked in stories, so the book is littered with them as a way of illustrating the concepts and principles of leadership. In short, Murray has followed the novelists creed of show, don't tell.
The stories are in turn inspiring, informative and interesting, but in many cases you have to draw your own conclusions about the communication messages that they illustrate. Using your brain to work these out is no bad thing, and if you can't quite grasp the morale of the story, each chapter ends with a list of takeaway soundbites.
One of the stories that I particularly enjoyed illustrates the fact that as managers and leaders, we are always on show. Murray spoke to Simon Calver, CEO of LOVEFiLM, who told him about a colleague who was concerned that his team was not paying any attention. Calver advised him to wear shirts with cufflinks for a month, and to see what happened. His colleague was amazed that after a month many of the men in the team had also started wearing shirts with cufflinks.
As project managers and leaders, we are on show all the time, in what we say, do and how we act. Communication is more than just the words we use, although of course they are important. Communication also includes being able to demonstrate the values, mission and objectives of the project through acting in ways that show these authentically.
People copy the example set by the leader, so you better make sure it is a good example. I wonder what the female equivalent of the cufflink test would be? Let me know if you have ever seen this phenomenon in action!