Checking for success: an interview with Joanne Flinn
(This post contains affiliate links. Read my full disclosure.)
Summer of Books 2011 continues with an interview with author Joanne Flinn.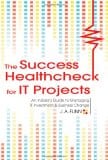 Joanne Flinn is the author of The Success Healthcheck for IT Projects: An Insider's Guide to Managing IT investment and Business Change, which I reviewed in February. I had the pleasure of meeting Joanne for coffee earlier this year when she stopped over in London for a short business trip. I caught up with her recently to talk about her book.
Joanne, your book is about giving projects the best possible chance of success by indentifying those that are likely to be unsuccessful. Why did you focus on that?
Failure is both predictable and preventable. Spotting potential project success (or failure) early so that the right things can done to keep it on track – so the team sees their hard work accepted and used – and the business users see the project as great. It requires curiosity and courage. Curiosity to enquire about what's really going on and courage to face it.
The statistics say that 33% of projects go really wrong – that's a lot of our work wasted (who wants that?) and a lot of investment down the drain (which business can afford this?). The book provides a healthcheck for projects that involve both IT and people and goes past the basics of project management.
It's a very detailed book. Why did you decide to write it?
Not long ago I went back and did a mid-career degree at Oxford and HEC to keep my project and change management skills polished. I had to do a thesis – in researching my topic (what causes success and failure in large projects), it dawned on me that there was very little written on the topic that had the practicality of 'what works'. Most approaches are over 20 years old and times have moved on. This gap was a prompt.
Was there anything else you noticed in your thesis research?
Working out just what failure was costing businesses and our reputations in technology was another prompt for the book. A third of projects fail dramatically – this is a lot of money and a lot of frustration. I hate being on the receiving end of a poorly rolled out project as much as I get frustrated being in a project team seeing it's hard work pushed aside.
How did you get started writing it, after all your research?
Well, to share the human side… I had met a wonderful man and realized that the only way to know if this was 'the one' was to have time where we could get to know each other. He lived half way around the world from me – so I figured, let's stop talking about writing, and write – and I went to the country he lived in, set myself up as a writer and thoroughly enjoyed it.
Wow! So you started over in a new country and a new relationship, with literally a blank piece of paper.
Writing – it was like beginning again. I had written lots in my past career (corporate reports, consulting documents and that thesis). I rapidly realised that the style I'd learnt was not the one to use for a book that was to reflect real life project issues backed by science. Even putting a personal touch in was a challenge – I'd been trained to focus on data – yet the data was saying 'It's about the humans!'
How long did it take you to write?
The book took me 18 months – 3 months doing the first draft. Which, yes, I did throw away. Nine months to write and another 9 months to edit.
Writing a book is a major commitment, but I have always thought it was worth it. What was the best thing about writing it?
The best thing was creating useful analogies and picking the best-of-the-bunch from all the great war stories I'd heard or been part of over the years. I also loved designing the structure and layout – it was important to me that the book was not a text book, but more of a book that a practitioner could dip into.
I think you managed to do that. I liked the bit where you focused on the risks of managing an out-of-the-box software implementation, which was very practitioner-friendly. What was the hardest part?
The hardest part was keeping disciplined to sit down daily and work on it. Closely followed by choosing to take three more months off work to get it completed. I realised that if I didn't I'd be editing for years!
With all your experience and research on what makes a project a success, what's your top tip?
Being real about the situation upfront – is the project funded to deal with all the unvoiced expectations? Be real – get them voiced! Later on… if people are going to have to do roles they feel ill-equipped for, factor in the productivity dip and proactively do something about it. This applies to the team as much as the business. We often know the reality, we just need courage to face it!
What's next for you?
Getting diagnostics online at www.successhealthcheck.com so that sponsors and project managers or team members can do a healthcheck even faster than reading a book.
I've also been asked to speak at several conferences and love the nods of people saying 'yes I've been there too' when I share war stories (and the fact that at least 10% of projects, often the big ones are total write-offs) – and knowing there is a way out of the problem.
Thanks, Joanne!