Changing the Face of PM Training
I took my APMP course recently and there were a bemusing amount of project management certification training providers to choose from. Go for something like PMP® or PRINCE2® and the choice is even greater.
So how do you pick the right course for you?
Craig Kilford has the answer.
Craig has set up a review website for project management training and there's a philanthropic initiative on the side as incentive to get people to write reviews. I spoke to him to find out how it works.
Craig, What is CourseConductor?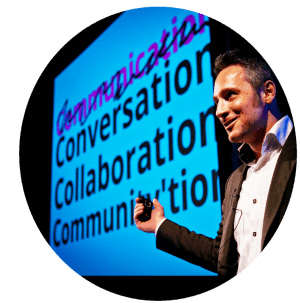 CourseConductor.com is a new customer review website that is positively disrupting the way professionals find project management training courses globally. It enables professionals to rate, review and share their training course experience, which helps their fellow professionals find the best courses, and enables training providers to quantify their quality.
Think of Course Conductor as 'TripAdvisor' for project management training industry.
OK. So why did you set it up?
The honest answer is out of love and frustration. I love Management of Portfolios (MoP®), a book I co-authored which is the UK Government/AXELOS global best practice standard. I love it because it was written from the heart to enable positive change in the world, for professionals and organisations.
When the book [read Elizabeth's review of it here] was published in 2011 and the certified training started, I wanted to find out which training providers were running the best courses and how people felt about their training experience. The problem was I couldn't find any information, which frustrated me.
That's when I realised it's not just me that feels this pain…every professional is forced to waste their precious time and energy browsing lots of training provider websites, reading self-selected testimonials and trying to compare courses.
What makes things even worse is every training provider says they are "high quality" or "the best" and whilst there are lots of fantastic training providers out there, we all know there are some really bad ones, and fake ones too, i.e. training providers who say they are accredited but they are not!
Yes, I've spent a lot of time researching and still ended up buying on a friend's recommendation plus price. Not ideal.
The problem we all have is trust. There's no trusted independent star rating to help us understand whether the course is a 1 star course or a 5 star course… When was the last time you booked a hotel without checking the star rating? Never, right? So why do we have to do it with project management courses?
I felt this whole situation was totally unfair for the professionals and unfair for the fantastic training providers. So, I decided to find a way to help everyone in the profession and that help comes in the form of CourseConductor.com.
Have you received any less-than-keen responses from training providers? I imagine those with mediocre courses aren't too impressed with what the site might mean for them.
Getting feedback from industry peers is one of my favourite things to do and the response so far has been overwhelmingly positive.
However, out of all my conversations there have been two training providers who were extremely concerned about their customers writing negative reviews. All of the other training providers are very confident that a negative review will be a rarity, however they believe this is an opportunity to engage with a customer's concerns immediately will enable them to improve based on that feedback.
This is absolutely the correct way to approach customer reviews. Forbes and the Journal of Consumer Research highlights that negative reviews actually contribute to the confidence of the customers' choices, because when a potential customer reads a polite and caring response to a negative review, it actually helps improve the company's credibility and sales.
What about the opposite: what are the supportive providers saying?
Professionals say Course Conductor is saving lots of time because they can compare all the courses in one place using customer ratings and price. They also feel more confident about spending their money because they trust what other professionals are saying and take this into account before they purchase.
The best training providers love us because we enable their customer voice to quantify their quality which leads to increased credibility. Some training providers are already using their Course Conductor star ratings to help win bids for new business.
Corporate Learning Managers and PMO Leaders are loving us because they can post a request for proposal (RFP) on CourseConductor.com and select the highest quality providers in a fraction of the time.
Accrediting Bodies love us because the entire Course Conductor community is focused on developing skills and promoting professional development on a global level.
So will my training provider be on there?
We launched recently and already have 25 of the world's best training providers listing their courses across 36 countries. Some huge corporates are starting to use us to select their training partners.
On top of that I've given every certified project management training provider in the world a complimentary profile on Course Conductor (almost 2000 providers), so if you've been on any project management course within the last 5 years you can now write a review about it and help your fellow professionals find great courses more quickly.
How can people get involved with the Course Conductor site?
It's super easy. The best way to get involved is take two minutes to write a review about your last project management training course (or as many courses as you've taken).
When you write a review you promote your own personal brand within your network and help your fellow professionals. Your review will help others find their next course and develop their careers.
Your review also contributes directly to the training provider's star rating. And, for every review posted on Course Conductor we are committed to cleaning 1 gallon of infected water.
Yes, I heard about that. Tell me how it works.
Every time someone posts a review on CourseConductor.com we clean a gallon of infected water, and for every 5000 reviews we donate a water pump. We do this because poor sanitation is one of the main reasons kids miss school and don't fulfill their learning potential.
Why did you want to build that in?
This sustainability model was inspired by three aspects. Firstly, I believe that every organisation should give back to the world (no matter how big or small). Secondly I've always been involved with helping disadvantaged young people; be that as an ambassador for an AIDS Orphanage in South Africa or running painting therapy workshops for young cancer patients in hospital. Finally, I attended an inspirational talk by Blake Mycoskie (CEO of TOMS shoes), TOMS donate a pair of shoes for every pair sold, and I thought this was an awesome model.
We are starting out by purchasing water tablets and water pumps from UNICEF which I see as our first baby step. What is really exciting to me is the future and the fact that everyone can contribute by writing a review and the more reviews we get the more good we do.
The dream is that one day we'll be getting 255 contributions per minute like TripAdvisor… by that time we'll be doing some incredible sustainability work.
Thanks, Craig!
About my interviewee: Craig Kilford has been in the project management industry for almost 20 years providing executive portfolio management consultancy, and keynotes on the subject from a practitioner perspective. As co-Author of MoP® he also sees the world from the training providers' perspective and has a solid understanding of the work they do, as well as the key challenges.