Book review: Value Management: Translating Aspirations into Performance
(This post contains affiliate links. Read my full disclosure.)
Value Management: Translating Aspirations into Performance is a new book by Roger H. Davies and Adam J. Davies (Gower, 2011). It's heavy going, but if you are into getting the best value out of the change programs you are delivering, then it makes useful reading.
There is a fair amount of theory, but there are techniques in here that you can apply to your programs straight away. I'd say that it is aimed at people in a pure program management, portfolio office or senior executive role, as there is not much here that project managers will be able to put into practice without senior support.
Defining value
The authors define value as:

Or, to describe it less financially:

I would argue that value means different things to different people, but I understand that you need a common ground on which to base the rest of the book.
Asking the right questions
The book starts with a really nice feature that I've never seen before: executive questions. Here's an example:
Q: How does Value Management address the challenge of delivering greater value from change programs?
A: Value Management provides the means to deliver more benefit for less cost and risk. Value Management targets, times and aligns initiatives to maximize overall value. This is achieved by linking programs explicitly to attributable benefits. This requires precise quantification of cause and effect relationships between program deliverables, the drivers of business performance and consequential stakeholder benefits.
Reference: See Chapter 7 (Programming Value) and Chapter 8 (Aligning Value)
This is a neat way of explaining to people picking up the book the kind of questions that will be answered by reading it, and forms a kind of annotated table of contents so you can flick to the section that most interests you first.
Is it a good read?
Value Management is not an easy read, but perhaps I'm just not in a role where I can act effectively on the information in here. There is also a good glossary and lots and lots of graphs, figures and tables, so the authors make it as easy as possible to understand the concepts discussed.
They also draw on real life examples and their own anecdotes, including examples from the movies, so they have tried to make the theory as accessible as possible.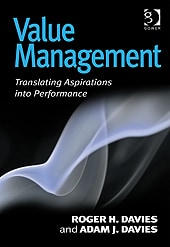 One of the authors was obviously very taken with neuro-linguistic programming (NLP) and there are a number of references to how powerful this can be.
The authors write: "The ability most relevant to Value Management is to produce radical shifts in performance by re-programming limiting perceptions and … enable clients to release latent potential through change."
They call this a value breakthrough, but this was one of the weaker points of the book for me. I'm sure you could achieve similar results with cultural change without having to "NLPing" your entire organization.
If you are looking to drive savings and ensure that your change programs and portfolio of projects delivers the best possible value for your company — and you work in an organization with a high level of maturity when it comes to PMO practices and project thinking — then you could get a lot from this book.
If your company doesn't have a mature approach to program management, you could struggle to get any of this implemented, but at least understanding the concepts will help you assess which are likely to be the best programs for your business, and how to get the last drop of value out of them.
This review first appeared on Gantthead.com in December 2011.