Book review: The Success Healthcheck for IT Projects
(This post contains affiliate links. Read my full disclosure.)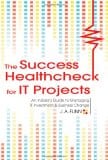 Projects don't always go to plan. In fact, do they ever? When things are progressing generally in the right direction it's a good idea to run a healthcheck just to see if the project is likely to make it or not. The Success Healthcheck for IT Projects: An Insiders Guide to Managing IT Investment and Business Change by J.A. Flinn shows you how to identify projects that are likely to succeed or fail. It also gives you some pointers as to what to do when you find out that failure is a possible option.
The book also helps you benchmark and baseline your current project results. "If projects in your organization are underperforming," writes Flinn, "then your business has a competitive disadvantage. Business that can deliver projects with predictable, accountable results can change more rapidly than those that can't deliver and are more successful in turbulent times."
She adds: "Benefits are what we want…Results are what we get." Essentially, this book is about results risk management – understanding what risks are likely to get in the way of the results that we want.
And when are times ever not turbulent? At least, it certainly feels like it has been a long time since stability was the norm.
Flinn points out that large projects are more likely to fail than small projects. It's a conclusion that won't be a surprise to many of you, but yet we often use exactly the same approaches on small projects as we do on big projects. Her book is aimed at IT project managers, but there is no reason why her logic doesn't apply to projects in all disciplines.
Much of the book is a result of her own research, and that has resulted in developing odd circle diagrams that explain business context risk as it relates to an individual project. Different parts of the circle map to different issues that the project has. The circles probably make a lot of sense once you use them consistently, but the key to understanding them doesn't get explained until page 178 and this was far too late for me.
Before you get to the circles though, you need to understand what makes projects a success. Flinn provides this description of 4 steps that lead to project success:
"1. Admit success is not guaranteed. Calculate the real probability of project success.

2. Measure the non-performing project (NPP) ratio. Recognize that it is not enough to accept the cost of a project that is a little under, a little late, a little over budget.

3. Value the reduced risk of failure (to achieve business results). Invest in reducing the risks to results.

4. Explicitly use results-based risk management to fund changes in the plan."
The book is well researched and very quotable. I particularly liked: "Vanilla is not a diet option," when she talks about out-of-the-box implementations of IT systems without customisation. There's a great discussion of the risks of doing so-called 'simple' installations of IT systems.
The chapters end with key takeaway messages to summarise the content. There are neat sidebars and the book is laid out in a way that is easy to read. There are case studies and examples dotted throughout. However, the concepts in the book make it a challenging read, and it's probably only something you would want to read from start to finish if you have a real interest in reducing the business risks on your projects and increasing their chance of success. OK, we all have those interests, but will you actually put the ideas here into action?
This book is a rare mix of easy-to-understand soundbites and heavy, theory-based research. I found it an uncomfortable balance at times, but you can't doubt that Flinn has the best interests of projects at heart, and that her suggestions to improve project success are sure to be effective.