Book Review: The e-Policy Handbook (2nd Ed.)
(This post contains affiliate links. Read my full disclosure.)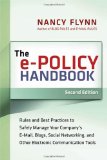 Does your company have a set of policies for working online?  For all that I advocate using social media tools at work to improve productivity, you have to do it in a controlled and secure way.  The e-Policy Handbook: Rules and Best Practices to Safely Manage Your Company's E-Mail, Blogs, Social Networking, and Other Internet Communication Tools by Nancy Flynn is a one-stop shop for everything you need to develop clear policies about online working.  Whether you are developing policies at a corporate level or wanting to cover yourself on a particular project by building e-policies into your team charter, this is a comprehensive guide.
Flynn is the founder and executive director of the ePolicy Institute, which carries out regular research into how companies use – and how employees abuse – electronic forms of communication.  For example, 35% of employees use instant messaging at work, but half of them have downloaded free tools from the internet.  In many cases, their employers don't even know the software is in use.  Project managers could easily get caught in the middle:  project communications are being carried out over instant messaging, which is not archived, not secure and yet can still be a legally-binding form of communicating with suppliers.  A contract agreed over IM is still a contract.
Some of the statistics and behaviour described in this book are surprising: 84% of employers who fired employees for internet misuse did so because the employee was viewing, downloading or uploading obscene or inappropriate material. Who are these employees who think they can get away with behaving like that at work? Obviously there are plenty of people out there who feel that their company PCs are provided partly for their own 'entertainment'. A clear policy on what is and isn't acceptable should cut down on this behaviour and make it easier for managers to get rid of employees who break the rules.
Unless you are tasked with writing a suite of e-policies, reading the book from cover to cover is a bit of a chore. However, it's the kind of book you would have on the shelf to dip into as and when you adapt a new technology, or when you want to make sure you have all your bases covered. As you launch your project wiki, wave this book at HR and make sure their employee induction program covers acceptable use, and ask them to update the policies accordingly. All project managers should have a view as to how their projects affect corporate policies, and be able to advise when those policies are found wanting.
There are sample electronic business communication policies at the back of the book, plus a great dos and don'ts section in Appendix B. A lot of what Flinn suggests sounds like overkill, until you realise that people genuinely do need a steer as to what is acceptable use for email, blogs, social networking tools and so on. Have a look at your company policies. Do they provide clarity about how you can use instant messaging and email? If not, someone at your organisation needs a copy of this.