Book review: Projectegrity: Using Integrity to Make Your Project Great
This blog is reader-supported. When you purchase something through an affiliate link on this site, I may earn some coffee money. Thanks! Learn more.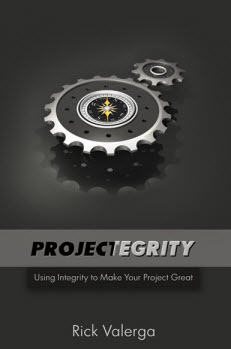 Rick Valerga's new book, Projectegrity: Using Integrity to Make Your Project Great, continues the concepts he dealt with in The Cure For The Common Project. Projectegrity is integrity in a project environment—what it means, how you get it and what to do with it. It's not that easy to say, but it's an easy concept to understand.
Valerga bases his thinking on the idea that while we all have values and beliefs and (hopefully) hold ourselves to the highest ethical standards, sometimes in the busy world of projects we end up making compromises. And when we compromise our integrity, projects fail.
"Integrity involves being truthful at all times, avoiding deception, and acting ethically in all occasions, especially when no one else is looking," he says.
Valerga discusses the five practices of integrity:
Ownership
Perspective
Expectation management
Alignment
Engagement
Expectation management and Ownership were covered in Cure, and these are cited as the two most important themes. These two themes reflect things that managers can do to make sure that projects are successful. Ownership is the most important change to make internally: you must own the outcomes and activities on a project. Taking ownership means taking responsibility for your own contribution. Expectation management is the most important change to make externally: this is all about ensuring that project stakeholders understand the implications of the work that is being done.
The book is illustrated with nice Pictofigo images, similar to the ones Derek Huether uses in Zombie Project Management and on his blog, The Critical Path. Pictofigo is fast becoming the go to source for project management illustrations. I have used them in presentations myself.
"The best value a project manager can bring is to continually represent the 'whole project perspective'," writes Valerga. By this he means that you should consider the project from the perspective of all stakeholders and adopt an 'interested investor' mentality. This gives you the distance from the detail and the ability to see the entire picture including what the project means to different people: customers, team and sponsor.
There are some overlaps with Cure. For example, the advice to make meetings more effective by announcing the dollar value of the cost of the meeting at the end is also explained in Cure. The suggestion to have an elevator pitch for your project is another point that is often made in management books of all kinds, and both Cure and Projectegrity discuss this.
However, Valerga does present some new ideas in Projectegrity. He discusses the use of financial models to help evaluate trade offs where the iron triangle of the triple constraint doesn't balance. This was a new concept to me, and one which will appeal to the proposed audience for Projectegrity, those people who are involved in projects but not as project managers.
If you want a book that is not too project management-y for your executives and team members, then Projectegrity is a good option. It's clearly written, with examples and anecdotes, in Valerga's easy style. But if you are a project manager, you'd be better off with The Cure for the Common Project.
Read my interview with Rick Valerga here.