Book Review: Leading with Honor
(This post contains affiliate links. Read my full disclosure.)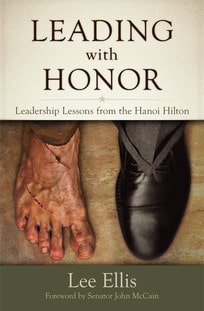 "Our culture desperately needs courageous servant leaders – men and women who have clear vision and strong character, who instill confidence and inspire excellence, who don't fold under pressure, compromise on principle, or practice deception. In short, we need leaders who are committed to leading with honor."
So begins Lee Ellis's book, Leading with Honor: Lessons from the Hanoi Hilton. So far, so typical. I read this type of plea to higher standards and improved skills in pretty much every leadership or management text.
But this book is different. There is less management, more memoir. And what an inspiring memoir it is.
Ellis was a prisoner of war in North Vietnam, spending 64 months serving under "exemplary leaders" in the infamous Hanoi Hilton prison system. He talks about the leadership structures of the cells and the courage of the American officers. Each chapter tells a story of bravery, organisation and leadership, and ends with a short take home message about how you can apply these lessons in less extreme circumstances at work.
Stay connected
Ellis advises readers to stay connected to others. It was the best way to ensure he and his fellow POWs were not fighting alone and it builds resilience. It's applicable to modern business environments too and projects are no exception. Build a great team, don't try to be a hero and do it all yourself and create strategies to build resilience so that you can cope effectively when you hit trouble.
One of these strategies for resilience is positive thinking. "Manage your emotions as if they're contagious, because they are," Ellis writes. If you do hit trouble on your project, you want to be sure that you and your core team can deal with issues without falling into a spiral of misery and negativity. Thinking of your emotions as a contagious disease that can affect others, for better or for worse, is a good way to consider how they will affect others on the team.
Cultivate your relationship skills
You can lead authentically when you know your personal strengths and how to tap into your personality, passion and purpose.
"We should expect our leaders to tell the truth, keep commitments and consistently walk their talk," Ellis writes. "We must hold leaders accountable to lead with honor, and we should start with ourselves."
Ellis surveyed 300 managers during his research. Two leadership traits stood out: listening and relationship skills. These are the ones we should cultivate in ourselves, and these are the ones that are illustrated so movingly throughout this book.
As a result, I found the book more meaningful than reading about business turnaround, and the lessons flow easily without feeling contrived. Ellis bemoans the lack of courage in modern corporate and political leadership and shares laugh-out-loud stories of showing resistance in small ways, which helped the POWs maintain self-esteem and autonomy. A major leadership lesson that comes through time and time again is stay positive, especially in difficult times. It is easy leading when things are going well. It takes courage and skill to steer through a storm.
Communication in adversity
How do you manage relationships with others when you are locked in small cells? The POWs found ways to communicate through codes and passing messages.
Ellis tells amazing stories of the value of communication including using codes to communicate. In one case passing messages between cells resulted in getting treatment for two POWs who were dying. The military men repeated the messages constantly, both as something to do and also to make sure that everyone received them. "To ensure that an important message was received and understood, we always sent it multiple times through numerous channels," Ellis writes – something we should bear in mind for projects.
The thing that stuck with me most – the most moving and creative way of communicating a message – was the story of POW Denton who was called to a press conference. The idea was to show the world how well the prisoners were being treated in captivity. Denton spoke during the conference, but his eyes told a different story. He blinked the word 'torture' in Morse code – a message about what was really going on in the camps. You can watch it on YouTube. It is a lesson in multi-tasking too. Denton was awarded the Navy Cross for courage and gallantry as a POW, the highest award given by the US Navy.
This is the best management book I have read all year. Ask for a copy in your stocking at Christmas!
Buy on Amazon.co.uk