Book Review: Leading Successful Change
(This post contains affiliate links. Read my full disclosure.)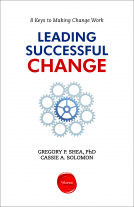 "Many of the most popular books on change address its psychological aspects, and focus on people and their internal states or motivations," write Gregory P. Shea and Cassie A. Solomon in their book, Leading Successful Change: 8 Keys to Making Change Work. They go on to say:
This psychological perspective taken alone, however, can promote the belief that the success or failure of any given organisational change effort comes down to motivating individual members of the organisation and that, correspondingly, a leader's primary job comes down to inspiring the troops.
If a project leader's main role is inspiring others, and the project doesn't go well, the risk is that the leader gets labelled as uninspiring and not very good at her job. And the team members get labelled as resistant and unwilling to change. Everyone loses and the change doesn't happen. The project is a failure. That's why change management is important.
Why change projects fail
Shea and Solomon argue that change fails for two main reasons.
First, leaders set vague targets like 'increase profitability'. I would hope that project business cases and charters mean that this doesn't happen when the change initiative is run as a project or programme. We should know better than to start a project without clear, measurable objectives!
Second, leaders underestimate the work environment. In other words, what we tell people to do is not backed up by what they see when they turn up to work. Conflicting messages about how to change and why change is required mean that the change programme stalls or fails.
Changing behaviour by changing the environment
The main premise of this book is that you can't dictate change in vague terms. You have to change behaviour. And until everyone changes their behaviour to fit with the new working model, the change isn't successful.
The recipe for success that Shea and Solomon present is that you should focus on the behaviours you want from people and then design the work environment to give you those. "Alter the environment, and people will adapt to it," they say.
This is in contrast to advice you may have heard from enthusiastic project sponsors, who say that if the people can't change to fit the new processes or ways of working, then they'll be asked to leave the company. Shea and Solomon argue that humans are good at adapting. If the new processes adequately support the behaviour that you want to see, the new work environment will be enough. The people will change accordingly, and there's no need to fire anyone.
"Change often fails not because people lack the capacity to change but because the work environment does not change in ways that encourage people to employ their adaptive capacity to change," they write.
The levers of change
The book gives several examples of successful change programmes that have used this approach at Lloyds of London, Whirlpool and others. The focus for these projects has not been on inspiring the troops or forcing people to change but on targeting several of the 8 levers of change. Shea and Solomon identify these as:
Organisation
Workplace design
Tasks
People
Rewards
Measurement
Information distribution
Decision allocation
The book extensively covers these levers. The authors have also developed the Work Systems Model, which is a holistic (systems thinking) way of looking at change across a number of those levers and reengineering the work environment to encourage the behaviours you want to see.
Overall, this is a useful book for looking at how you can make change stick and what is required before people will adapt to new ways of working. If you are leading a change project or programme, it could be interesting reading for you. It's aimed at large programmes of organisational change though such as major business re-engineering, so you may have to scale down some of the ideas to make them fit for smaller projects.