Book Review: Getting to the Top: Strategies for Career Success
(This post contains affiliate links. Read my full disclosure.)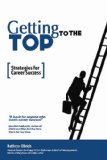 "Evaluating success depends on the scale you select and varies based on one's aspirations and self-image," writes Kathryn Ullrich in Getting to the Top: Strategies for Career Success.  So you could consider yourself a successful project manager if your peer group are working on smaller projects than you, or you are managing the biggest project budget in your department.  The first part of this book focuses on working out what success looks like in your personal environment.  "Whatever your definition of success, it is your responsibility to figure out and execute a development plan to get there," she writes.
The second chunk of this book focuses on the career paths of people who have made it to the top and Ullrich focuses on success as defined by a VP or C-suite level job, and ultimately becoming a CEO. There is a heavy marketing, sales and product development bias to the jobs she profiles. As an executive recruiter, this is her sphere of influence, and the book is light on examples of technical jobs, although business development and operations do get a mention. While the people she interviews do talk about projects they have been involved with, none of them started out as project managers in the strictest sense.
However, much of the advice on how to structure and plan your career applies whether you want to move up the rungs as a project manager or a brand manager. For example, Ullrich stresses how different elements make up the criteria required to move ahead, and introduces the concept of 'craft' which describes an extensive background in their functional area – which could be project management. Essentially, the point she is making is that you have to be good at your job before considering a step up.
The book is packed with advice from people who have climbed the ladder to serious responsibility and C-suite jobs. For example, NancyJane Goldston explains that people who want to advance need strategic creativity:
One of the most important skills needed is strategic creativity. You need to have a fresh perspective and a strategic outlook on things and not get bogged in all the details, especially when you are sitting in a room of people. This is what happens with middle managers. You are in a meeting and people are throwing out ideas and somebody says, "We can't do it because…" That immediately makes you look more junior.
Later in the book Ullrich identifies the skills she believes are important to career advancement:
Strategic Vision
Customer Perspective
Communications (I liked this chapter particularly)
Team Leadership
Distinguishing Skills – a vague term to mean mastering the functional skills required to operate as a senior exec.
While this isn't a book aimed at project managers specifically, there is a lot in here that is relevant, if you read it with an open mind. For example, her discussion of how CEO's exert influence by talking to each member of the board before a meeting is a direct parallel to how successful project managers brief steering group members in advance.
Unlike Beyond the Boys Club, it's not a book aimed just at women either.  Ullrich leads a Silicon Valley executive search firm and the Alumni Career Services for UCLA Anderson School of Management.  It's interesting to see the machinations behind executive search laid out – especially the anecdotes of why people weren't put forward for positions.  If your career goals extend beyond project management to a wider business responsibility, this could be a good book to set you on the right path