Book review: Fast Track Networking
(This post contains affiliate links. Read my full disclosure.)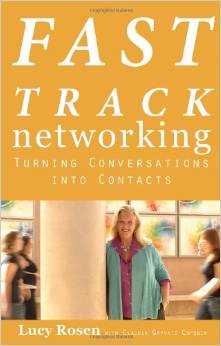 Lots of books talk about how to 'do' networking, and there are plenty of reasons why networking is important for your career. The thing I liked best about Lucy Rosen's Fast Track Networking: Turning Conversations Into Contacts book is that it does actually tell you the answers to the things that really matter like:
Where to stand in a room (near the door to greet newcomers)
Who to talk to (get the attendee list in advance and target people)
How to start a conversation (with a compliment or any one of five other conversation starters)
When to hand out business cards (only if asked)
It's very practical – and I like practical. It also goes beyond what you'd expect in an article and manages to fill a whole book on the subject by including topics like setting up your own networking group if you can't find one that suits your needs.
Rosen hasn't aimed her book solely at women, and she quotes the experiences of many men. She has tried hard to be inclusive but as she is founder and president of Women on the Fast Track, a women's networking group, there is a bias in the text (almost by default) towards helping women network more effectively.
As women, we also tend to downplay our abilities and we're not quite as comfortable as men in talking about our skills. We may be uneasy about highlighting our talents and when first starting the networking process, we may undermine what we have to give, thinking we aren't valuable enough, we don't know enough, and we just aren't enough. That's far from the truth, of course. But because women often operation on an emotional level, this is how we often feel about our capabilities and skills.
It's fine by me that Rosen's implied reader is female. I'm female, after all. Male readers will get a lot out of the book, but their experience of reading it will be different to mine.
There are lots of topics in here that both sexes will find of use, like networking when unemployed, a short bit on social media and online profiles, and how to organize all your contacts and business cards.
Importantly, there is also a section on what to do once you've met a really great person that you want to follow up with. Too often people focus on the initial contact and forget about the long term goal which is to find people with whom you can work. This book explains what makes a successful follow up and how to make sure you choose to develop relationships with only the people who are good choices for you.
Finally, there's a good resources section at the back. Many of the websites have global reach, but as you would expect with a U.S. published book, there's a heavy focus on U.S. sites and groups.