(This post contains affiliate links. Read my full disclosure.)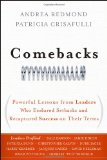 Are you a project management contractor who left the last job under a cloud? Or a permanent project manager having a rough time of it on your project? Then you should read Comebacks: Powerful Lessons from Leaders Who Endured Setbacks and Recaptured Success on Their Terms, by Andrea Redmond and Patricia Crisafulli. Not because it will help you be a better project manager so you don't mess up next time, but because it will show you that there is life after redundancy or a massive mistake.
Comebacks contains the stories of ten really senior leaders who suffered setbacks and then 'recaptured success on their terms'. I found myself reading it wondering if I would be strong enough to be so pragmatic about these situations if I was, like Patricia Dunn for example, subjected to Congressional hearings. Comebacks will make you realise that everyone faces bad times, and if these people can pick themselves up, refocus their lives and get on with being a success after some incredibly public falls, then with the right attitude you can get over anything.
Many of the leaders profiled advocate taking a break if you are facing a setback.
[Former CEO of Charles Schwarb & Company, David Pottruck's] advice for those who are in the midst of a career upset, regardless of what their future plans might hold, is to acknowledge the talents, abilities, and experiences that contributed to their careers in the past. "The things that made you successful before can make you successful again," he added.
In other words, you are not just the outcome of your last job. However bad your last project or contract, that does not define who you are.
Another executive, Harry M. Jansen Kraemer, Jr., former Chairman and CEO of Baxter International, makes the point that the "shoulda, coulda, woulda" mentality keeps people trapped in the past. He advises that people suffering setbacks should learn from their past experiences, but not dwell on them. Going over and over that last project board meeting is not going to make any difference to the outcome.
Remember who you work for is the advice from Jacques Nasser, former CEO of Ford. It's important to have the board behind you at all times – and we can scale down that advice for project managers. Make sure that your Sponsor and the project steering group are absolutely 100% convinced in your ability and that they will back you through the difficult times. Without them, you have lost valuable allies.
Jamie Dimon, Chairman and CEO of JPMorgan, says that it is important to remember that mistakes hurt people. As a CEO, the effects of mistakes are wide-ranging; as a project manager, you still have the capacity to affect the shareholders, customers, employees and other groups.
These are interesting, uplifting stories. They won't help you be a better project manager directly, but they will hopefully inspire you to do the best you can, to pick yourself up after a setback and to find success, whatever that looks like for you.