Book review: Business Etiquette
(This post contains affiliate links. Read my full disclosure.)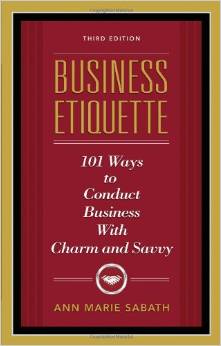 This book has a rather long subtitle: 101 Ways to Conduct Business with Charm and Savvy. I flicked straight to the back to read what Ann Marie Sabath had to say about working with Brits. I thought it was funny that she advises using 'How do you do?' I haven't heard that for ages, but I can't deny that it's still used.
She also has some good advice about not using the term English to describe people. You can do untold damage to business and personal relationships by calling someone from Scotland, Northern Ireland or Wales 'English'.
Apart from the snapshots of working abroad, the book has advice on using the phone, business writing, conducting meetings, dealing with VIPs and even how to manage saying grace at business meals and use the toilet facilities appropriately.
Honestly, the things some people need advice on.
It's a small book and it's quick to read. You can flip forward to the bits that are relevant to you at any one time (wondering how to take your medication in the middle of a meeting? Turn to tip 100!) or you can read it cover to cover. Each section is broken down into short tips, and it ends with a summary of the key points in that chapter.
You could worry a lot about this type of thing. Are you addressing everyone with their proper titles and have you followed The Elements of Style for formatting your emails? Or you could just get on with being a good project manager. If you are new to an office environment, or a clown, this would be a good book to read. It's not that the tips are basic – who knew that there was a sneezing etiquette? It's just that if you haven't picked up good office habits you're not going to get them from reading.
You'll need constant reinforcement of your new habits, and that means leaving this book on your desk so you can refer to it in a pinch, like when you're worried about how to tell a colleague they used the wrong fork at dinner (tip 96). If your colleagues see this book on your desk, they're going to hold you to a higher standard, so you better be ready!